Opinion
Yang and Adams benefit from rejecting defund the police
Progressives have been on a winning streak in New York City, but the mayoral race is shaping up differently.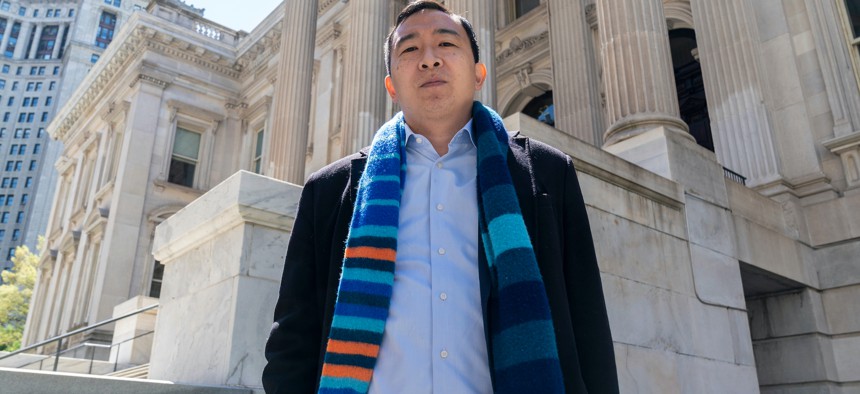 For the last four years, the rising left, with few exceptions, has dominated New York City politics. Reps. Alexandria Ocasio-Cortez and Jamaal Bowman dethroned longtime incumbents. Six out of the eight Republican-supporting centrists in the defunct Independent Democratic Conference were driven from office. Two socialists now sit in the state Senate, with four more in the Assembly. Even more will be on the way.
But leftists have looked on with despair as the Democratic primary for New York City mayor barrels toward its conclusion on June 22. Independent polls have consistently shown Andrew Yang, the former presidential candidate, with a lead, followed by Brooklyn Borough President Eric Adams. Adams may be closing the gap with Yang; no one else, if polling is any indication, has regularly held the top two slots.
Neither Democrat uses the term "moderate" to describe themselves but the label of "progressive" doesn't neatly apply to Adams, a former Republican, or Yang, who explored the idea of running for mayor as an independent. On key issues, like policing and public safety, they've recently leaned into the center. In a city that has produced so many victories for the left in the last four years, why are several of their candidates struggling to take the lead?
In part, it's because Adams and Yang have been able to meet the broad electorate where it is. Each election has its own flavor, its own issues. In 2013, then-Public Advocate Bill de Blasio ran a progressive, anti-Bloomberg campaign that captured the imaginations of Democratic voters, but there is no obvious antagonist, in a city recovering from a pandemic, for left-leaning candidates in 2021. Adams and Yang, with their own bases and name recognition, have been able to dominate the narrative so far.
Originally, the Working Families Party, a standard-bearer for the left, chose to endorse three candidates: City Comptroller Scott Stringer, former nonprofit executive Dianne Morales, and Maya Wiley, de Blasio's former counsel. After a volunteer accused Stringer of sexually assaulting her 20 years ago, an allegation Stringer denies, the WFP and many left organizations and elected officials withdrew their support for him.
But Morales and Wiley are trailing Adams and Yang, and may place nowhere near the top-two on June 22, when ranked-choice voting will determine the winner.
The answers are complex. New York City's Democratic electorate is vastly larger than any others that progressive organizations have managed to dominate. It's possible 800,000 or more people may vote in June. These Democrats are diverse and heterodox. They include young leftists, but also older moderates, church-going Black and Latino voters, Orthodox Jews and what's left of the middle-class "white ethnic" outer boroughs.
No ideal candidate has emerged for the left, either. There is no Ocasio-Cortez, no charismatic outsider with once-in-a-generation political talent. Morales has tried to fill the void, but she has spent much of her career as a well-compensated executive at a social services nonprofit attached to a notorious real estate developer. Morales, who backs defunding the police by $3 billion, slashing their operating budget in half, had little involvement in left politics before 2020.
Adams and Yang, though, are clearly connecting with more voters than their opponents are.
With shootings and murders on the rise, Adams and Yang may be better tapping into the zeitgeist. "The truth is that New York City cannot afford to defund the police," Yang said near the site of the recent shooting in Times Square. "New Yorkers are concerned about rising rates of violent crime, petty crime, street homelessness. This is what we are seeing, and we need our city's leaders to step up right now."
Adams, a former police captain, has been just as explicit: "We're not going to recover as a city if we turn back time and see an increase in violence, particularly gun violence," he said in reaction to the Times Square shooting.
In a recent interview, Adams derided the defund the police movement. "Now, this is really being led by a different demographic. There are a lot of young white affluent people who are coming in and setting the conversation," he said.
Adams isn't quite right: defund the police is a multiracial movement, but the divide between supporters and detractors remains generational, educational and ideological. Supporters tend to be college-educated and reside in gentrifying neighborhoods that may not cast many votes for Adams or Yang. Older voters, both white and nonwhite, are far less fond of the defund movement, which polls dreadfully nationally. Many of these voters recall the high-crime New York City of the 1970s and '80s, when muggings and murders were far more commonplace and the NYPD headcount actually shrunk, thanks to cuts resulting from the fiscal crisis. As President Joe Biden showed in the 2020 Democratic primary, older Democrats far outvote younger Democrats.
When Yang spoke about flooding the subway with more cops after crime appeared to rise there, he was met with derision and scorn in progressive circles. But this view, whether valid or not, is not outside of the mainstream for New York Democratic voters who do believe police play a role in maintaining public safety. Putting aside the merits of Yang's position, he paid no apparent political price for it: he's been a frontrunner since January.
Similarly, Adams can be a Black former cop who is resolutely against defund the police and maintain his position as a top-tier mayoral candidate. Beyond activist circles, increasing police presence is popular in many predominantly Black or Latino neighborhoods. In heavily Black Southeast Queens, a long-running goal has been to add a police precinct to increase NYPD coverage; they may finally be getting their wish. Ultimately, many residents of these neighborhoods want more effective, less racist and brutal policing that holds murderers to account; they do not want policing to disappear entirely.
Even if neither Yang nor Adams wins the primary, the ascendant left in New York must reckon with the fact that, on Election Day, many thousands of working-class voters of Black, Latino and Asian descent will be voting for how Yang and Adams envision policing in New York. They will be choosing candidates who have explicitly rejected the defund movement. Meanwhile, those who've flirted with deep NYPD budget cuts or embraced the idea outright could be on the outside looking in, protesting yet another mayor who is deferential to police power in New York.
Powered By
NEXT STORY: NYC mayoral candidates should adjust strategies for ranked-choice