Opinion
Barkan: Adams' residency matters less than his real estate policies
Adams is a landlord and that's how he approaches rent regulation.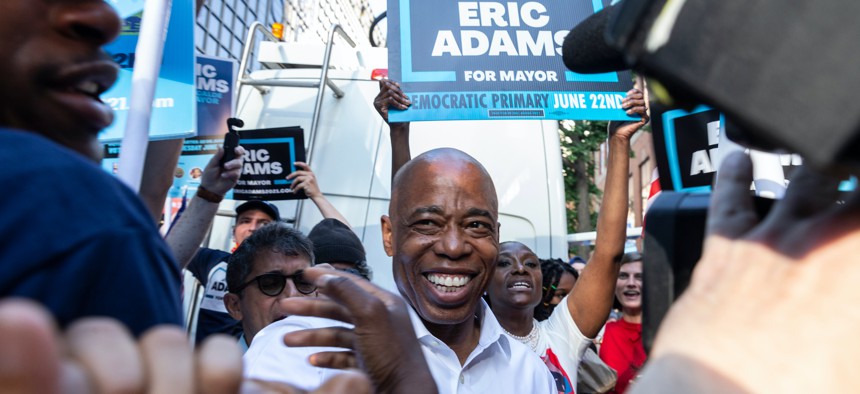 Over the past week, much media attention has been focused on Brooklyn Borough President Eric Adams' residency, after a Politico story gathered a lot of circumstantial evidence that seemed to suggest he didn't actually live in the Bedford-Stuyvesant townhouse he owns. It noted that he frequently sleeps in his office at Brooklyn Borough Hall and noted that he co-owns an apartment in New Jersey with his girlfriend. Adams led reporters on a tour of the Bed-Stuy building's ground-floor apartment and released EZ Pass records to show he has only driven his official vehicle to New Jersey a handful of times in the past year. 
But while the residency issue matters – it speaks to the frontrunner's transparency and his commitment to New York City – it is a distraction from the really important question about Adams and real estate: whether he will be a pro-tenant mayor. Wherever Adams lays his head at night, one thing is clear: he is a landlord and he has a pro-landlord perspective. 
Take rent-stabilization. The mayor of New York City does not have much power over the city's tenant laws – the state Legislature and the governor decide them – but the mayor does appoint new members to the Rent Guidelines Board, which decides how much in rent more than two million tenants in rent-stabilized apartments will pay.
Most of the candidates, even those who are close to the real estate industry such as Andrew Yang and former Sanitation Commissioner Kathryn Garcia, have spoken warmly about the idea of a rent freeze – but not Adams. "The greatest wealth of Black and brown people in this city is in their property. So when we start making any decisions on small property owners, we need to factor that," Adams said recently. "Because if we're not going to freeze mortgage payments for small property owners, if we're not going to rollback their mortgage payments, then we need to be careful."
This matters much more than how many nights Adams spends in New Jersey. At no point has Adams unequivocally defended the idea of freezing rents, something Mayor Bill de Blasio's Rent Guidelines Board has done. Instead, he invoked a myth: that small property-owners control much of the rent-stabilized housing in New York City, when in fact they really don't. Likewise, Adams once said, "What is real estate? I'm real estate in the fact that I own a small home," Adams told the Daily News in an interview last February. But rent regulations affect only buildings with more units than Adams owns, and those buildings are overwhelmingly owned by large landlords with vast holdings. 
Those landlords will have an ally in Adams, like they had an ally in former Mayor Michael Bloomberg. While Albany has swung to the left on rent-stabilization, with progressive Democrats gaining power in the Legislature, there will be little to stop Adams from appointing members to the Rent Guidelines Board who are close to the real estate industry, which deeply resents when rents are not increased annually.
When Adams, last year, shouted out that newer residents should "go back to Iowa," he was blaming individual migrants to New York for increasing housing costs and causing displacement – rather than focusing on the policies that could fix the undersupply of affordable housing, like rezonings lacking in affordable housing mandates or the slow gutting of rent stabilization. But those policies could conflict with the agenda of the real estate industry and its generous donors to Adams' campaign, so instead Adams railed against people who just want to live in New York City. 
Adams would defend his friendly relationship with developers by noting that upzonings his supporters push for create much-needed housing. That's a fair point, but Adams hasn't even been consistently in favor of allowing the creation of new units, market-rate or affordable. Last year, in Brooklyn's high-cost Vinegar Hill neighborhood, Adams opposed rezoning a parking lot to allow residential development, out of fear that the buildings might be as high as eight stories tall. 
Real estate developers aren't Adams' only political allies who have been at odds with a pro-tenant agenda. Adams' protege and successor in the state Senate, Jesse Hamilton, joined the Independent Democratic Conference in 2016. The IDC helped the Republican Party control the Senate majority for much of the 2010s, blocking the passage of bills that would have strengthened tenant protections in New York City. It was only in 2019 – with the IDC disbanded and most of its former members, including Hamilton, defeated – that Democrats in the state Legislature were able to repeal a law that allowed landlords to take apartments out of the rent-stabilization program. 
Other candidates like Garcia and Yang are sympathetic to landlords, but Adams seems to identify with them the most – and that is what really matters.
Powered By
NEXT STORY: CUNY investment can spark equitable economic recovery