Campaigns & Elections
Barkan: Stringer should drop out and endorse Wiley
Progressives need to consolidate behind their only candidate with a chance of winning.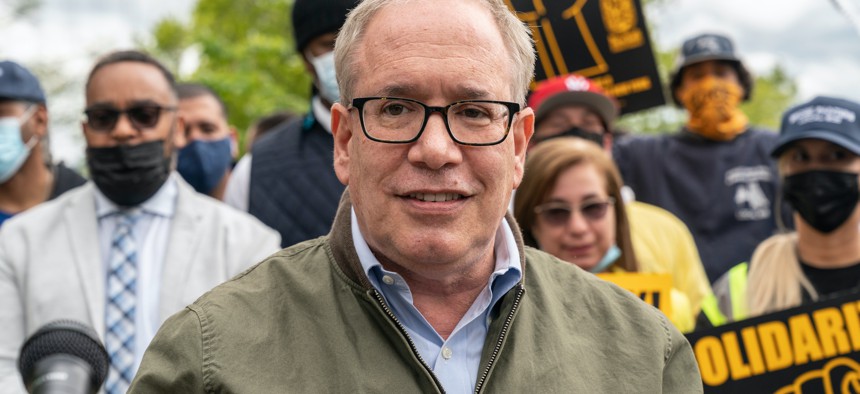 Now that New York City Comptroller Scott Stringer has been twice accused of sexual harassment, his path to victory in the Democratic primary for mayor is effectively foreclosed. 
It can be argued this isn't fair – both allegations stem from incidents that took place decades ago, and neither have a great amount of evidence to undergird them—but the reality is that Stringer, less than two weeks from primary day, will not overcome the top-tier moderates in the race, Brooklyn Borough President Eric Adams, Andrew Yang, and former Sanitation Commissioner Kathryn Garcia. A recent NY1/Ipsos poll showed that his support is not growing and he is now mired in fourth place.
For the sake of progressives in New York, Stringer should do something radical, bold and unlikely: drop out of the race and endorse Maya Wiley for mayor.
Wiley, Mayor Bill de Blasio's former counsel, has been endorsed by Rep. Alexandria Ocasio-Cortez and many of the young progressives who initially flocked to Stringer, including 
Rep. Jamaal Bowman and state Sen. Julia Salazar. After Jean Kim, a former campaign volunteer, alleged in April that he sexually harassed her in 2001, which Stringer denies, Bowman, Salazar and several other prominent progressive Stringer backers rescinded their endorsements of him. The Working Families Party, which initially rated Wiley their third choice, has now made her the sole pick in the mayoral race after Stringer's scandal and the sudden implosion of the Dianne Morales campaign.
Wiley has not polled ahead of Adams, a former police captain, or Yang and appears to be losing ground to Garcia, who was endorsed by The New York Times and the Daily News. Running on one of the most progressive platforms in the race – Wiley has proposed a large new housing voucher program and new community care centers – she is probably the last hope for the left to block a pro-charter school, tough-on-crime Democrat from entering City Hall next year. 
Stringer's defenders will argue that with ranked-choice voting no single candidate needs to leave the race to consolidate votes. Democrats can choose up to five candidates for their ballot, meaning that Stringer staying in the race doesn't take any votes away from Wiley.  
But municipal politics, in many ways, remains zero-sum. Candidates compete for money, attention and news cycles that can buoy them in the final days. Wiley has far less cash on hand than Adams and Yang and hasn't spent nearly as much as Stringer himself.
To replicate the last-minute surge that de Blasio, her old boss, enjoyed in 2013, she will need all the help she can get. Stringer leaving the race doesn't mean he disappears from the ballot, but such an unexpected decision would create an explosion of much-needed news coverage for Wiley, who is not widely known and lead to a fresh surge in donations. Stringer remains a well-respected politician in many neighborhoods in the city, particularly in predominantly white, liberal bastions where every vote will be needed to overcome Adams and Yang. (Stringer represented the Upper West Side in the state Assembly and served as Manhattan borough president.) A Stringer-Wiley endorsement event would dominate nightly newscasts just as voters are tuning in.
For Stringer, this is not the ending he imagined. A couple of months ago, the reverse could have been argued: Wiley, who has struggled to articulate a strong rationale for her candidacy, was not inspiring voters and progressive support appeared to be coalescing around Stringer. Stringer was the WFP's first choice, had won the backing of the United Federation of Teachers and amassed far more cash to spend on television advertisements.
Now Stringer faces a choice: forge onward, with a vanishing chance of winning, or secure his legacy by attempting to uplift a candidate with similar values in desperate need of his backing. For progressive voters and organizations, Stringer would be a hero, proving he cared more about the broader movement than his own candidacy.
For now, despite its logic, this outcome is unlikely. Politicians have egos and rarely relinquish the spotlight. Stringer has famously dreamed of a successful mayoral bid for the last 30 years. He has already invested millions of dollars into this campaign and allocated millions more. The UFT has been spending heavily on his behalf. Wiley herself called for Stringer to drop out following Kim's allegation, presumably leading to bad blood between the two.
But Stringer's departure would help consolidate UFT and the healthcare workers union 1199 SEIU, which is now readying a $1 million expenditure on behalf of Wiley, behind the only viable progressive in the race. Morales can't win either and arguably should also drop out and back Wiley, but the dismal truth of her current campaign is that it wouldn't impact the race tremendously if she left. More charismatic than Wiley, Morales nevertheless can't survive the departure of staff and the decline in enthusiasm following allegations of workplace mistreatment.
If Stringer leaves the race tomorrow, he can do more than any single Democrat to make Wiley mayor.
Correction: Stringer was accused of sexual harassment.