Editor's Note
Editor's Note: New York's homeless problem on the subways has yet to see 'a new day' as promised by Adams and Hochul
Despite more cops and social and medical services personnel working to address the problem, riders continue witnessing the homeless engaged in dangerous activities.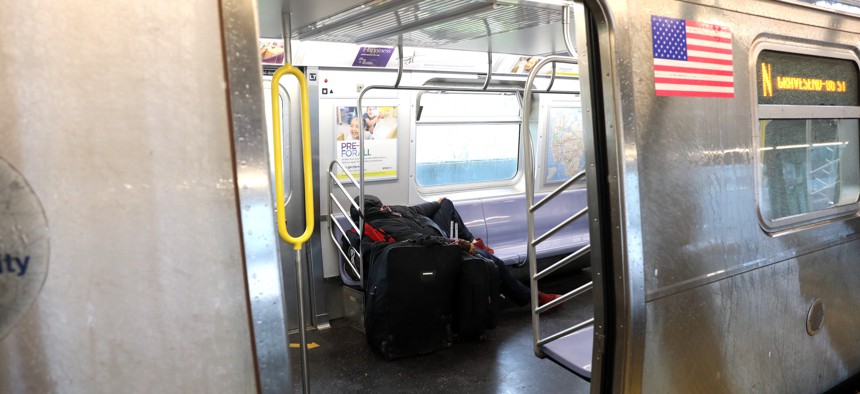 Anyone riding the New York City subways is all too familiar with the people who are homeless who have sought refuge underground and the risks those with mental illness pose to riders and themselves. One only needs to point to the tragic story of activist and homeless advocate Michelle Alyssa Go, who died after she was pushed onto the tracks and into the path of an oncoming train by a mentally ill man professing later he was "God." 
Go's death came less than two weeks after Adams and Gov. Kathy Hochul declared it was a "new day" for New York when they both announced on Jan. 6 they would collaborate and send more cops and social and medical service workers to address homelessness in the subways. In addition to Go's slaying, New Yorkers like myself continue witnessing that some people continue to engage in harmful activities, and not just to riders.
I stood on the downtown No. 1 subway platform at Columbus Circle about three weeks ago waiting for a train and saw someone on the uptown side jump into the tracks. The person searched around his feet and returned to the platform before the next train arrived. No one intervened. 
This wasn't another attack on a subway rider, but it was still frightening thinking how this person had placed themselves in such danger, especially coming close to the electrified third rail and rats. It's not the first time, nor will it be the last time people enter the tracks. But this sort of activity must finally stop before another person gets hurt. Adams' and Hochul's partnering on this crisis needs to move with greater urgency.