Homelessness
Hochul and Adams take tag-team approach to subway homelessness
The move to direct more cops to the subway system has already raised some eyebrows.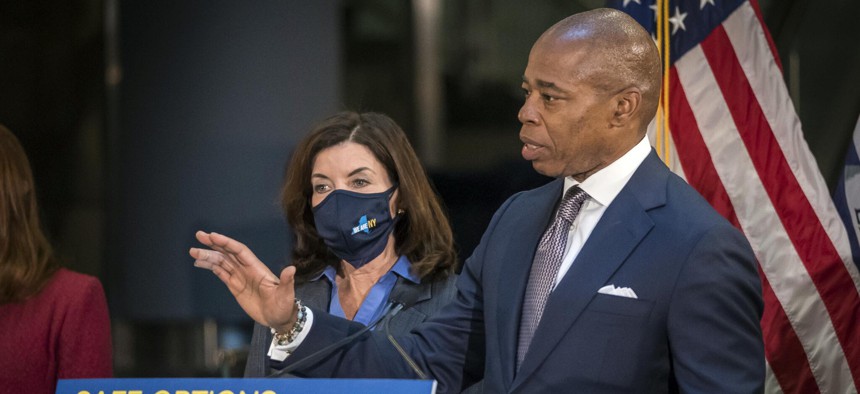 Declaring it a "new day" for New York, Gov. Kathy Hochul and New York City Mayor Eric Adams appeared together in Lower Manhattan on Thursday to announce a joint approach to tackling homelessness on the subway. The plan will see cops' presence and visibility heightened on trains with a stricter focus on serious crime, and new teams of social workers and medical professionals devoted to homeless outreach. New York City has struggled with how to approach homelessness in the subway system in the past, and so far, the new plan is lacking in details.
Following an administration whose approach to tackling street homelessness was roundly criticized as focusing more on optics than achievement, Adams unsurprisingly seems to want to strike a new tone. "I know what life was like in the system as a transit cop, and how important it is to give the perception of safety – with the actual safety," Adams said on Thursday. "But I also know that New Yorkers care about the people that abuse the system. It breaks their hearts to walk past people that are living on a train, or experiencing a level of homelessness in this city."
The gist of the approach Hochul and Adams announced starts with creating new state-funded outreach teams of eight to 10 people – including social workers and medical professionals – who will be tasked with connecting homeless individuals to services and shelters. These "Safe Options Support" (SOS) teams are part of Hochul's broader approach to street homelessness and affordable housing which she described at Wednesday's state of the state address. "I'm announcing that I'm signing a (request for proposals) to go out immediately to develop these teams to staff up an initial batch of five teams right now," Hochul said on Thursday. It's unclear how much this initiative will cost the state. 
Hochul said that these teams will work with the city's existing outreach teams but it's unclear how that coordination will work or how organizations like the Bowery Residents Committee – which has contracted with the city to connect people living in the subway system to shelters – will be involved. Representatives for BRC did not immediately respond to a request for comment on Thursday.  
Meanwhile, the New York City Police Department will have a new mandate to increase uniformed officers' presence and visibility in subway stations, including sending regular patrol cops to do "hundreds" more visual inspections on the trains and in stations every day. Cops will ride the trains in addition to patrolling platforms. "Omnipresence brings about the level of security and safety," Adams said. The goal, he said, is for cops to focus more on serious crime. "We will not allow our police officers to have unnecessary engagement with homeless individuals and those petty issues that will cause negative encounters with police officers and the riders," Adams added. 
The effectiveness of that goal will come down to whether officers actually stick to that plan or get caught up in enforcing rules that bar people from lingering in one station or require them to get off trains at the end of the line, for example. "When we see those in need, we will make sure we make real time referrals to get them the social services and the mental health professionals that can assist them," recently sworn-in NYPD Commissioner Keechant Sewell said on Thursday.
Asked about the plan, the Coalition for the Homeless' policy director, Jacquelyn Simone, said that New Yorkers only sleep on the subway out of necessity, feeling they lack safer options. "The effectiveness of any plan depends on whether outreach teams are able to offer unsheltered New Yorkers the low-threshold, private shelter options and permanent housing they want and need," Simone wrote to City & State in an email. "While greater City-State collaboration and mental health resources could be helpful, we are concerned that surging police officers into the transit system will further criminalize homelessness and push people away from services and housing."
New York Civil Liberties Union's executive director Donna Lieberman raised concerns about cops "criminalizing poverty." "Today, Governor Hochul and Mayor Adams have unabashedly emboldened the NYPD when New Yorkers have taken to the streets and the polls to fight for exactly the opposite outcome, " Lieberman said in a statement.
Transport Workers Union Local 100 president Tony Utano, who had endorsed Adams in the mayoral primary, praised the announcement. "Riders come in and out of the system, but this is our office," Utano said in a statement. "This is where we spend 8, 10, or even more hours a day. The mayor and governor are giving the issue of public safety in the transit system the focus and attention that's required." 
Details on this direction of NYPD resources to the subway system were light on Thursday and Adams declined to elaborate on how many new officers will be sent into stations or riding the rails. "Those numbers are going to vary based on what's going on during the day," he said. 
Former Mayor Bill de Blasio had also tried sending more police officers into subway stations amid concerns about violent crime. Attempts by police to direct people on the subway to shelters, meanwhile, have been criticized as insufficient on their own, given concerns about safety in shelters. 
Public safety was a pillar of Adams' campaign and it's not surprising to see him tackle the issue in his first week. He teased an increase in outreach workers during his first day on the job, after encountering a man sleeping on the subway, in addition to a man who was addressing fellow subway riders and appeared to have a mental illness. In announcing that more officers would be sent into stations and riding the trains, Adams was following up on comments he made on the campaign trail, that transit cops spend too much time behind desks when they should be walking the beat.
While the novelty of this approach is still yet to be proven, Adams and Hochul's chummy presser did strike a decidedly new tone of mutual respect among the city's and state's executives. "You know, GSD is also 'governor gets stuff done,'" Adams said. "We have a great relationship."
Homelessness Case Studies
Powered By
NEXT STORY: Jan. 6 insurrection only aligned New York GOP closer to Trump