Opinion
Bring back the solitary beat cop and put them on each subway
Patrolling train cars and platforms will bring back straphangers and jumpstart our city's recovery.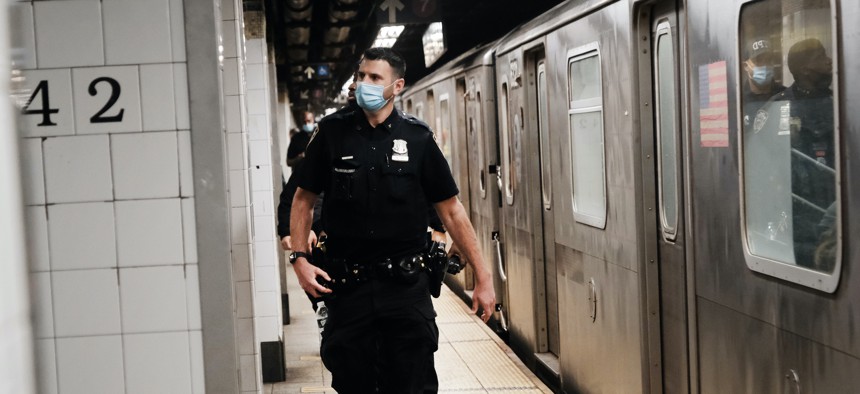 The morning after yet another shooting on the subway, I prepared myself in my Brooklyn apartment to head to midtown Manhattan. I thought for a moment: an Uber will cost me $40, while a subway ride would be faster and much less expensive.
Two and a half years ago, there would have been no question: I took subways every day, everywhere and never felt the need to look over my shoulder.
But we're in a new world now and there has been repeated crime and carnage underground, with the random fatal shooting of a 48-year-old Goldman Sachs employee just the latest blow to the city's recovery.
It is way too early to blame Mayor Eric Adams or New York City Police Department Commissioner Keechant Sewell for the unending stream of bad news emerging from the largest mass transit system in the country.
In fact, seemingly as a result of the Mayor's anti-gun initiative launched in March, shootings in general are down 43% and murders 27% from the same four-week period last year. These statistics bear watching closely; four weeks is not long enough to be statistically valid, but it does offer a glimmer of hope in an otherwise gloomy period.
But back to the subway ills. After a brief ponder that morning, I decided to be a tough New Yorker and take the subway to my midtown appointment. As I descended the staircase to the platform at the Clark Street station on the no. 2 and 3 subway lines, I wondered if there would be a beefed up NYPD presence in the wake of the tragic Sunday shooting on the Q train.
As the subway pulled into the station, I stepped up to get onboard. I saw in front of me through the glass windows: two police officers. My spirit soared; there are finally police on every train I said to myself. 
But as I was boarding, I saw both officers leave the train, get on the platform and promptly walk toward the exit. Together. My heart sank.
For my entire 30 minute trip to midtown –  including a switch of trains at Times Square –  I didn't see another blue uniform, either on the subway cars or on the platforms.
Our city is at a perilous crossroads. So much of our recovery is contingent on public safety. To prevent people from moving to safer, sunnier, lower tax states, we need to get crime and disorder down. To lure more than a measly 38% of Manhattan office workers back to midtown and downtown, the subways have to be super safe.
This year thru May, 14 people have been shot on the subway, including the 10 injured in that heinous Sunset Park subway siege last month. 
Here's a suggestion for the mayor and NYPD Commissioner: announce a program immediately called "One Subway, One Cop." Deploy more than 2,000 police officers each day to walk up and down the subway cars in each subway train. All riders will rest assured that in their average 20-30 minute subway ride, they will see a police officer walk through their car. This will not only act as a deterrent to potential crimes, but also make an officer readily available for any tips of menacing or aggressive behavior. 
According to a transit expert, there are roughly 600 trains running during the day and about 150 overnight. So if you had a cop on every train 24/7, you're deploying at most 2000 police officers from a force of 35,000, less than 6% of the force. 
A similar program should be announced for every subway platform at the more than 470 subway stations in the city. An NYPD officer should walk continuously and patrol the platforms at each subway station to deter crime.
One of the keys to this new deployment strategy is to split up officers to work solo and not in pairs or larger groups. I have witnessed countless scenes of three police officers (or more) chatting at the turnstiles while I'm walking into the station. While I appreciate the need to monitor for fare beaters or other problems at the entranceways, this is not where the serious crimes have occurred. 
Mayor Adams has often said that he doesn't need to hire more police officers – we have the largest police force in the country by far. About 36,000 police officers in New York is an historically high number. By comparison, Chicago has roughly 12,000 officers and Los Angeles just 10,000 uniformed police.
The mayor is right: we don't have a police shortage problem. We have a police deployment problem. We need to bring back the days of the solitary cop patrolling their beat. Getting that started on subway cars and platforms immediately is the first step in bringing our city back from the crises of the past two years. 
Once that happens, I – like many New Yorkers – will gladly delete my Uber app as I confidently travel by subway to my downtown office.