Opinion
Opinion: Southern Brooklyn deserves better than Ari Kagan
The New York City Council Member who left the Democratic Party to join the GOP let his campaign staff and supporters down.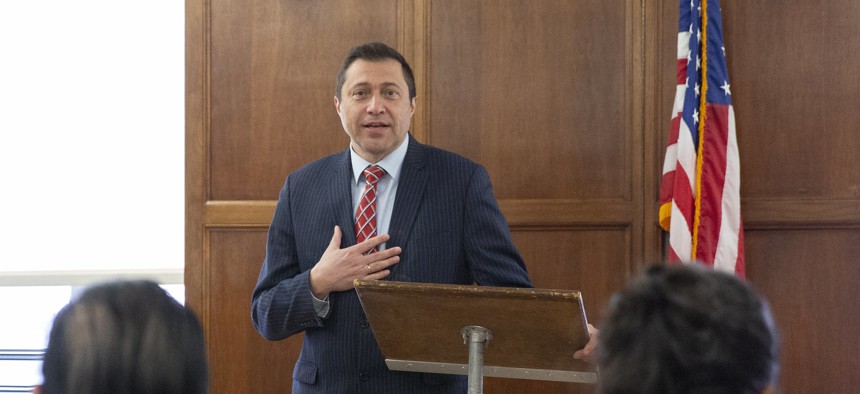 Earlier this month, New York City Council Member Ari Kagan held a press conference to announce that he was abandoning the Democratic Party and becoming a Republican. The news rocked political observers across the city. And, for those of us who were on the ground in southern Brooklyn and instrumental in electing Ari in the first place, the news came as a straight-up betrayal and slap in the face. 
Before I became his campaign manager, Ari and I first sat together in August of 2020 to discuss his run for City Council. We spoke of our shared desire to see more investments in the often-ignored parts of southern Brooklyn. We discussed the dire need for investments towards expanding transportation options, cleaner streets, and safety for all. We talked about investing in NYCHA, and in support services for seniors, youth and working families. We spoke about the very essence of what it means to win a tough and crowded Democratic primary. And we agreed that we would need to build a campaign that was going to fight for every vote and build trust with voters through real and meaningful conversations. 
When it got down to the details, Ari and I had very real political and policy differences. However, in a tough southern Brooklyn district where winning as a Democratic candidate is never a sure bet, Ari was focused on fighting for the community, rather than fighting fringe culture wars like a Republican might. Ari was the only Democratic candidate who could bring a diverse coalition together and amplify the issues most pressing to Coney Island, Bensonhurst, and Gravesend. For me, despite our differences, that core value of community engagement made his candidacy worth fighting for.
Ari had a long history with the Democratic Party, too. He founded a Democratic club. He had worked for a Democratic Congress member. Before that, he worked for two Democratic comptrollers and his predecessor, a Democratic council member. He had been elected and reelected by Democrats to leadership positions within the party for a decade. He seemed to take seriously his responsibility to represent and expand the Democratic Party in southern Brooklyn. Suffice to say, I never imagined he would ever switch parties once we got him elected.
When a candidate asks someone for their vote, they are asking for a tremendous amount of trust. Trust that the person will legislate, vote, and advocate in the community's best interest. Trust that the person will be focused and grounded in the right principals and act with integrity in the halls of power where decisions get made. Day after day, volunteers and community leaders knocked on doors, determined to help Ari earn that trust. Everything built during the campaign, which was about so much more than Ari himself – the camaraderie of the team, the community buy-in, and our shared vision of a stronger, safer, and healthier southern Brooklyn – has essentially been destroyed by Ari's decision.
Now, as Ari's former campaign manager – and more importantly, his constituent – Ari has pushed his betrayal too far for me to stay silent. During Superstorm Sandy, my house was hit hard, and my family was forced to evacuate. Last year, during the campaign, my house was again hit hard by Hurricane Ida. As I oversaw campaign operations for Ari, I was juggling trying to help my family recover from another destructive storm. But this made fighting to elect Ari even more personal and meaningful. So you can imagine my dismay when just days after changing parties, while serving as chairman of the council's Resiliency and Waterfronts Committee and representing a community ravaged by the climate crisis, Ari voted "no" in committee against two landmark climate action bills (thankfully, both bills still passed without his support). My family and other residents know very well that more intense, frequent storms will continue to slam southern Brooklyn and yet our council member decided to join the party of climate change denial.
After the change in party affiliation, Ari was quick to run to Fox News. He insists his decision has been coming for a long time and is rooted in policy differences. But it doesn't take much poo to smell the BS. Ari is ditching the party for a chance to remain an elected official. His decision to suddenly become a Republican was born entirely out of self-interest. In doing so, Ari has become part of the very same cynical, careerist, self-centered politics we fought so hard against under his name when we elected him in the first place. In October, after endorsing a Democratic Assembly member, Ari was quoted calling fellow Dem-turned-Republican Alec Brook-Krasny (who our campaign handily defeated in the primary last year) a "super duper hypocrite." Just weeks later, he pulled the same desperate move. Ari has chosen to turn his back on the very people who believed in him and helped him win. 
From my years of organizing, electoral and governmental work in southern Brooklyn, I've learned it's not always easy being a Democrat. Unlike the rest of the borough, general election challenges from Republicans are serious here. Ari claims our immigrant communities are shifting rightward, but the truth is that Democrats haven't built the trust necessary to address our communities' needs. Ari's reversal in values is insidious in that it only adds to voter apathy and frustration. If Democrats don't respond effectively, we could lose credibility with our voters and therefore our ability to fight for southern Brooklyn's needs. 
The neighborhoods of Coney Island, Bensonhurst, and Gravesend deserve responsive, honest, and dedicated representatives, because only these kinds of representatives will ever deliver what we need. Instead of fighting for a better and more transparent Democratic Party, or for the betterment of his own community, Ari has abandoned us for what he thinks is best for his career. It is clear we cannot trust him with our most powerful tool - our vote.
Zunera Ahmed is New York City Council Member Ari Kagan's former campaign manager and a lifelong resident of Gravesend.
Powered By
NEXT STORY: Opinion: Why occupant density and better data should be included into NYC's Local Law 97