Opinion
Opinion: Modernizing Belmont Park is a smart wager for New York Labor
The New York Racing Association has pledged to use union labor to build the new park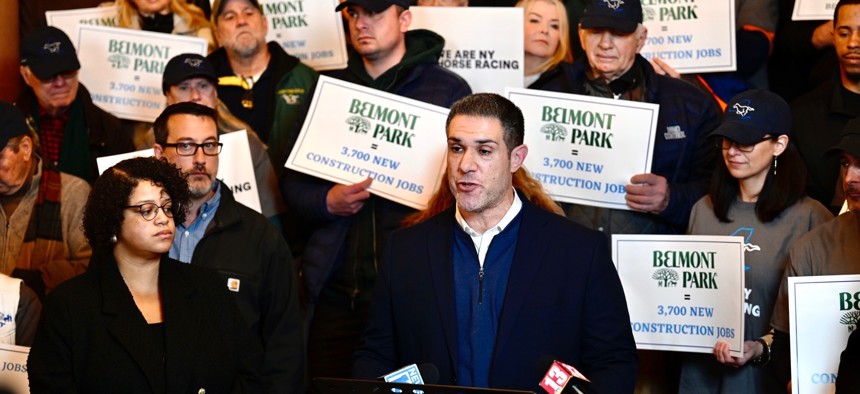 New York is a union state and organized labor is the backbone of our state's construction industry. With over 3,000 workers who built One World Trade Center, to the thousands who constructed the brand-new UBS Arena, the Long Island Rail Road's Third Track project, and the new Tappan Zee Bridge, to those who are working to build the Micron Chip Plant in Central New York, as well as the new Buffalo Bills Stadium, the Empire State was built and is still being built today by proud union tradespeople. 
But much like every other industry, the Building Trades were harshly impacted by the COVID-19 pandemic. In 2020, New York State lost over 44,000 construction jobs – the worst annual decline in over 25 years. Now, three years after COVID-19 hit our state, New York construction jobs continue to lag well behind other states and there is a real concern about the future. In fact, an analysis done by the U.S. Bureau of Labor Statistics found New York State ranks the 49th worst in the country for construction unemployment rates. Given these facts, many have questioned whether the number of strong, good-paying union jobs in New York will ever come back to their pre-pandemic numbers.  
We cannot allow the current reality of union labor in New York State to become our new status quo. Instead, our leaders have an obligation to support projects that will get union workers back on the job. Right now, decision makers in Albany have an opportunity to do just this – and give union workers across the state another shot in the arm – by approving a project to modernize Belmont Park on Long Island.  
This once-in-a-generation, $455 million project would generate over $1 billion in economic impact during construction – and create 3,700 construction-related jobs. Critically, the group in charge of this project, the New York Racing Association (NYRA), is a strong ally of labor and already has contracts with dozens of unions. NYRA now employs more than 500 unionized workers and has made a solid commitment that will make sure the new Belmont Park is built with union labor.  
But that is not all. On top of the 3,700 one-time construction jobs, modernizing this historic racing venue and building the world-class sports destination New Yorkers deserve will support thousands of more workers long term. That includes union tradespeople like carpenters, electricians, steamfitters, and plumbers who work at Belmont Park – and rely on this facility for their livelihoods. 
That's why I joined over 100 union members, farmers, and other workers to rally for the project in Albany earlier this month. And it's why I am proud to stand alongside my union brothers and sisters at labor unions across the city, in urging decision makers to make the right call for our industry and support this project.  
As we head into the final stretch of this year's budget season, Albany lawmakers should listen to their constituents and recognize how modernizing Belmont Park will lift up union workers and provide a critical boost to New York's economy. The project will not just secure a strong future of horse racing in New York State, but a strong future for organized labor.
Anthony Villa is Business Manager & President of the North Atlantic States Regional Council of Carpenters Local 290.
Powered By
NEXT STORY: Opinion: New York City's solid waste bottleneck