Opinion
Opinion: The state must make safe e-bikes affordable for all New Yorkers
Trade-in programs and rebates can help support the growing use of safe electric micromobility devices.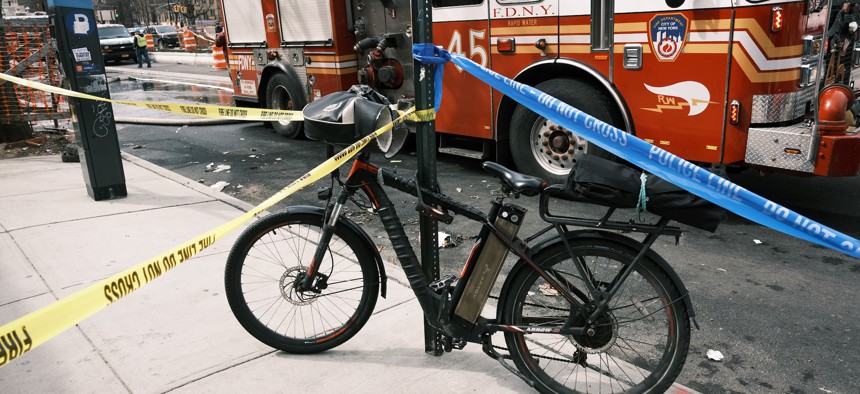 New Yorkers have watched with growing alarm over the last year as more than 200 fires have occurred involving lithium-ion batteries in electric micromobility devices. This week, Mayor Adams released findings from a multi-agency task force outlining the city's current and planned actions and signed off on a suite of new bills to mitigate the risk, including one that requires new safety standards for micromobility vehicles sold in New York. Bill 0663-2022 requires electric bikes, powered mobility devices, and batteries sold in New York City to meet standards developed by the Underwriters Laboratory, an independent organization that writes safety standards for a range of consumer electronics. 
It's an essential first step. But fewer than 10% of e-bikes sold in New York City today meet the required e-bike standard (UL 2849). That's because they're pricey, costing $2,500 or more for an entry-level model and another $700 for a spare battery. Meanwhile, electric mopeds can be bought on Amazon for less than $1,000, and the most popular e-bike model among delivery workers can be bought for $1,500, with spare batteries purchased online for as little as $300. 
Requiring UL certification, without supporting financial access for low-income New Yorkers is likely to drive working cyclists, such as delivery workers, to continue to seek cheaper, more dangerous alternatives. To prevent fires and protect the livelihoods of working cyclists, we call on the city and state government to take additional steps to make high-quality micromobility financially accessible to all New Yorkers. 
Supporting access to micromobility is good policy. Americans bought more than one million e-bikes in 2022, and electric micromobility is a growing transportation mode for commuters across the country. More than just a means of getting around, electric micromobility is helping to fight climate change and advance transport equity. Globally, electric two and three-wheelers have helped commuters save ten times more oil than electric buses, cars, and trucks combined. And a high-quality electric bike can be bought for less than three months of car payments, putting it within reach of lower-income Americans.
Even in a city like New York with great public transit, many lower-income New Yorkers live in transportation deserts with limited access to subway and bus service. E-bikes can expand access to economic opportunity, reduce unnecessary car trips, and save commuters up to one hour of travel time each day. E-bikes make two-wheel transport an option for a range of ages and abilities, including seniors, the disabled, and families shuttling kids to school on e-cargo bikes. Most visibly, an estimated 65,000 New York City delivery workers rely on micromobility to distribute food, groceries, and packages across the five boroughs. 
Just as the federal government moved to regulate automobile safety in the 1960s, we need new approaches to ensure safe e-bike use. And just as the federal, state, and city governments are currently investing in incentives and infrastructure to support electric cars, we need action to support the uptake of electric bikes. 
To start, the Council should support a trade-in program offering a discounted UL-certified e-bike or battery in exchange for a non-compliant model. Council Member Keith Powers just introduced Int. 949-2023, a new bill that proposes a low-to-no-cost trade-in program for UL-certified batteries. Such a program could secure funding through a small surcharge on deliveries. Similar to the Black Car Fund, which adds a 2.5% passenger charge for rides in taxis and ride-hailing apps, the surcharge would be added to delivery apps, including Uber Eats, DoorDash, GrubHub, as well as the dozen other companies facilitating deliveries for groceries and other goods. Funds raised could support the trade-in program as well as rest stations, charging hubs, and other services for gig-economy workers. 
While the surcharge could help meet the needs of working cyclists, the state and city should also pursue a broader e-bike rebate program. Denver provides a model: in April 2022, the city launched an e-bike instant rebate as part of its Climate Action Rebate Program, which allows participants to purchase a discounted bike at local bike shops. The rebate has been a phenomenal success, with more than 6,000 bikes purchased to date and each batch of new vouchers claimed in minutes. Data shows that 71% of riders are driving less: riders in Denver's program ride their e-bikes an average of 26 miles a week, with 22 of those miles replacing car trips. A similar subsidy could bring quality e-bikes into reach for tens of thousands of New Yorkers, expanding access to jobs and significantly reducing fire risk.
In addition to subsidies, the city and state should support special loan programs for e-bike buyers. Spring Bank, a mission-focused, South Bronx-based B-Corp and CDFI, has already stepped up to improve access to micromobility by offering a new e-bike loan program. The loan is open to all, regardless of credit history, ensuring both equitable access and an opportunity to build a positive financial history. Spring Bank's loans can be accessed through employer paycheck deductions or at locally-owned bike shops for anyone with an IDNYC. City and State agencies should partner with Spring Bank to support financial access and help ensure its new micromobility policies succeed.  
Banning inexpensive micromobility without advancing affordable, safe alternatives will only support the shadow market, not stop the fires. Micromobility has the potential to make cities healthier, more equitable, and more sustainable – but only if we do it the right way. This is a pivotal moment for the city to demonstrate its commitment to advancing equitable climate solutions and addressing transportation justice, providing a model for cities and communities nationwide.