Opinion
Opinion: Who's left holding the bag?
The 'Bigger Fees for Big Delivery Bill' could force struggling local restaurants to pay higher fees to out-of-state delivery companies.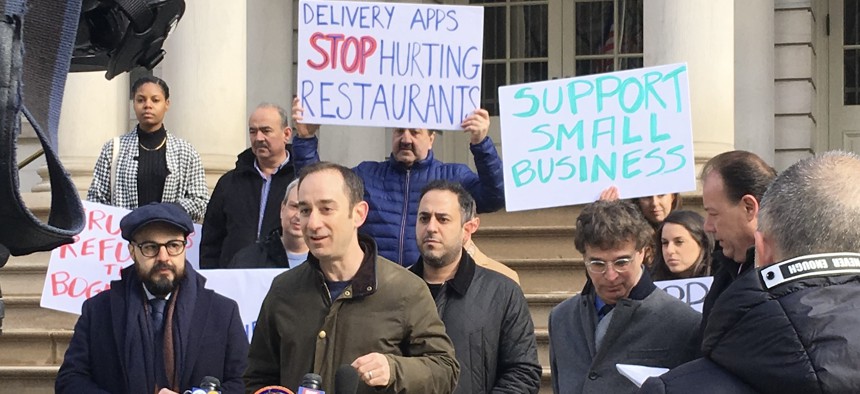 In 2020, the New York City Council passed a bill to cap exorbitant fees for third-party delivery companies. Now Grubhub, DoorDash and Uber Eats are suing the City of New York to overturn this law, which sets the maximum rate these delivery giants can charge restaurants to list them on their apps and deliver their food. They're also backing troubling legislation we've dubbed the "Bigger Fees for Big Delivery Bill," which would eliminate the rate cap, under the pretext of wanting to help small restaurants. 
As the City Council member who sponsored the original rate-cap law and as an advocate who fights for the industry, we want to deliver the truth behind this aggressive and costly lobbying campaign that seeks to gut this small business protection. Last month, we represented local restaurants, proudly testifying for their respective futures in front of elected officials at City Hall. Alongside us were hardworking restaurant owners, delivery drivers, and workers, there to demonstrate the consequences of letting third-party companies continue down this pathway.
The current law allows delivery apps to charge restaurants up to 23% of the cost of each order in fees: a 15% delivery fee, 3% transaction fee and 5% marketing fee. But the delivery companies' now want the City Council to let them charge even higher fees for "marketing."
The big delivery companies say they make it easier for small restaurants to access services like menu photography and website design by paying a higher per-order fee to them, instead of a lump upfront payment they can't afford. Sounds great until you realize that the delivery company wants to continue taking that higher per-order fee from the restaurant even after they've paid off the cost of the service. The companies imply their "marketing" campaign is all about helping small restaurants – including immigrant, minority, and women-owned businesses – by letting them pay higher fees to market themselves on the apps to attract more customers and get more deliveries. But if it were just about marketing, the big delivery companies would only charge high fees for new customer orders, not also for repeat customer orders that didn't result from paying a higher fee.
It's hard for us as an industry to trust these delivery companies' intent after investigations exposed that they were charging bogus fees for orders restaurants didn't receive, listing restaurants on their apps without permission and creating secondary websites and phone numbers which led to confusion and chaos for small businesses, delivery workers and customers. History has shown that restaurants that refuse to pay exorbitant fees to delivery companies end up buried in the search results, making it difficult for customers to find them and therefore making them lose access to their customers – access which is controlled and manipulated by the big delivery companies. 
The fee cap law that passed with the support of the City Council required that the city publish a report on its impact to allow lawmakers to determine if it should remain in effect, be modified, or be eliminated. This report will be done in September. Why are these tech companies trying to rush through this change before seeing the facts? It's simple – to charge bigger fees to small businesses and send that revenue and profits back to their out-of-state headquarters. We must wait until the report is released in September before considering changes to the law because when we govern, it should be based on facts and evidence. 
At the City Council in late March, our public-private partnership represented the hardworking New Yorkers committed to the city and to their fellow neighbors, who serve their communities as important local backbones of every neighborhood and every borough throughout our diverse city. Our advocacy efforts were distinctly for the interests of our neighborhood taquerias and other local restaurants, not the large national taco chain and big delivery companies. Big tech companies don't lobby the mayor and City Council this aggressively and spend this much money unless they expect it will result in positive returns for their investors. 
We must all join forces to prevent the Bigger Fees for Big Delivery Bill from passing the City Council. Because if this bill passes, it will be the small restaurants who will be left holding the bag – all while Big Delivery gets their hands back in their pockets as New Yorkers are still trying to recover from the devastation of the pandemic.