Opinion
Opinion: Cuts to programming that helps people incarcerated at Rikers Island are shortsighted
The Department of Correction wants to eliminate $17 million in jail-based programs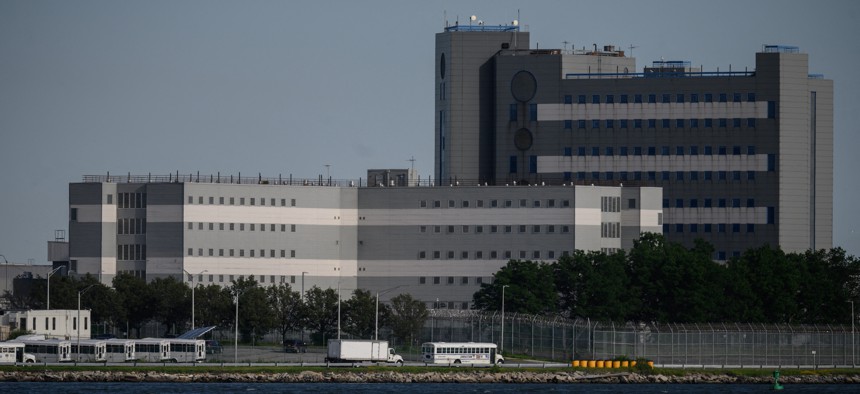 Unless you have experienced it for yourself, it's impossible to know what it is like to be incarcerated on Rikers Island. Imagine being detained pretrial because you simply cannot afford to post bail, which would let you fight your case while living in the community. That's what it's like for most incarcerated people on Rikers. Delays in the courts are rampant. Disconnection from your family and the outside is devastating. Despair is an understandable emotion fueled by an entrenched culture of violence, and a lack of access to medical care and outside recreation due to staff shortages.
Then someone walks into your housing area, and you hear that it's time for programming. The staff from a nonprofit provider lets you know that your feelings are valid, and that your experiences and future matter. They work with you on conflict resolution, employment readiness, and discharge planning. The programs offer a bright spot in a bleak environment, a break from boredom, and hope for your life with your family and community after incarceration. Unfortunately, in just a few short weeks, these programs as you know them, and the staff you have bonded with, will be eliminated.
This is the harsh reality that people who are incarcerated at Rikers are facing. Nonprofits like ours – Osborne Association and The Fortune Society – were shocked to learn recently that the Department of Correction intends to cut $17 million in jail-based programs in response to Mayor Eric Adams' executive budget. This short-sighted decision will erode the quality of programs, cause further harm and trauma to those incarcerated and their families and impact recidivism rates and community safety.
Every day, teams from our organizations and three other providers at Rikers work with approximately 1,700 people through these non-mandated services, keeping people engaged in healing processes and skills-building activities. 
DOC says it intends to take over these programs themselves. As former members of leadership at DOC, we know first-hand that this is a completely unrealistic plan. DOC does not have the expertise or cultural competence to perform the same functions as our professionals. Many of our staff members have lived experience with the criminal legal system. They bring a compassionate and understanding perspective, which bolsters engagement and builds trust between staff and participants.
With cuts slated to take effect on July 1, not only would DOC staff or correction officers be ill-prepared to take over programs in seven short weeks, but there are simply not enough to do so. DOC already struggles to provide basic security and fill correctional officer posts. Their staff do not have union approval to shift staff roles and responsibilities to implement these services. Undoubtedly, programming will be disrupted, and thousands of people incarcerated at Rikers will have to go without the very lifeline they have come to rely on.
Involvement in the criminal legal system is inherently traumatic. Our programs help reduce harm by providing motivation, rehabilitation, and connection to the outside world. DOC has long said that "idleness" is dangerous and has launched "idleness reduction" initiatives in the past. Cutting these programs will fly in the face of this goal and create a more stressful environment which could lead to conflicts.
These programs are also a benefit to community safety. They help pave the way for brighter futures post-incarceration through both emotional and practical skill-building opportunities, ranging from cognitive behavioral therapy to parenting and employment support. The programs are also the start of a relationship between participants and our nonprofit organizations. We continue to work with them on the outside, offering reentry support in the form of housing, job training, and health services. Creating an even more toxic environment without quality, trusted programming will leave people further destabilized following incarceration. They will leave Rikers and other jails without the necessary tools for success on the outside, which may increase recidivism rates.
The current criminal legal system, which disproportionately affects people of color, inflicts harm on individuals, families, and communities. That's why our organizations work diligently to bend these systems towards justice. Quality jail-based programs are critical in mitigating the damage that the current landscape of mass incarceration creates for all New Yorkers. 
DOC and the mayor should not balance the budget on the backs of those who already have so little access to hope and healing. Removing providers like ours from Rikers leads us all down a path in the wrong direction.