Opinion
Opinion: It's time to eliminate New York's statute of limitations for sex trafficking
Survivors shouldn't be prevented from securing the accountability and justice they deserve because they've taken too long to come forward.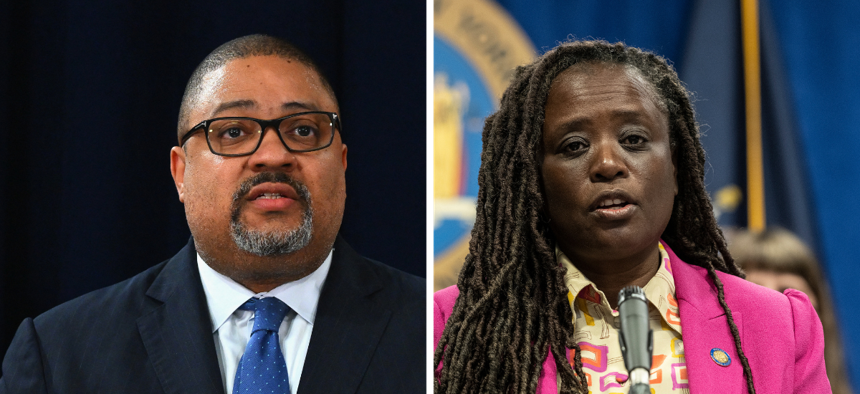 A married couple convicted of trafficking eight women, including two women placed in the wife's care as a certified foster parent. A 31-year-old man convicted of using violence, coercion, and even rape to force teenagers to engage in prostitution. A 36-year-old man convicted of trafficking three 17-year-old girls and exploiting at least eight other women. 
These are just a handful of examples of the horrific cases of sex trafficking we've prosecuted and secured convictions for in Manhattan in the past year alone. Sex trafficking is not, as commonly believed, just an international crime. No matter where you live in New York City or state, sex trafficking is taking place in your backyard and affects your community. We must do more to protect these victims and hold traffickers accountable. 
Trauma, fear, and cultural stigma are just some of the immense hurdles that force survivors into silence. Statutes of limitation often make it impossible for criminal or civil cases to go forward when a survivor is finally able to bravely come forward. But a period of silence shouldn't prevent survivors from securing the accountability and justice they deserve.
We urge the New York State Legislature to stand with survivors by eliminating the criminal statute of limitations for sex trafficking and extending the window for survivors to file lawsuits. 
In recent years, New York has enacted an impressive range of similar laws to protect survivors. We eliminated the statute of limitations for B-felony sexual offenses, including Rape in the First Degree. We passed the Child Survivor Act and Adult Survivor Act, which extend the windows for victims of sexual violence to commence a civil suit. 
Yet none of these apply to sex trafficking. It's past time to correct this injustice by passing state Sen. Cordell Cleare's commonsense bill, S.8722, which underscores that survivors of trafficking are survivors of sexual violence. Moreover, they deserve the same protections under New York state law. 
At the Manhattan D.A.'s Office, the existing statute of limitations regularly affects the scope of our investigations. Survivors – often beginning as teenagers – are frequently preyed upon by multiple different traffickers before they are able to report to law enforcement. The existing five-year statute of limitations severely impacts our ability to secure justice for them. 
If a woman was trafficked by three different men – one after another – but only the third was within the five-year window, the first two walk free. 
If, while investigating a man for trafficking one survivor, we discover a second survivor he trafficked ten years ago, we are typically barred from charging him with that crime, no matter how heinous the allegations. 
These are not just hypotheticals. The Manhattan D.A.'s Office is leading the state in its use of the START Act, legislation that allows us to clear human trafficking survivors' criminal records when that conviction was a result of trafficking. For instance, a conviction for a drug sale – when that survivor was forced to make that sale and hand over the proceeds to her trafficker. So far, we've granted all 24 motions we've received, because we believe that the conviction was a result of sex trafficking. And so far, those motions identified 13 individuals we could not criminally investigate because their conduct fell beyond the statute of limitations. Thirteen people who may never face consequences for their actions. 
Sex trafficking is among the most horrific crimes we encounter. Severe violence, coercion, manipulation, and control, all in the name of greed. Targeted crimes, preying on young people, people with no resources, those with substance use disorders. 
It is no wonder that it can take more than five years for these survivors to report. It is long past time to change our laws to reflect that reality. New York should enact these simple yet effective changes, protect our most vulnerable neighbors, and help us hold traffickers accountable.
Alvin Bragg is the Manhattan District Attorney and Cordell Cleare is a state senator representing the District 30, which includes Harlem, East Harlem, the Upper West Side, Washington Heights, Hamilton Heights and Morningside Heights.
Powered By
NEXT STORY: Opinion: If New York City Council members truly want to tackle affordable housing, why not start by fixing our broken property tax system?