Opinion
Opinion: Mayor Adams, protect our city by funding our parks
Chronic underfunding is disproportionately affecting low-income communities, whose parks depend solely on public funding.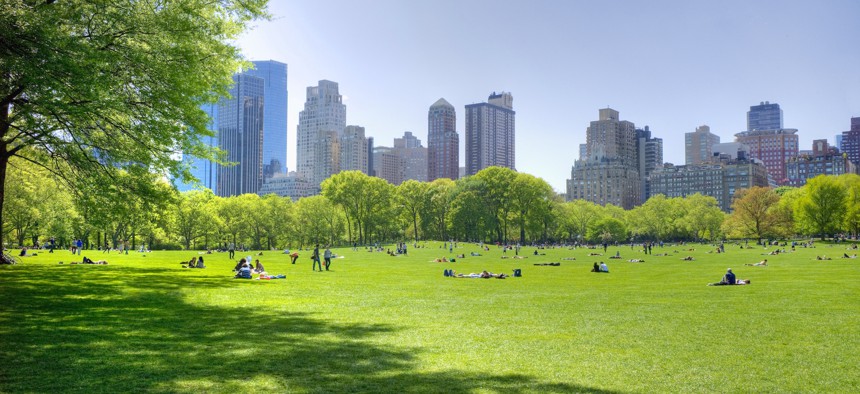 As summer arrives, New Yorkers across the five boroughs are filling our parks and green spaces and enjoying the benefits – from recreation space to simply a place to breathe. These spaces are invaluable to communities, serving as the lungs of our city and acting as essential green infrastructure by helping to improve air quality and mitigate the effects of climate change. Our city's trees remove an estimated 2,200 tons of air pollutants annually and help to alleviate the impact of heat – particularly extreme summer heat waves – making them absolutely critical to public health.
But the New York City Parks Department does not receive the funding it needs to maintain the city's existing tree canopy, plantings and wetlands that provide cleaner air and relief from extreme weather. Since 2001, funding allocated to the Parks Department has remained on average at 0.57% of the total budget. And this year, the mayor's Executive Budget has proposed cutting Parks funding from $647 million to $610 million, which would keep it below 0.6% of our city's budget. What the Mayor is proposing pales in comparison to the roughly $1 billion in funding that NYC Parks needs – which would still be just 1% of the City Budget.
We're at a pivotal moment, in the final stretch of ongoing budget negotiations, and it is imperative that the mayor and City Council provide this direly-needed funding to the Parks Department. 
With its current meager allocation, the department's ability to maintain and improve these vital community spaces is severely hindered. Despite the valiant efforts of Parks staff and volunteers, playground equipment is outdated and unsafe, pathways are crumbling and essential amenities like restrooms and lighting are often in disrepair. 
Chronic underfunding is disproportionately affecting low-income communities, whose parks depend solely on public funding, while parks in more affluent neighborhoods benefit from private investment and conservancies. Devaluing and underfunding parks is directly impacting the health and wel-lbeing of the very communities that Adams has continuously claimed to prioritize. 
With environmental challenges becoming increasingly frequent, adequate funding is needed now more than ever before. With just 1% of the city's budget, NYC Parks could annually restore 60 acres of natural areas and properly care for the existing urban forest. It could also position itself to care for the 25,000 trees that need to be planted annually to achieve the Million More Trees Initiative, a joint effort of all five borough presidents led by the Manhattan Borough President's Office to plant one million more trees, which would help to increase the tree canopy to 30% of the city – up from the current 22% – and which the Council also supports.
Beyond the unequivocal environmental benefits, parks also play a huge role in fostering public health and well-being. A report by New Yorkers for Parks reveals that residents living near well-maintained parks are more likely to engage in physical activity, leading to reduced rates of obesity, diabetes and other chronic diseases. Green spaces also provide mental respite from stress, promoting improved mental health and overall quality of life.
Parks, when in good condition, also have long-term economic advantages. Our parks attract over $17 billion in tourism spending and bring over $600 million to the recreation industry each year, revenue which supports the jobs of thousands of New Yorkers. Access to active recreation space in parks also reduces annual health care costs in New York City by $1.14 billion. 
Investing 1% of the city's budget to the Parks Department is not only necessary but also fiscally responsible. Neglecting our parks will result in greater costs down the line, as deferred maintenance issues escalate, requiring more extensive and costly repairs in the future. 
Investing in our parks now will yield immediate and long-term benefits, both in terms of public health and economic prosperity.
This budget season is the time to invest in our parks and ensure that New York City remains a vibrant and livable city for generations to come.