Opinion
Commentary: Jamaal Bowman is Eric Adams' political nightmare
He doesn't live in New York City (yet), but Rep. Jamaal Bowman could be a real threat to Eric Adams in the 2025 mayoral primary.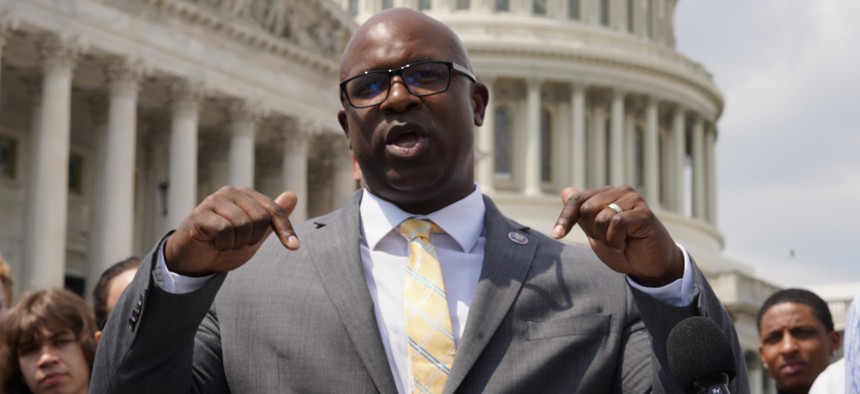 This column was originally published in Political Currents, Ross Barkan's Substack newsletter. Subscribe to the newsletter here.
Lately, Mayor Eric Adams has been angry. He complains, virtually every week, about the media coverage of his City Hall, which has bled top talent, weakened core government functions, and repeatedly courted scandal. These complaints are almost entirely in bad faith; there has been nothing unusual, or overly adversarial, about how the city's newspapers, broadcasters, radio stations and online outlets have chronicled Adams. Every mayor gets tough enough press coverage – ask Bill de Blasio or Michael Bloomberg – and most of them are usually less lucky than Adams, who has managed to have the New York Post, a ferocious right-wing tabloid, as an ally since Adams is hostile to their enemies on the left. Adams, too, has enjoyed gauzy coverage from local broadcast television, where his tough-on-crime rhetoric is often validated. He has had few, if any, policy victories to celebrate, especially compared to de Blasio and Bloomberg, who were either tangibly expanding the social safety net (universal pre-K) or radically reimagining the city's streetscape and parks.
Adams does have something going for him: crime, broadly, has declined from last year. Shootings and murders are down. Adams' entire mayoral campaign was predicated on controlling crime – as usual, falling crime in New York has mirrored a national trend, and individual mayors can't single-handedly drive these numbers down – and he could potentially tout a tangible turnaround in 2025, when he campaigns for re-election. The trouble, for now at least, is few New Yorkers seem to feel safe, at least according to available polling. Adams, as I've written before, is beginning to die by the sword he lived by for so long. As a candidate, it's very easy to rail against crime and say your city, against all evidence, is more unsafe than it's ever been. It's another thing to be the actual executive, tasked with convincing voters the streets haven't descended into anarchy.
Soon, the many activists, interest groups and ordinary voters who are weary of Adams' act will have to decide what they want to do about the 2025 Democratic primary. Vote for someone else? Who? Incumbent mayors typically don't lose. Adams is a strong fundraiser who can probably count on super PAC help from the city's richest developers and financiers, assuming someone Bloomberg-like doesn't emerge to challenge Adams from the right – or a soft technocratic left. Adams has handed out generous contracts to the city's unions, so it's unlikely the most influential labor unions are going to turn on him. He's a product of the Black working class and can count on support from the heavily Black and Latino neighborhoods of the outer boroughs – at least for now. Polling on his actual administration has been sparse, but it seems to be improving. Considering how little Adams cares about the mechanics of governing, life isn't so bad.
Still, storm clouds loom. Adams is not going to coast in the same way de Blasio did when he sought re-election in 2017. In 2013, de Blasio had won a much more commanding primary victory, and he retained enough support from a mix of liberal white and Black voters to ward off serious challengers. Scott Stringer, the former city comptroller, strongly considered a run but passed; he would have done well enough against de Blasio but didn't have a path victory. In 2014 and 2015, de Blasio had quickly established a new, popular pre-K program in the five boroughs, and this was the centerpiece of his re-election bid.
There are several different kinds of candidates who can give Adams trouble. The most obvious would be a reliable liberal or progressive with genuine technocratic bona fides; this unicorn candidate can also not seem too soft on crime, since voters care greatly about it still. Kathryn Garcia, who nearly won in 2021 and now works for the state government, could be a tough opponent for Adams. Brad Lander, the city comptroller, checks the liberal and technocrat boxes, but his hypothetical campaign against Adams would be racially fraught. Lander is a white, relatively wealthy man from Park Slope, and he does not want Adams to call him a racist. Adams will, absolutely, call Lander a racist. He calls many different people racist. This is what he does.
The guilty white liberal cowers in fear of Adams – and Adams himself knows it. But a nonwhite candidate can't be readily called a racist. Even better, for Adams' critics, would be a Black opponent. Then, such attacks are neutralized.
Enter Rep. Jamaal Bowman.
The political moderates and self-described anti-wokes who read me will scoff at the idea of Bowman running for mayor of New York City against Adams. Bowman is a member of the Squad; he is a leftist who has run with an endorsement from the Democratic Socialists of America. He is, to them, like Rep. Alexandria Ocasio-Cortez – the young congresswoman who has become something of an avatar for the unreasonable, too-online, millennial left. Bowman has supported defunding the police. Good luck selling those politics in East New York, Hunts Point or Bensonhurst.
But Bowman, were he ever to run, would carry many of AOC's political strengths – popularity with young and professional class liberals, strong fundraising, the ability to command press attention – without some of her notable liabilities. Ocasio-Cortez won her first election at 28, and her CV, for a new member of Congress, was rather thin. She also did not grow up in New York City. Though Bowman's new congressional district is located almost entirely in Westchester, he spent his childhood and early teen years in Manhattan. He was the principal of a public middle school in the Bronx. A father of three, he lives with his family in working-class Yonkers, which is very close to the city.
Bowman, as a mayoral candidate, would have to transition from the Squad firebrand to the former public school principal. He would have to campaign as a manager, the guy who will care about governing. This is all very doable. To actually win, he need not outright win any of the outer-borough Black and Latino neighborhoods where Adams remains popular. Southeast Queens is going to vote for Adams over Bowman; the same is true of the South Bronx. Bowman's task would be uniting the voters who ranked Garcia and Maya Wiley first in the 2021 primary. The combined Garcia and Wiley vote easily outplaced Adams' total. When the ranked-choice tabulation was done, Adams finished less than 10,000 votes ahead of Garcia.
Garcia campaigned as a moderate, not a progressive. But she won over many progressives in Park Slope, Windsor Terrace and the Upper West Side of Manhattan – white, affluent self-identified liberals – who would choose Bowman over Adams, a mayor they plainly dislike. Garcia was a New York Times-endorsed Democrat. It wouldn't be hard for Bowman to win over the Times editorial board, along with other validators like the Working Families Party. Garcia had very few union endorsements. She got as far as she did because she convinced many well-off voters in Brooklyn and Manhattan to choose her.
There's evidence the Brooklyn Garcia voters, unlike those in lower Manhattan, would vote for someone like Bowman because they were Yuh-Line Niou supporters in the 10th Congressional District primary held last year. Niou beat Dan Goldman, the more moderate candidate who went on to Congress, in Prospect Heights, Gowanus, and Park Slope. Goldman won some of the wealthiest whites in DUMBO, Brooklyn Heights, and lower Manhattan. If Bowman recalibrated as something of a progressive technocrat – "I successfully ran a school, so now I can run a city" – he could compete for these Goldman votes too. Bowman, at the minimum, is a much more talented politician than Niou.
And he's far more potent than Wiley, the former de Blasio lawyer who became the progressive standard bearer after Stringer imploded in a #MeToo scandal. Bowman would slaughter Adams along the waterfronts of Brooklyn and Queens – Astoria, Long Island City, Williamsburg – and likely win over professional class, nonwhite voters in Bushwick and Bedford-Stuyvesant. There's a reflexive view that these people don't vote enough, but it's not 2007 anymore. Astoria, in 2021, produced more Democratic votes than Jamaica. The working-class vote in New York, broadly, is fading. An ascendant, socially liberal, college-educated bloc is replacing it. Blame gentrification. Nationally, it is very much a problem for Democrats that the working-class, high school-educated voter is trending rightward and that Democrats are becoming the party of the people with four-year and advanced degrees. There aren't enough of these people to build large national coalitions. But there are a lot of them in New York City. They're registered Democrats. And they are certainly voting in the June 2025 primary.
Bowman would need a public safety platform that doesn't explicitly call for the deep police cuts he wanted as a member of Congress. He'd have to talk about the SHSAT issue in a way that would not deeply alienate the growing Asian vote, which might be impossible. He would be wise to lean hard into his education experience and his own working-class upbringing. Bowman is a charismatic Wu-Tang Clan disciple. He talks like a kid who grew up in Manhattan. He's already derided Adams for calling himself the "hip-hop" mayor. "Hahaha that's a joke!" Bowman recently told City & State. "Make sure you write I'm laughing my ass off, because that's a joke."
The most obvious hurdle to a Bowman candidacy is that he still lives in Yonkers. He would need to move to the Bronx to run. It's not clear he'd want to move. Many in the activist class and various progressive spaces want Bowman to launch a primary against Kathy Hochul in 2026 or eventually run for U.S. Senate. The mayor of New York is a very powerful but terminal office. If Bowman wants to be president, City Hall is probably not the ideal launching pad.
But a statewide primary against Hochul would be harder than a match-up against Adams. The city's generous matching funds program would quickly put Bowman on par with Adams. Hochul could hammer Bowman with TV and radio ads, swamping him with special interest cash. It's not obvious, either, when a Senate seat would open up. Chuck Schumer will turn 73 this year and may stay in Washington, D.C. into his 80s. Kirsten Gillibrand is only 56. Bowman could primary her someday, but such a campaign would lack the same rationale as a battle against Adams.
If Bowman doesn't run – and odds are he won't – progressives will have to consider how they will actually hold Adams accountable. The Jumaane Williams primary bid against Hochul was a failure, and any repeat of such an effort would merely embolden Adams. Williams himself, were he not so timid around Adams, could mount a viable bid against him, risking his Public Advocate perch for greater glory. Or, like Lander, he could wait for term limits to force Adams out in 2029. That's in six years. A long time for New Yorkers, but maybe not for the political class.