Opinion
Opinion: Legislators must rescue the rent-stabilized market before it's too late
In New York City's unique housing market, incomes aren't keeping up with the rents needed to operate and maintain buildings in the five boroughs.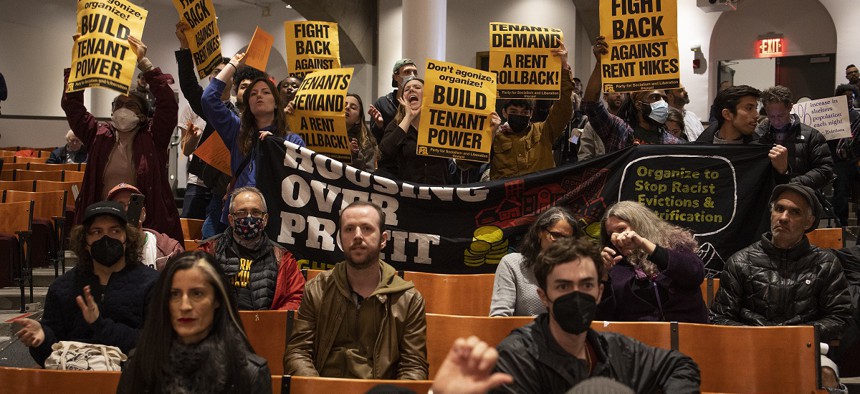 When Silicon Valley Bank, Signature Bank and First Republic Bank all recently failed, regulators quickly swooped in to stave off a crisis, securing deposits and steering billions of dollars into regional banks to stop the situation from growing more widespread. New York is now staring down a fiscal cliff of its own around housing, yet most legislators, inexplicably, are choosing to hasten the crisis, not avert it. 
The housing market here is obviously unique and perennially unaffordable for low- to middle-income renters. The city is full of sky-high rents and eye-popping sale prices interspersed with nearly 1 million rent-stabilized and controlled apartments, where occupants' incomes can barely cover the average rent of about $1,500 a month. The city collects income and expense data on rental buildings that's often ignored by the New York City Department of Finance when assessing the value of a building. This only deepens the financial situation for buildings with many income-challenged tenants and large operating expenses. 
For decades, there were several regulatory tools for property owners of rent-stabilized buildings, including the opportunity to raise historically low rents, and de-control high-rent apartments. Largely established in the 1970s, these tools were created in part to help economically stabilize rental buildings after decades of disinvestment led to a massive decline in housing quality and hundreds of thousands of dilapidated units were turned over to the city when property owners stopped paying their property taxes. In the end, the city provided an incentive for property owners to reinvest in their buildings.
Fast forward to 2019, when the state updated the rent laws by removing nearly every available tool to help stabilize building finances and incentivize repairs, maintenance and upgrades. This put tremendous pressure on the Rent Guidelines Board to raise rents and is a crude mechanism for funding capital improvements. 
Unfortunately, incomes aren't keeping pace with the rents needed to operate and maintain buildings. According to a recent report from the Rent Guidelines Board, owners' operating costs rose by 8.1%. And even though the board voted in favor of rent hikes of 3% for one-year leases signed starting Oct. 1, those increases still won't deliver the money needed for maintenance and renovations, leaving many building owners financially underwater.
Even the prospects for owners who are able to borrow are not good, as interest rates have doubled, and lenders have exited the market or become more risk averse. Funds for preventative maintenance are few and far between, and the impending consequences for New York's rent-stabilized market will be disastrous.
When property owners are unable to secure a loan or pay for upgrades, it leads to a death spiral of disinvestment. For example, let's say a building does not have the $100,000 annually it requires to keep its facade, boiler, roof and elevator in good repair. After a few years, this building's expenses will escalate; what would have been routine becomes an expensive emergency as those roofs begin to leak, facades crumble, boilers die and elevators fail. The building loses its value, property tax revenue falls and the tenants suffer in substandard housing. This scenario is playing out all across our city every day, and the recent state budget in Albany addressed none of these issues. 
Given the plethora of multimillion-dollar listings, sky-high luxury condos and the unrelenting demand for rentals, it's easy to assume New York's real estate market handsomely rewards all investors. That is not the case. For most housing, taxes and water bills are increasing, labor, insurance and fuel are expensive, and operating margins thin – especially for older buildings with large populations of rent-stabilized tenants. In the Bronx alone, rental buildings are facing an 8% increase in property taxes.
Unfortunately, the scarcity of housing has created a zero-net sum gain approach to policymaking. It's assumed that if something helps tenants, it's bad for property owners and vice versa. The truth is that tenants' and property owners' interests are frequently aligned. While no one wants to pay more in housing expenses and far too many New Yorkers are rent-burdened, crumbling buildings with deteriorating infrastructure serve no one. When buildings are too costly to maintain, everyone loses.
It's time to move away from the dynamic of tenant versus property owner and craft policies that provide help to renters who need it and income to buildings to keep them in a state of good repair. Sooner or later, markets that don't provide the necessary revenue to sustain themselves collapse. While the financial services industry moves much more quickly than the real estate market, New York's policymakers need to take a page from banking regulators and rescue the rent-stabilized market before it is too late.  
Martha Stark is a tax policy expert and serves as the policy director of Tax Equity Now New York, a coalition of groups that has sued the state and New York City claiming that the property tax structure violates the state Constitution and various tax laws. She is also a former commissioner of the New York City Department of Finance. Stark now serves as clinical professor of practice at New York University's Robert F. Wagner Graduate School of Public Service.
Powered By
NEXT STORY: Opinion: Here's how we can end the chaos at our curbs