Opinion
Editor's note: The City Council should remember Daniel Patrick Moynihan when deciding on MSG
The late U.S. senator might not be so inclined to issue a 10-year renewal for the arena if it would keep the transit hub's redevelopment plan from bolder alternatives.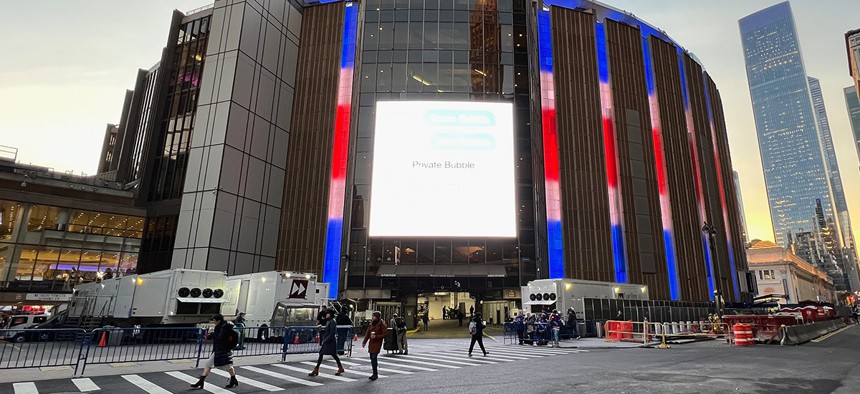 A New York City Council Land Use Committee hearing later this month will decide whether to issue Madison Square Garden a 10-year permit to continue operating at its present location above Penn Station. Architect Alexandros Washburn, former public works adviser to the late U.S. Sen. Daniel Patrick Moynihan, prefers that the committee approve three years instead. Washburn led the effort to create the much-praised Moynihan Train Hall across the street from Penn Station and said his former boss wouldn't give Madison Square Garden 10 years when redevelopment plans for the transit hub haven't yet considered alternatives to the state's proposal. "Keeping the permit shorter focuses attention on getting to the best result," he said.
Washburn, now leading the architectural vision of the Grand Penn Community Alliance, a group pushing for a bolder plan that would relocate the Garden and rebuild the station above ground, said a shorter permit gives the state more leverage in negotiations with the arena over the redevelopment and allows alternatives like his more time for consideration. The state has proposed interior renovations with new aboveground entrances and a glass shed that covers an unused taxiway to bring more light into the station. "(Moynihan) would be disappointed or disgusted that, politically, we're accepting such low standards for public works," Washburn said.
A poll commissioned by the Alliance found 71% of New Yorkers want Penn Station reimagined on par with Moynihan Train Hall and Grand Central Terminal, and 66% support a more modern Madison Square Garden built nearby. Putting the self-serving study aside, it would be shortsighted to not acknowledge Moynihan's vision for big public works as decisions are made about the busiest transit hub in America.