Commentary
Commentary: Chris Quinn for Mayor?
The former City Council speaker has spent nearly a decade running a homeless services nonprofit. She could be a strong contender in 2025 – if only she would challenge Adams.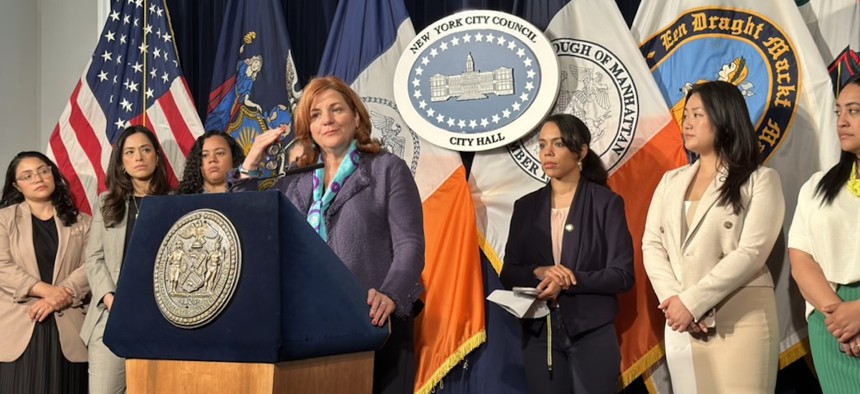 Amid crisis and scandal – the ongoing influx of asylum-seekers, the indictment of a former Department of Buildings commissioner – Mayor Eric Adams no longer looks so invulnerable. In less than two years, he will have to face voters again, and it's plausible that, unlike his predecessors Bill de Blasio and Michael Bloomberg, he won't coast to re-election. His approval ratings were never very high to begin with. 
But you can't beat somebody with nobody, and Adams has plenty of strengths, including a deep reservoir of support in the Black community and a huge campaign war chest. Various potential primary challengers have been bandied about, but no one has shown they are willing to take him on. 
One prominent Democrat, though, has emerged as an Adams critic – and she has the pedigree, in theory, to make his life very difficult in 2025. Christine Quinn hasn't participated in electoral politics since she ran and lost a race for mayor a decade ago. For much of the last 10 years, she's been the president and CEO of Win, New York's largest provider of shelter and supportive housing for homeless families. Of late, this has given her a platform to opine on the migrant crisis and criticize Adams for declaring that the new arrivals would "destroy" New York City. 
Quinn insists she has no plans to challenge Adams in the 2025 Democratic primary. "I'm not running against Mayor Adams, but will I ever run for mayor or something else? You know, a girl should never say never in the city of New York," she told PIX11 last week. But ambition doesn't die easily. For eight years, she was the speaker of the City Council, the first woman and openly gay person to hold the powerful post. Her star, for many years, burned bright. Heading into 2013, she was Bloomberg's heir apparent, the front-runner who would shatter New York's mayoral glass ceiling. She polled far ahead of the field and graced the cover of New York magazine.
Quinn was undone, in part, by her closeness to Bloomberg. She was the speaker who engineered his controversial and successful bid to temporarily overturn the city's term limit law in 2008. Both Bloomberg and Quinn won third terms but paid steep political prices for them. Bloomberg left office a far more unpopular mayor than he was in 2009 and Quinn's campaign eventually cratered. Democrats, angry at Bloomberg – the NYPD's abuse of stop-and-frisk and the rapid gentrification of working class neighborhoods rankled many New Yorkers – sought candidates who could properly distance themselves from the billionaire. 
Quinn, who no doubt suffered as the lone female candidate in the race, could not shed her association with the unpopular billionaire mayor. After Anthony Weiner's campaign imploded, it was de Blasio, once her long-shot rival, who surged to the top of the pack. Democrats wanted an unabashed anti-Bloomberg progressive and de Blasio, then the public advocate, fit the bill. A super PAC closely tied to him had been bashing Quinn for months, and he was well-positioned to dominate the field. 
Ten years later, can Quinn make a comeback? It's not impossible. There are enough younger Democrats who have moved on from the controversies of the Bloomberg years. Quinn has built a whole second career in the homeless services sector that she can tout on the campaign trail. She would not struggle for media attention – a campaign kickoff would be widely covered and every major news organization would assign reporters to follow her on the trail. 
She is the sort of candidate who may give Adams immediate trouble. Adams' managerial competence has been called into question and technocratic attacks on his mayoralty can be powerful. Kathryn Garcia, who nearly beat him in 2021, would be more ideal for the anti-Adams set, but Quinn – another tough, articulate veteran of municipal government – could bring tangible strengths to a campaign. 
To beat Adams, affluent voters in Manhattan – the East Side, the West Side, and downtown – must be galvanized. Just as Garcia won Manhattan two years ago, Quinn could do the same. She'd also have a strong pitch to the vote-rich brownstone neighborhoods of Brooklyn. 
This coalition, however, would not be large enough to win and that's where Quinn's path to victory will get tricky. Garcia couldn't quite beat Adams because enough voters preferred another rival, the more progressive Maya Wiley, in the ranked-choice voting primary. Wiley ran strongest in the younger, gentrifying, and more left-wing neighborhoods of the city. Could Quinn excite Democrats in socialist Astoria or Bushwick? What about professional class voters in Prospect Heights? She would have to because she won't have much margin for error: a white Manhattanite is going to lose badly to Adams in the working class Black and Latino neighborhoods of the outer boroughs. 
If Adams is cutthroat enough, he can try to turn progressives against Quinn by running the old de Blasio playbook against her. When Bloomberg was mayor and she was speaker, she bottled up legislation that would have guaranteed five paid sick days to every worker in the city. Since Bloomberg and the business class were against the bill, Quinn was too, and de Blasio hammered her repeatedly. Adams could seek to paint her as a Democrat aligned against his working class base. 
Realistically, as a white woman, Quinn will also have to confront Adams branding her a racist. Adams has been unafraid to cynically exploit identity politics and any opponent must be prepared for what's to come. Quinn isn't easily intimidated, and she could point to her own path-breaking potential: New York has never elected a female mayor, nor someone who is proudly gay. That kind of history, to a lot of people, is well worth making.