Budget
Why Democratic state lawmakers are pushing to tax the rich
State Sen. Alessandra Biaggi wants higher taxes on the rich, health insurance for airport workers and an expansion of absentee balloting.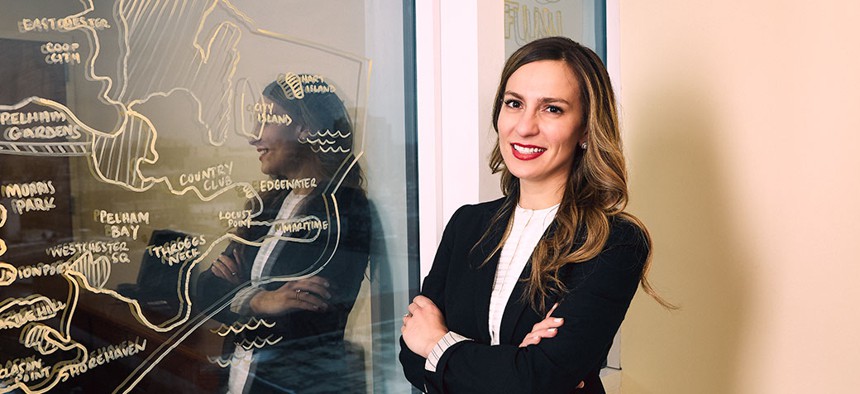 The coronavirus outbreak has scrambled the state legislative session in myriad ways, but it has also created some opportunities on several policy fronts. 
With 10 days to go until the April 1 state budget deadline, lawmakers like state Sen. Alessandra Biaggi are pushing for new taxes on the wealthy to help the state balance its books during the coronavirus pandemic, which is adding billions of dollars to the state budget deficit. Biaggi also has two bills tied to the public health threat that she wants to get across the finish line in the budget process. 
One of the bills, which she introduced last year, would require that airlines provide employees with health care coverage – an effort that has become more urgent in recent weeks because of the role that airports like JFK and LaGuardia play in keeping society running during the outbreak. Another bill sponsored by Biaggi would expand access to absentee voting in order to keep the gears of democracy moving during the pandemic. 
City & State spoke with Biaggi on Friday evening to hear the latest on where things stand with the state budget and these two bills. The interview has been edited for length and clarity. 
Where do you see things standing right now in terms of state politics?
What I have been committed to, and I think many of my colleagues have been committed to, is the conversation around budget justice. Right now there isn't an area in this world, let alone my district, that is not affected by this virus in a very negative way, especially economically. So when we're looking at the deficit, we're talking about what are we going to do on raising revenue. 
What I mean by that is a wealth tax, a tax on private jets and yachts over $235,000. I mean, we're not talking about hurting the working class or the middle class by any means. I truly, as a public servant and as a human being in this time, do not know how we as a state come out of this crisis without increasing taxes on the highest earners.
What's the latest with your bill expanding access to absentee ballots?
There are many states across the country that are either doing absentee or you know, kicking back their primaries. We don't want to have any situation where New Yorkers cast their votes, cast their ballots, and then have to be thrown out or are constitutionally or judicially challenged. Luckily, this past week we received two support memos, one from (the New York Civil Liberties Union) and one from (New York State Association of Counties), and I think that that's just signaling the importance of this. We don't have vote by mail in the state of New York. I'm saying that we do this because having people go to the polls during a pandemic health crisis is irresponsible. 
And where do things stand on the Healthy Terminals Act, which aims to help airport workers get health insurance?
Yesterday, I had a call with the Airlines for America, which is the national trade association that represents Alaska Airlines, American Airlines, Atlas Air, Delta, FedEx, Hawaiian Airlines, JetBlue, Southwest, United and UPS. Before this pandemic, they were against this bill. During this pandemic, they're still against this bill. But their main contention is that these airlines are suffering. 
My immediate response to that was, yes, I am sensitive to the fact that we don't want all of our major industries to collapse. So you can't tell me that you get to take money from the federal government, which is taxpayer dollars, and then turn around and say: "Yeah, we're still going to pay our CEOs $10 million, $50 million a year and not give several thousands of workers in New York $4.54 to get health insurance at this time."
This bill originally covered employees at JFK Airport, LaGuardia, Penn Station, Grand Central Station, the Port Authority Bus Terminal and Stewart International Airport in Orange County, but now it just affects the three airports. What changed?
We felt that it was too much to take on collectively at this time, and everyone is just focused on airports. So we carved out a portion of the bill because it is a gargantuan effort. And we took a portion of it that is manageable and reasonable. 
JFK and LaGuardia are much bigger and more important than Stewart, so why is that airport included?
You would have to ask 32BJ.
Some lawmakers are anxious to come up to Albany one more time and get the budget done. What are your thoughts on whether these bills have to either get into the budget or else it could be at least several weeks – if not longer – before it has another chance to pass?
We still have a constitutional duty to pass a budget by April 1. We're still fighting, if you can even imagine, for the full funding of our public schools and making sure that our communities have the resources that they need. That fight does not stop simply because we have a pandemic. At the same time, I also fully understand the fact that No. 1, the most important thing is that we have a budget in the state. And No. 2, that we're all safe. I'll tell you right now, I am not a fan of putting the policy in the budget. And I'll also say that I fully appreciate the moment that we're in. So if that's the way it has to go, that's the way it has to go.