Transportation
Commuting during the coronavirus pandemic
Polly Trottenberg on how NYC public transit is adapting to the crisis.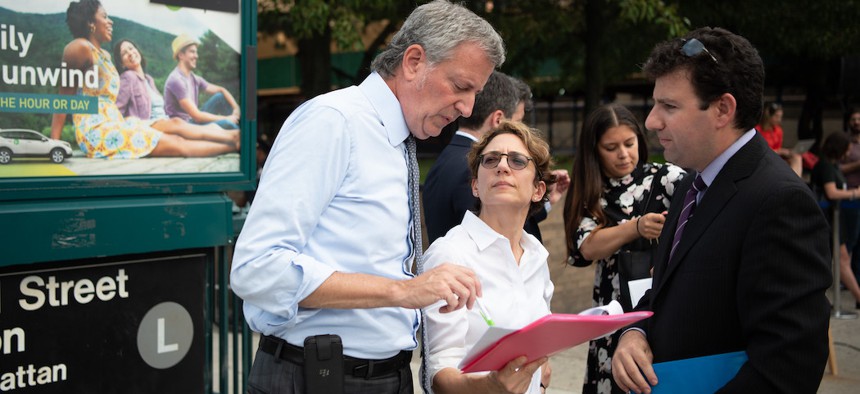 As New York City and its surrounding regions slowly begin opening up, people are starting to head back into work and visit businesses. That means more people returning to public transit after record low ridership caused by the coronavirus pandemic. But the crisis is far from over, as other states are experiencing spikes in cases and public health experts are warning of a potentially worse second wave in late summer or early fall. 
In a City & State webinar on Tuesday, New York City Department of Transportation Commissioner Polly Trottenberg discussed some of the ways public transportation is adapting to the pandemic, and the lasting changes the city might expect after the crisis has passed. This interview has been edited for length and clarity.
How will people be able to commute once New York City and state begin to reopen?
Let me talk a little bit about what we are doing right now because I think there's a lot of comparison to New York and other cities. And sometimes that comparison works and sometimes it doesn't work. We've now opened 45 miles of streets for recreation and cycling, including nine miles of temporary bike lanes which we put up in about a week and a half – which for us is a record. The mayor has announced we're doing 20 miles of bus lanes. And then we're also working with the Council on, as the city gets into Phase 2, opening up streets and sidewalk space for restaurants. And I think the mayor will have more to say on that this week, but I hope people will be pleased. I think it's going to be a very nimble and user-friendly approach that we'll do.
Are there any technologies that are being developed at the New York City level to help respond to the coronavirus crisis?
When the pandemic hit, I discovered the two parts of my agency that were most on the front lines. One would be very intuitive, which is the Staten Island Ferry, which is a small piece of New York City's own transit system. The second piece was the people who go out and collect the money and service our parking meters. It turns out they were on the front lines as well. And I think what we're striving to do with the MTA is just how do we make these systems much more contactless? I have a massive crew of people who go out every morning to collect all these coins from these parking meters. It's a very kind of anachronistic system and now we're looking to very much advanced technologies that can make that much more cashless. We have a pay by cell system. We made some improvements to it a couple months ago to try and make it more user friendly and affordable. 
Recent CDC guidance has encouraged driving and for people to drive alone. How would you respond to that?
There were a lot of us who were very critical of what the CDC was proposing. It seemed to go against everything we're trying to do in urban transportation. Our city, if we're going to come back to our full strength, we're going to need to rely on our mass transit systems. Back when we were working on 14th Street busway and all the things around the L train enclosure, a statistic I used to give is the L train, that one line out of many subway lines carries more people in the morning rush hour between 8 and 9 a.m. than the six East River bridge crossings. That is how efficient our subway system is. It's not going to be a solution to have everybody take to their cars. Our city streets could never handle it. And I think you're hearing the discussion today about things we want to do for people who are looking for alternatives, particularly improving bus service and potentially building out much more bike lanes very quickly. We have continued to work with Lyft, who has been a great partner. We've been expanding the Citi Bike system up into the rest of Manhattan, into the South Bronx, looking to do infill stations in Manhattan and expanding membership, including giving a lot of one-year complimentary memberships to health care workers and frontline workers.
How do you feel about the 500 new police officers approved as part of the MTA budget in December, particularly in the current climate and with social distancing enforcement?
I don't think the MTA should be spending their precious operating funds on that policing. Obviously the city is seeing a profound evolution in how it uses policing. I think the mayor has already announced no more policing on social distancing. And in fact the city is sending I think it's about 800 folks to go be ambassadors in the subway stations. We're working closely with the MTA on that. The city has done multi-, multi-millions of mask giveaways. Totally agree that that is an absolutely essential thing the city should be providing folks who want to come into the transportation system. I think NYPD is enthusiastic about getting out of the social policing game as well.