The Tale of Joe and Andy
Comparing the nation's leading Democratic moderates.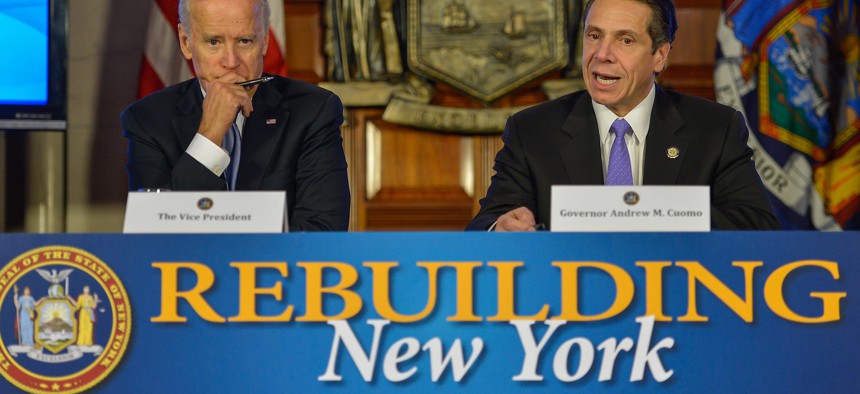 Speculation has ramped up recently regarding the potential appointment of Gov. Andrew Cuomo as U.S. attorney general, should his old pal former Vice President Joe Biden win the presidency next month. While Cuomo was quick to shoot down such rumors, there's no denying the affinity between the two politicians, both moderate Democrats with decades of experience.
Here's how the two line up. 
Born: 
Biden: 1942
Cuomo: 1957
Raised: 
Biden: In blue-collar Scranton, Pennsylvania
Cuomo: In middle-class Queens
Faith:
Biden: Catholic
Cuomo: Catholic
Breakthrough role: 
Biden: Elected to the U.S. Senate in 1972
Cuomo: Appointed HUD secretary in 1997
Big scandal:
Biden: Plagiarized parts of his speeches while running for president in 1987
Cuomo: Meddled in the supposedly independent Moreland Commission to Investigate Public Corruption
Presidential ambition:
Biden: If the polls are accurate, the Democratic nominee may be the next president.
Cuomo: Long rumored to be considering a bid, he might have run if Biden didn't.
On same-sex marriage: 
Biden: His open support in 2012 pressured President Barack Obama to openly back it. 
Cuomo: He championed a 2011 law allowing it in New York.
On Medicare for All:
Biden: Opposed at the federal level, citing costs
Cuomo: Opposed at the state level, citing costs
Key quote: 
Cuomo: "I am the government."
Biden: "I am the Democratic Party right now."
Running mate:
Cuomo: Kathy Hochul
Biden: Kamala Harris
Wingman role: 
Biden: Served as Obama's vice president
Cuomo: Might serve as Biden's attorney general