Interviews & Profiles
Meet New York City Council Speaker Adrienne Adams
The Queens lawmaker wasn't Mayor Eric Adams' first choice, but she made history anyway.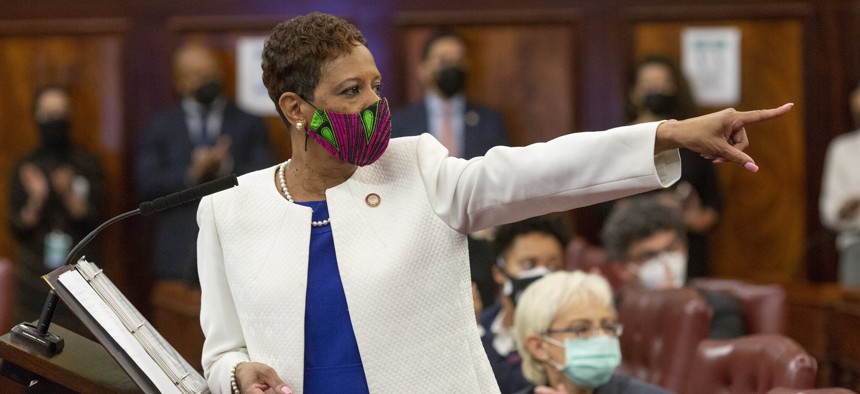 Some people of faith hear messages from God in their church. Others might hear an inner voice at a sacred holy site or in the home where they grew up. Adrienne Adams heard something like a vocational affirmation the first time she walked into the New York City Council chambers. "Many people never find their purpose in life," Adams told City & State in a recent interview. "I walked in that place and I looked around me and I got a chill. And my spirit said, 'Welcome home.'"
Elected to represent Southeast Queens in City Council District 28 in 2017, Adams is by all accounts a deeply spiritual person. Her faith and her church – the Greater Allen A.M.E. Cathedral in Jamaica – has sustained her through the COVID-19 pandemic, a season of immense loss in New York City and in Adams' own life. That season, however, has now coincided with Adams' ascension to the office of City Council speaker.
The race for City Council speaker – an internal majority vote of the council traditionally muddied by heaps of external influence – officially ended last week with 49 of 51 council members' voting for Adams. Unofficially, Adams clinched the seat late last year when she secured endorsements from major labor unions, Queens and Bronx powerbrokers and, eventually, public backing from 32 other new and returning council members. Her first term as speaker is two years, but she's likely to be reelected for another two years before she's term-limited out of the council.
Despite not being talked about as a top contender earlier in the race, Adams emerged in the chaotic last few weeks as a candidate who was well liked by colleagues new and old, and who had the respect – if not yet the support – of incoming Mayor Eric Adams (no relation).
Though the two Adamses align on some key policy issues and Adrienne endorsed Eric in the primary, surrogates of Eric Adams pushed aggressively in those last weeks for members to support another candidate, Council Member Francisco Moya, also of Queens. But drawing on her reputation as an experienced, fair leader and a push for the first-ever majority female council to elect a female speaker, Adrienne Adams continued her campaign without the incoming mayor's behind-the-scenes support. Endorsements from a decisive majority of council members prompted the new mayor to publicly congratulate Adams, and Moya to drop out. In amassing that winning coalition, Adams is making history as the first Black speaker of the City Council. She's also the first speaker since 2001 to represent a district not in Manhattan.
In some ways, Adams' under-the-radar campaign and historic victory in the speaker race mirrors the style she has crafted in her decade-plus in politics and public service – first on Queens Community Board 12 and then in the City Council, where she made history as the first woman elected to represent District 28. To hear her colleagues tell it, Adrienne Adams is neither firebrand nor egotist, but a stalwart professional with a "listen first, speak later" philosophy. 
Those may not be the makings of the kind of outspoken progressive champion who some council members had hoped to elevate. It remains to be seen how starkly she'll stand in contrast with Eric Adams – with whom she shares not just a name but a Southeast Queens upbringing, a high school alma mater and a relatively moderate streak on issues like public safety. Spokespeople for Eric Adams did not respond to a request for comment.
Nonetheless, some new and returning members are hopeful that Adrienne Adams will bring a no-nonsense, open-eared competency to the council – the kind of efficient and transparent leadership that members like Adams herself complained was lacking under outgoing speaker Corey Johnson. "She knows that being a leader means knowing you first must listen to all stakeholders. She's a sponge. Deliberate and thoughtful," Council Member Justin Brannan of Bay Ridge, Brooklyn, an early leader in the speaker race who dropped out to support Adams, wrote over text. "Of course I especially love Double A because she doesn't suffer fools gladly, and her bullshit detector is finely tuned."
"I was hooked after the first meeting"
Adrienne Adams grew up in Hollis, Queens, the daughter of two union members – her mother a correction officer on Rikers Island and her father a Teamster and UPS driver. Hollis falls slightly outside of District 28, but it resembles the neighborhoods Adams now represents, including Jamaica, Rochdale Village, Richmond Hill and South Ozone Park – predominantly Black middle-class areas where the number of homeowners rivals the number of renters. 
Though she attributes her early interest in public service to her membership in Alpha Kappa Alpha – the nation's first Black sorority – while at Spelman College, Adams spent the first few decades of her career in the private sector as a corporate trainer at several telecommunications companies as well as a short stint at Goldman Sachs. When she left corporate America without another job lined up, it was a sorority sister who convinced Adams to come to her first meeting of Queens Community Board 12. "I was hooked after the first meeting," Adams said. 
Adams joined the community board in 2009 and served as chair of its education committee, a position where she staked out a hard line against school co-location, the Bloomberg-era effort to house multiple schools into the same building. At the same time as it was creating new privately managed charter schools, the city was closing low-performing existing schools. "I went to every (Panel for Education Policy) meeting as education chair, from Staten Island to Brooklyn to the Bronx to Queens, and I watched children begging the panel to keep their schools open while the panel looked down at their BlackBerrys," Adams said. During this time, Adams was also working as a child development instructor outside the community board. 
Rodney Pride, who worked with Adams on the community board at the time, said that issues like equity in education brought out a fierce side of Adams. "Adrienne can move from a demure type of individual to a beast," he said. "She can really transform." But despite Adams' advocacy, closings and co-locations continued. "It was heartbreaking to watch," she said. "I don't think a single school was left open or not co-located in spite of all of those meetings."
In 2012, when Adams was elected chair of Community Board 12, the board was in "chaos," as multiple people described it. "I remember attending that meeting as a staffer, and prior to her being chair, sometimes those meetings would run well into midnight," said Council Member Selvena Brooks-Powers, whose council district neighbors the 28th. 
Adams swiftly implemented changes. Committee chairs were assembled and told they had to come up with agendas for their meetings – and stick to time limits. Robert's Rules of Order were adopted and sessions were typically preceded by some "parliamentary nugget" – explaining the anatomy of a point of order, for example – to keep members informed. "We turned that thing around," Adams said of the community board. "It started with organizational skills, management skills, operational skills, but primarily listening skills. The same types of skills that I will use to lead this body." 
Is the City Council in need of the kind of ship-righting Community Board 12 required? The council may not be in chaos, but it is facing an influx of nearly three dozen new members and remains in limbo between virtual and in-person proceedings. "The reality is that the council right now has to adapt, like many other workplaces, to a different environment," said Ali Rasoulinejad, who served as chief of staff to former Council Member I. Daneek Miller of Queens. "If there was somebody who is best equipped to bring the council into 2022, I would imagine it's the Fortune 500 human resource guru."
If anything is sure about the council's new speaker, it's that the body's 50 other members will have her ear. Current and former colleagues describe Adams as someone who above all else prizes listening to all voices in the room. "I know that as speaker, she's going to be inclusive, she's going to listen to the voices of all of her members," Brooks-Powers said. 
If there was somebody who is best equipped to bring the council into 2022, I would imagine it's the Fortune 500 human resource guru.
– Ali Rasoulinejad, chief of staff to former Council Member I. Daneek Miller of Queens
"She is someone who has a gentle touch," said Republican Minority Leader Joe Borelli of Staten Island, who leads a conference of five members. "But those that speak to her know she has a very tough side to her." The five Republican members were not among the 33 who endorsed Adams over Moya in mid-December, but all voted for her for speaker last week.
Marjorie Velázquez, the new council member in the Bronx's 13th District, was one of the 33 members to endorse Adams and also referenced her reputation as a listener. A few hours after speaking to City & State one day late last year, Velázquez called back to mention that Adams had just reached out to her unprompted to ask what COVID-19 testing lines looked like in the 13th District. Adams told the council member to call if her district needed anything. "This is how we get shit done," Velázquez said with excitement. 
In describing her leadership style, Adams preaches the same "listen to everyone" philosophy that her colleagues praise her for. But in a City Council that is increasingly politically diverse – adding democratic socialists as well as new Republican members – listening is only half the battle. The real challenge for the speaker will be making decisions after all those voices are heard and defending those decisions to a mayor who might be at odds with them.
"Breathe before you act"
After Adams caught the political bug at Community Board 12, then-Queens Borough President Melinda Katz appointed her to the board of the Queens Public Library. Then-Gov. Andrew Cuomo later appointed her to the local planning committee of the Jamaica Downtown Revitalization Initiative. In 2016, Adams set her sights beyond the community board, declaring her candidacy for James Sanders' state Senate seat. Adams lost the primary election to Sanders, even with the backing of the Queens Democratic establishment. 
Adams didn't have to wait long for her next moment. In 2017, she ran for and won New York City Council Member Ruben Wills' vacated seat. (She then fended off Wills' attempt to regain his seat in the 2021 Democratic primary.) In her first term, Adams has sponsored legislation protecting fast food workers from firing without just cause, requiring reporting on risk factors for sexual harassment at city agencies, and recently, expanding the powers of the Civilian Complaint Review Board. She has advocated for legalizing basement apartments after the damage the remnants of Hurricane Ida wrought in her district, and called for increased transit investment. (She and neighboring council members have butted heads with the de Blasio administration on where and how to implement new bus lanes and busways, however.)
Adams was also one of several City Council members who sued to block the implementation of ranked-choice voting in New York City in 2020. She argued that the new system wasn't being rolled out with enough education and could disenfranchise people of color in particular. Through a spokesperson, Adams declined to comment on whether her opinion on ranked-choice voting has changed after the election.
But it's public safety issues for which Adams has arguably received the most attention. Tapped to head the council's Committee on Public Safety in December 2020, Adams emerged as one of the body's power players on police issues at a time when progressive swaths of the city were calling out for widespread reforms following a summer of protests against police brutality and systemic racism.
Adams has sponsored police accountability reforms like requiring reporting on demographic data of drivers at traffic stops and criticized the management of the NYPD's Special Victims Division at one of several oversight hearings she's led. At one of her early hearings, she denounced then-Commissioner Dermot Shea for failing to show. "I just really want to acknowledge that once again we're not joined by Commissioner Shea," Adams said in a February 2021 hearing. "He didn't come to our hearing after the protests, or our hearing in December on racism in the police department, or our hearing last month on police reform."
Like most Democrats in the council, Adams calls for increased oversight of the police and emphasizes the need for reform. But Adams doesn't go as far as the progressives who call for slashing the police budget, and advocates for a more gradual redistribution of responsibilities from the NYPD. Adams was one of several Black City Council members who advocated for striking a balance between aiming to reduce violence and misconduct by the police, while still emphasizing the importance of an NYPD presence in their districts. "When those with privilege put down their torches and return home, our Black, Latino and Asian communities will remain," Adams said in the summer of 2020, after the passage of a budget that reform advocates argued didn't reduce the NYPD's budget enough. 
At other times, Adams has said that police reforms proposed by the council don't go far enough. She was one of a handful of Democrats who voted against the Right to Know Act in 2017, saying the requirements for cops to identify themselves with business cards – but only in certain interactions with the public – fall short. "I live walking distance to where Sean Bell was murdered," she explained when taking her vote in 2017, referencing the 2006 killing of the 23-year-old in Queens by plainclothes NYPD officers. "The bill doesn't go far enough for the mothers. It doesn't go far enough for the families. It doesn't go far enough for those that look like me."
Adrienne can move from a demure type of individual to a beast. She can really transform.
– Rodney Pride, who worked with Adams on Community Board 12
Recently, Adams introduced a resolution calling on the state to increase penalties for sexual harassment and assault committed against correction officers. "Some folks don't like for me to talk about this, because COs are supposed to be demonized," Adams said in a recent interview on the local politics podcast "FAQ NYC," mentioning instances of groping, molesting and more that female correction officers on Rikers have detailed to her. 
It's an issue Adams said she never heard her mother talk about when she worked as a correction officer and she assumes it wasn't prevalent then. Adams' mother worked in the kitchen of the jail's women's house, bringing with her what Adams called excellent South Carolina cooking. Her mother referred to detainees as "her girls," Adams said on the podcast. Some describe Adams as a lawmaker who keeps her cards close to her vest. "Some people – God bless them, and I love working with them – they're firebrands and you know exactly where they are because they're really, really out there," said political consultant Amelia Adams (no relation to Adrienne, or Eric). "Not to say that (Adrienne) is not taking on issues, but I think she's always really trying to get as many perspectives on an issue before really weighing in on something. Some people like that, some people don't like that. I think it's always good to breathe before you act." 
Adams won't have much breathing room before confronting issues that are already dividing the new mayor and sections of the new City Council. The first fight between the mayor and council emerged before Eric Adams' swearing in, when the new mayor said that he would move violent inmates of city jails back into punitive segregation – a term used synonymously with "solitary confinement" by the city Department of Correction – after former Mayor Bill de Blasio had moved them out. Twenty-nine new and returning City Council members signed a letter calling on Eric Adams to reverse his "pro-solitary position." 
The letter was signed by progressives and some (relatively) more moderate Democrats. Adrienne Adams was not among them. She didn't go into detail about why she chose not to sign the letter, but told City & State that solitary is an "inhumane apparatus." "I happen to believe that when it comes to violent offenders, New York is far too sophisticated to continue to operate the way that we operate in our penal system," she said of the solitary issue, suggesting that there have to be rehabilitative-focused alternatives to solitary confinement.
Much is made during the speaker race of how the speaker will strike a balance between serving as a check on the mayoral administration and working as its partner, and the solitary confinement debate seemed like an early indicator. So far, Adrienne Adams appears uneager to take a hard line against Eric Adams' position.
Though the two attended Queens' Bayside High School together in the 1970s, their relationship doesn't really stretch that far back. "Eric and I didn't necessarily travel in the same spaces," Adams recalled. "I was very active in high school. I was a cheerleader, I was in gospel choir, I was in concert chorus, I was a general officer captain, one of the leaders, quote-unquote, for gym or whatever," she said. "I loved – loved – Bayside High. Loved it. So my world revolved around Bayside High. Eric's world revolved around Bayside High," Adams said with a laugh, not so subtly suggesting that the new mayor spent more of his time outside the school building. (Eric Adams has said that he struggled in school.)
Fortunately, most of us aren't the same people we were in high school – though Adrienne Adams is still known as a vocalist – and Eric and Adrienne's relationship has evolved since their Bayside days. "I don't think it's any secret that I endorsed Eric Adams (and) was a tremendous supporter of him running for mayor," Adrienne Adams said. "We are going to work as partners. … We have also agreed that there will be times where we don't agree on some things."
Only two council members – Democrats Charles Barron and Kristin Richardson Jordan – did not vote for Adams for speaker last week. Barron suggested that Adrienne Adams aligns too closely with Eric Adams, including on public safety issues. "Mayor Adams and soon-to-be Speaker Adams are cut from the same political cloth. You'll see," Barron said when explaining his vote. "With the support of this speaker and the governor, (Eric Adams) will turn Black and brown communities into a police state."
Velázquez said she's confident that Adams will strike the right balance in working with the mayor. "I mean, look at who ended up being rolled out in that 33," she said, referring to the 33 members who endorsed Adams for speaker. "You had folks like Tiffany Cabán and you had folks like me. You just had a diverse crowd."
A season of grief
Both Adrienne and Eric Adams will have their terms continually challenged by the COVID-19 pandemic. Eric Adams swaggered into his first week on the job with a promise to send New York back to work and move on from wallowing in the challenges the pandemic brought. Last fall, Adrienne Adams eyed a more cautious measure, asking Gov. Kathy Hochul to renew a moratorium on in-person government meetings due to the threat of the delta variant at the time.
Stepping into the speaker's office, Adrienne Adams is viewing nearly everything through the lens of the pandemic. "Unfortunately, all roads lead to the pandemic," she said when asked about her priorities. "It's impacted every aspect of our lives, from education to transportation, health care, housing, homelessness. All roads lead from this thing called COVID-19." 
The pandemic has coincided with what Adams called the "most significant season of my life," a season that came with repeated loss. In May 2020, Adams' father died from COVID-19 after testing positive for the virus during its outbreak in March. "Coronavirus then was a death sentence, even though we refused to believe it," Adams said of the call she and her sister received that her father, who had a preexisting condition, had tested positive. 
Nine months later, Adams' mother, who lived in South Carolina, died unexpectedly. "She was in excellent health," Adams said. "Had it not been for my faith, once again, and leaning on that strength that my mother and father instilled in me – and as my angels on my right shoulder and left shoulder still instill in me – I probably would have remained in the fetal position," Adams said from her home office, with her Bible and a photo of her mother by her side. 
Adams describes God as the "center of her life," noting that that was not just the way she and her sister were raised, but the way that she and her husband raised the four – now grown – children they share. "I first always give thanks because I'm awake again," Adams said of her approach to each day. "And it didn't have to be that way."
Powered By
NEXT STORY: This week's biggest Winners & Losers