New York City
Adrienne Adams elected first Black City Council speaker
Former speaker candidates Keith Powers and Diana Ayala were named to leadership positions at the council's first meeting.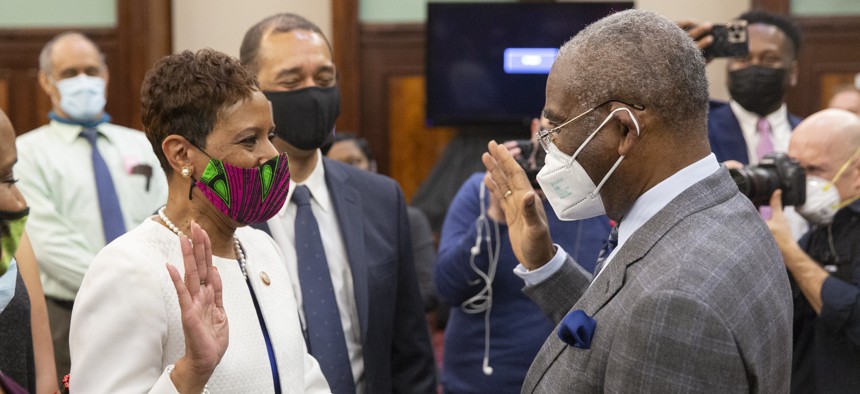 In its first official meeting on Wednesday, the New York City Council – and its first majority-female class with record-breaking diversity – elected Adrienne Adams as the council's first Black speaker.
By a 49-2 vote, the council elected Adams, bringing to a close a long and winding race for the council's top position. "You did this," Adams, wearing suffragette white, told her colleagues after the vote. Calling out each of the other members by name in her acceptance speech, Adams struck a magnanimous tone in her first remarks as speaker. "I have served with several of you. I have spoken with all of you. I hear you," she said.
Adams also commented on the historic nature of her win, and of the makeup of the new council. "Our diversity will make us stronger," Adams said. "Representation matters, not just because it will inspire the next generation of leaders, but also because it will drive how we govern moving forward."
By Wednesday, Adams, who has represented District 28 in Southeast Queens since 2017, was the sole council member running for speaker, having secured pledges of support from a majority of members before the new year. Adams beat a field that at one point included as many as seven candidates. By mid-December, however, the race had narrowed to two contenders; Adams and Council Member Francisco Moya. Moya, also from Queens, had behind-the-scenes backing from surrogates for Mayor Eric Adams but dropped out after Adrienne Adams announced endorsements from 32 other members. "I am so proud to nominate and really stand next to someone who has just been truly a great friend," Moya said on Wednesday as one of the members who nominated Adams for speaker before the vote. "I stand with you and support you 100%."
Though Adams' victory was a sure thing prior to the vote, the election wasn't without some drama. Council Member Charles Barron, a new member who previously served in the council until 2013, declined to vote for Adams but did not cast a vote for any other member as Adams was the only member nominated. Barron, attending the meeting remotely, suggested that he was voting against Adams because she has not been progressive enough on issues including public safety and was too aligned with Mayor Eric Adams. "Mayor Adams and soon-to-be Speaker Adams are cut from the same political cloth. You'll see," Barron said. "With the support of this speaker and the governor, (Eric Adams) will turn Black and brown communities into a police state."
New Council Member Kristin Richardson Jordan, who represents Harlem, also voted against Adams and declined to vote for anyone else. "We need more than symbolic representation," she said.
But overwhelmingly, members enthusiastically voted in support of Adams. Republican City Council Minority Leader Joe Borelli – who was not among the members who publicly announced support for Adams late last year – nonetheless voted for her on Wednesday. "I'd like to disassociate myself from the comments that were made by the person just before me and vote emphatically for Adrienne Adams and congratulate her," Borelli said, speaking just after Barron.
Democratic Council Member Tiffany Cabán praised Adams as she cast her vote for speaker. "It is only fitting that we elect the first African-American speaker," Cabán said, mentioning the greater diversity of the council. "It was an honor to work with my colleagues to help secure this historic win."
Wednesday's meeting also included the appointments of other top roles in the council. Council Member Keith Powers, who was a candidate for speaker, was appointed as majority leader and Council Member Selvena Brooks-Powers, whose district neighbors Adams', will be the majority whip. Council Member Diana Ayala, who also ran for speaker, was appointed deputy speaker – a position that did not exist in the last session. What's a deputy speaker do? "I don't know," Ayala told City & State with a laugh.
Committee assignments – and the news of who will be leading top committees including Finance, Land Use and Education – are expected to be announced ahead of the next meeting of the full council later this month.
But City Hall buzzed with energy on Wednesday, as the new class chatted with their colleagues and some other familiar figures before shuffling into the chamber. Rep. Gregory Meeks, new Comptroller Brad Lander and former City Council Speakers Corey Johnson and Melissa Mark-Viverito were also in attendance. While the day marked the official introduction of more than 30 new members, that new cohort also included members who have previously served in the council, including Gale Brewer, Darlene Mealy and Barron. "Jefferson's gone, but I'm here," Barron said during roll call, referring to the removal of a statue of Thomas Jefferson from the chamber last year.
Wednesday's meeting, despite kicking off with a celebratory tone, nonetheless reflected the odd limbo the council finds itself in as COVID-19 cases rise with the outbreak of the omicron variant. The meeting was a hybrid of in-person and virtual. Adams has said that recovery from COVID-19 will be a top priority, saying on Wednesday that it's imperative the city provide reliable and equitable access to vaccines, boosters and tests. "We will work together as partners to correct the failures in this latest surge," she said in reference to long lines for tests, drawing particular attention to the outsized effects of the pandemic on communities of color.
Prior to winning election to the council in 2017, Adams served as chair of Queens Community Board 12. Before that, she spent decades in the private sector working as a child development instructor and corporate trainer. She is also the first speaker from outside Manhattan in two decades and has emphasized that she will bring a renewed focus on the outer boroughs.
Shouting out the Southeast Queens neighborhoods she represents – Jamaica, Richmond Hill, Rochdale Village and South Ozone Park – Adams said Wednesday, "I hope to continue to make you proud every single day."
– With additional reporting by Jeff Coltin