New York City
Adrienne Adams declares victory in the City Council speaker race
With 33 pledged supporters, Mayor-elect Eric Adams' embrace and opponent Francisco Moya's concession, Adrienne Adams has secured the speakership.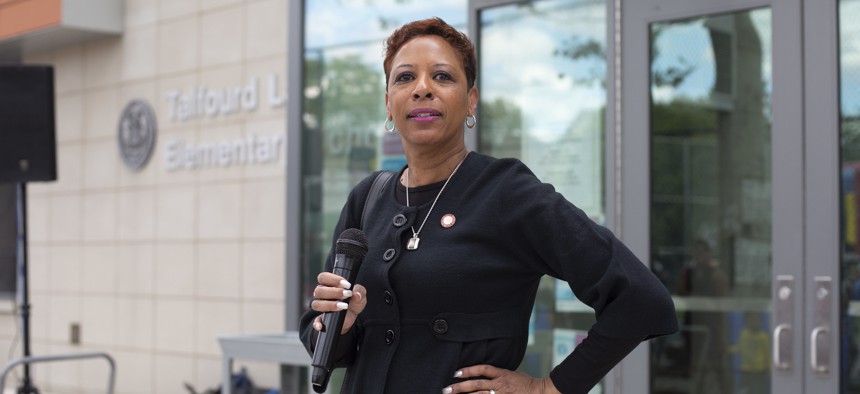 And then there was one. On Friday afternoon, in a quick apparent end to an at times chaotic race for City Council speaker, Queens Council Member Adrienne Adams declared victory over Francisco Moya, releasing a list of 33 members pledging to vote for her, well over the majority needed to win. While no speaker race is really over until it's over, two more developments as good as sealed Adams' victory. Mayor-elect Eric Adams – whose surrogates had been aggressively pushing for Moya over the past two weeks – tweeted his support for Adrienne Adams. And shortly after, Moya conceded the race to his colleague. From roughly seven candidates to one, Adrienne Adams is the last speaker candidate left standing. 
On Friday, Adrienne Adams released a list of 33 returning and incoming City Council members who she said will vote for her for speaker. Adams is set to become the first Black speaker the council has ever had, and she will be the first speaker from outside Manhattan in decades. The formal vote for speaker is expected to happen in early January. "I am honored to have earned the support and the trust of my colleagues to be their Speaker. Our coalition reflects the best of our city," Adrienne Adams said in a press release on Friday. "We are ready to come together to solve the enormous challenges we face in order to not just recover from COVID but to build a better, fairer City that works for everyone. I want to thank the Council members, labor and party leaders, women's groups, and everyone in our broad coalition for their support."
While Eric Adams' behind-the-scenes support of Moya has been no secret over the past week, Adrienne Adams aligns with the incoming mayor on key issues too. "Not only did Adrienne Adams endorse me, she voted against defunding the police," Eric Adams said on Thursday. The incoming mayor embraced Adrienne Adams in a tweet shortly after her list of supporters was released. "After weeks of hearing from incoming Council Members and leaders I trust across New York, I am convinced that Adrienne Adams will be the best choice to lead our City Council forward, and I believe she has the support to do it," Eric Adams wrote. "Let me be the first to congratulate my good friend Adrienne Adams on securing the votes to become the City Council's speaker and making history."
The whirlwind of news on Friday effectively brings an end to a speaker race that has had multiple frontrunners over the last few months – none of whom were either Moya or Adrienne Adams until very recently. Both Adams and Moya declared victory in the race for New York City Council speaker on Tuesday, saying they had collected a majority of support – which is impossible – but didn't elaborate on which 26 or more of the City Council's 51 members they were counting as supporters. Following the release of Adams' list of supporters and the incoming mayor's embrace of her, however, Moya conceded the race on Friday. "At this point, it is clear that I do not have a path to victory," Moya wrote on Twitter. "I have worked alongside Councilmember @AdrienneEAdams1 for many years. She is a dedicated and thoughtful leader who I know will work closely with all councilmembers. I will fully support her leadership as we continue to fight the devastation of the pandemic."
Adrienne Adams had already amassed support from major unions including 32BJ SEIU, District Council 37, Communications Workers of America District 1 and the New York State Nurses Association. Also backing her run is Rep. Greg Meeks, chair of the Queens Democratic Party, and state Sen. Jamaal Bailey, chair of the Bronx Democratic Party. That combined support – from labor, Queens and the Bronx – was key in tipping the scales toward Adrienne Adams, even as allies of Eric Adams continued to push for Moya behind the scenes. Earlier this week, four speaker candidates – former frontrunners Justin Brannan, Keith Powers and Diana Ayala, along with Manhattan Borough President and Council Member-elect Gale Brewer – dropped out of the race and pledged their support to Adrienne Adams. On Friday morning, Council Member Carlina Rivera dropped out of the running for speaker, pledging her support to Adams.
In addition to the 14 members who were on record supporting Adams as of Friday morning, the list released that afternoon included over a dozen more who had yet to make public commitments. That included groups that both candidates had wrestled for, such as a 5-member "progressive bloc" consisting of Tiffany Cabán, Sandy Nurse, Shahana Hanif, Jennifer Gutiérrez and Alexa Avilés. Missing from the list is the bloc of five Republican votes in the council led by Minority Leader Joe Borelli. Borelli, however, tweeted congratulations for Adams on Friday afternoon.
In the press release, several members affirmed their pledged votes with statements of support. "I proudly stand with my colleagues in support of Adrienne Adams as our next City Council Speaker," incoming Council Member Chi Ossé wrote. "Adrienne Adams has been a lifelong public servant, has spoken truth to power and advocated for her community consistently."
"Adrienne Adams, a proven leader in the Council, is the speaker who will unite us to support New York City's comeback and lift up New York Yorkers fighting to make it, including my home borough of the Bronx," Council Member Eric Dinowitz added in the release. 
Public endorsements in the speaker race were almost totally absent until Sunday, when Moya announced the support of four Latino incoming and returning members; Carmen De La Rosa, Shaun Abreu, Christopher Marte and Oswald Feliz. 
Adrienne Adams, a Queens native, former corporate trainer and former chair of Queens Community Board 12, came from the very back of the pack to secure victory in the speaker race. Unlike some of her opponents, she did not pound the pavement during the primary races to build relationships with the incoming members whose votes she would still be courting. Even so, she has pointed to her leadership in Queens and in the council – including as chair of the Public Safety Committee – as the resume needed to lead the incoming council. "We're facing a post-pandemic recovery," Adams told City & State in November. "I've seen the passage of four executive budgets through as a member of the budget negotiating team, and I'm fully prepared to work with the incoming council and mayor to bring our city back."
The incoming mayor wielded considerable power in the race – one phone call held the power to sway council members looking to maintain good relations with the incoming administration. Even so, it's noteworthy that Eric Adams' team's push for Moya failed, possibly pointing to an incoming council that is prepared to break with the mayor. Though Adams had long said that he would stay out of the race, allies and advisers to the incoming mayor had – until very recently – been whipping votes for Moya. The push for Moya from Adams' surrogates that began in earnest last week garnered some backlash from council members who seemed to resent the call to rally around a candidate like Moya, who was a later entry into the race, is less popular among members, and who hadn't laid as much groundwork as some earlier frontrunners in building support among colleagues himself. Several women's groups also revived calls to elect a female speaker, criticizing Adams for backing a male candidate. (There's also been a push to elect a Latino candidate given the dearth of Latino representation in top city positions.)
The City Council is set to elect the next speaker in the first week of January. Below is the list of 33 members who were named as supporters of Adams on Friday. With only one candidate left in the race, however, Adams' victory is likely to be unanimous. 
Manhattan
Council Member Carlina Rivera, District 2
Council Member Keith Powers, District 4
Council Member-elect Gale Brewer, District 6
Council Member Diana Ayala, District 8
Queens
Council Member Sandra Ung, District 20
Council Member Tiffany Cabán, District 22
Council Member-elect Linda Lee, District 23
Council Member Jim Gennaro, District 24
Council Member-elect Shekar Krishnan, District 25
Council Member-elect Julie Won, District 26
Council Member-elect Nantasha Williams, District 27
Council Member Adrienne Adams, District 28
Council Member-elect Lynn Schulman, District 29
Council Member Selvena Brooks-Powers, District 31
Bronx
Council Member Eric Dinowitz, District 11
Council Member Kevin Riley, District 12
Council Member-elect Marjorie Velázquez, District 13
Council Member-elect Pierina Sanchez, District 14
Council Member-elect Althea Stevens, District 16
Council Member Rafael Salamanca, District 17
Council Member-elect Amanda Farías, District 18
Brooklyn
Council Member-elect Lincoln Restler, District 33
Council Member-elect Jennifer Gutierrez, District 34
Council Member-elect Crystal Hudson, District 35
Council Member-elect Chi Ossé, District 36
Council Member-elect Sandy Nurse, District 37
Council Member-elect Alexa Avilés, District 38
Council Member-elect Shahana Hanif, District 39
Council Member-elect Rita Joseph, District 40
Council Member-elect Darlene Mealy, District 41
Council Member Justin Brannan, District 43
Council Member Farah N. Louis, District 45 
Council Member-elect Mercedes Narcisse, District 46
This is a developing story.
Powered By
NEXT STORY: Lawmakers to Hochul: Expand public renewable power