Personality
How three new moms are changing the New York City Council
Three of the City Council's new members have become first-time mothers over the past year. They're ready to do more for mothers and other caregivers in New York City.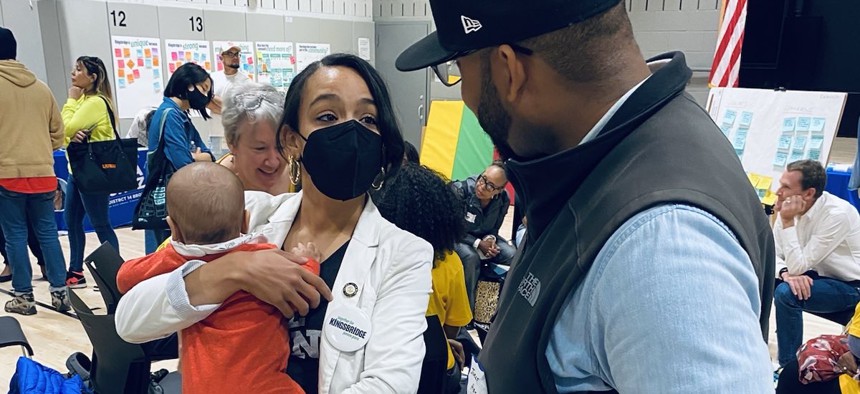 When New York City Council Member Jennifer Gutiérrez cast her vote for Speaker Adrienne Adams – the first Black woman and mother to hold the position – the first-term lawmaker participated in the vote virtually, while breastfeeding her newborn daughter. "I was really happy that I got to share that with my daughter, to vote for the first Black speaker," Gutiérrez recalled recently. "I got some nasty comments," she said of a tweet celebrating the moment, "But mostly positive."
Gutiérrez is one of three new mothers to join the City Council this year. She was pregnant during the campaign last year and gave birth shortly after the election. Council Member Julie Won, who represents Western Queens, gave birth to her son in March, and Bronx Council Member Pierina Sanchez had her son in August. The three members join the ranks of other parents – including those with young kids – in the council. Council Member Kevin Riley also welcomed a son over the summer.
In conversations with City & State, the three Democrats spoke passionately about the challenges of giving birth and raising newborns in New York City, from accessing safe maternal health care to finding affordable child care. "The thing that I find myself saying over and over is that it is impossible, and there's no way to do it, and we do it anyway," Sanchez said. 
But the council's new parents, along with the rest of this body, may be well-positioned to tackle – or at the very least draw attention to – issues that affect mothers. Already, the first majority-female City Council has passed legislative packages addressing maternal health care needs, child care and abortion access. Gutiérrez served as prime sponsor on two bills that passed as part of the maternal health and child care packages, while Won and Sanchez co-sponsored several of the bills in these packages. "As the first mother and grandmother to be speaker and leading the first women-majority Council in New York City history, I am proud that we have advanced a legislative agenda that prioritizes addressing the longstanding challenges and issues facing women and families in our city," Speaker Adrienne Adams said in an emailed comment. "This Council is uniquely qualified and positioned to ensure progress on child care that supports working families and mothers, that confronts racial disparities in maternal health, and safeguards reproductive health care." 
The thing that I find myself saying over and over is that it is impossible, and there's no way to do it, and we do it anyway.
– City Council Member Pierina Sanchez
Gutiérrez, Won and Sanchez are set on drawing attention to additional issues, including postpartum depression, recovery from the major operation that is a Cesarean section, securing flexible work arrangements for parents, and ensuring workplaces provide lactation rooms, which they're required to do. "The sight of a boob or a woman breastfeeding, the talk of how much these things cost, the ups and downs and the need for postpartum care for women," Won said, "All these things that people don't seem to discuss, we need to start to talk about."
"I had the choice"
Won, a former technology professional who immigrated from South Korea as a child, didn't know that she was already pregnant on June 22, 2021, when she defeated a crowded field to win the Democratic primary. She and her husband found out in August and took a month or so to discuss whether it was the right time for them to have their first child. "Looking back now as a new mother – one, I'm extremely grateful to have had the baby because he brings me so much joy after a long day, but two, this year it means even more that I had the choice," Won said.
Asked about what the City Council has done for women and mothers in the past year, Won pointed first to its work on abortion access following the U.S. Supreme Court's overturning of Roe v. Wade in June. Though the right to an abortion is codified in state law, both the state Legislature and City Council passed additional measures this summer, including to support people traveling to New York to receive an abortion. The City Council allocated $1 million to expanding access to abortion, with half of the money going to fund abortions for those who cannot afford them, and the rest going to support accommodations for those who need to travel to New York to receive an abortion.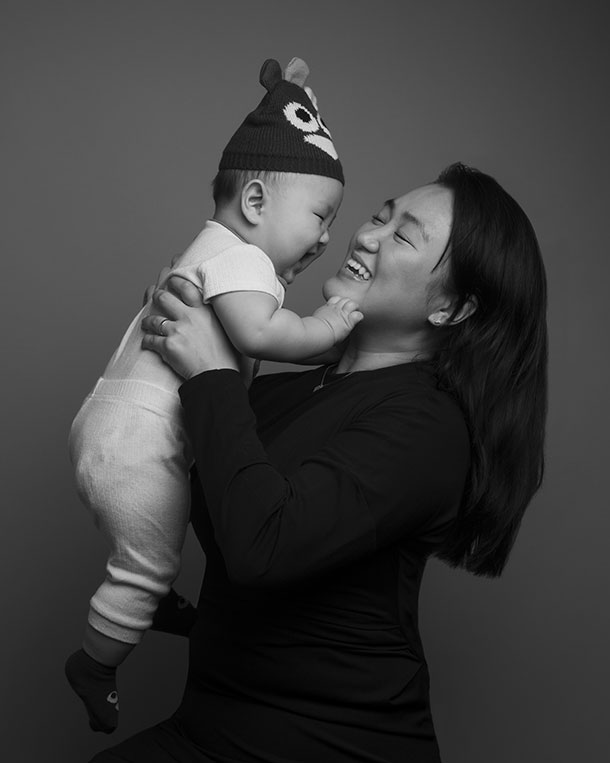 The City Council has also shined a light on maternal health care – in particular, the higher rates of maternal mortality and morbidity among Black, Latino and Indigenous people. A package of bills passed in August includes legislation sponsored by Gutiérrez that requires the Department of Health and Mental Hygiene to create a program to train doulas and provide free doula services in marginalized neighborhoods. Gutiérrez said that she was lucky to have a sister-in-law who was a midwife and a doula, and to have found a midwife at Woodhull Hospital. "It just really felt like my exception should be the standard for pregnant people," Gutiérrez said.
Gutiérrez also sponsored a "Marshall Plan for Moms" that passed as part of a package of bills aiming to expand access to affordable child care. Gutiérrez's bill requires the creation of a task force to report recommendations for supporting working mothers and caregivers. 
The child care challenge
Gutiérrez, Won and Sanchez all said that finding accessible and affordable child care is a challenge. The three council members said they took a few months – Sanchez took six weeks – of maternity leave before returning to work in some fashion, though they still held meetings and calls remotely during some of that time. 
The sight of a boob or a woman breastfeeding, how much these things cost, the need for postpartum care for women: all these things that people don't seem to discuss, we need to start to talk about.
– City Council Member Julie Won
Gutiérrez and Won said they benefited from being able to more freely attend hearings and meetings virtually earlier this year, when many of the council's hearings were held over videoconference, and before the state's Open Meetings Law was amended this spring to clarify that members of public bodies can attend meetings remotely only under extraordinary circumstances. The two said they hope to have a more flexible hybrid option in the future.
According to the state's Open Meetings Law and a resolution passed by the council, council members can still attend meetings virtually, but they have to submit a request to the speaker's office to do so "explaining in detail the extraordinary circumstances which preclude their in-person attendance, including disability, illness, caregiving responsibilities, or any other significant or unexpected factor or event." Sanchez said that she has not had issues so far when she has requested to attend a hearing virtually, but said it's not something she can automatically do without submitting that request. "We have also sought to ensure the Council is an accommodating employer to new mothers, which many of our members have played an important role in shaping," Adams said in an emailed comment.
Gutiérrez, Won and Sanchez are frank about the challenges of going back to work after having children. "It was absolutely horrible. I wasn't there psychologically," Sanchez said of her return to work soon after giving birth. "I would go through my day and ensure that on the outside looking in, it looked fine. 'Oh, look, she chaired a hearing. Oh look, she went to this thing,'" Sanchez recalled. "But I kid you not, I would go home and I would be in tears because it's so overwhelming to have this little one who is just completely amazing and 100% dependent on you, and then have just all of these other pressures." Sanchez said that her office and team played a crucial role in backing her up and helping to serve constituents during that time.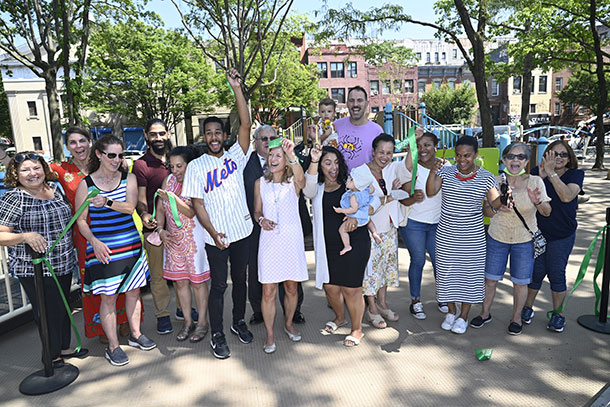 The constraints of working with newborns – chief among them finding affordable child care – are issues often raised by constituents, but the three council members said they can better appreciate them having experienced it themselves. Sanchez said that she still takes her son with her most places she goes, including to City Hall, while Gutiérrez said she was initially stuck on a neighborhood day care waitlist for months. "Now I'm an even greater supporter of 3K, pre-K and after-school programming as well because I am constantly making sure that my husband and I are juggling both of our busy work schedules to make sure that somebody is taking care of this baby," Won added. "And I'm lucky enough that my parents are helping me right now between their schedules."
"A new day"
In addition to disparities in maternal health and the overall challenge of affordability – of child care, of formula, of diapers – the three council members hope to draw attention to additional barriers mothers and other parents face in having and raising children in the city. Sanchez is working with Bronx Borough President Vanessa Gibson to bring a birthing center to the borough, while Gutiérrez said that she wants to tackle child care deserts and ensure that child care providers – many of them women of color – who contract with the city are paid on time. "It's been so overlooked because it's an industry that impacts and serves primarily women and women of color, and no one's really cared about it," Gutiérrez said of the child care industry. "I really hope that it's a new day, and I believe that it is with this new council."
With children ranging from 3 months to going on a year old, Gutiérrez, Won and Sanchez are consumed with the extraordinary daily developments of their young kids. Sanchez's son has just started babbling, while Gutiérrez just celebrated her first Halloween with her daughter. (She went as a as player from A League of Their Own's Rockford Peaches – the Geena Davis version, Gutiérrez is quick to note.) Won is introducing her son to new Korean foods, ensuring "a spice tolerance that is acceptable." "As a new mother, just coming home after a very stressful day at City Hall, giving him a big hug and seeing his face light up and smiling – it sounds cliche, but it really does make all of your worries melt away," Won said.