News & Politics
Lucy Lang: A criminal justice reformer on her first year as state inspector general
The state IG wants the public to be more aware of the work her office is doing and she's taking the steps to make it happen.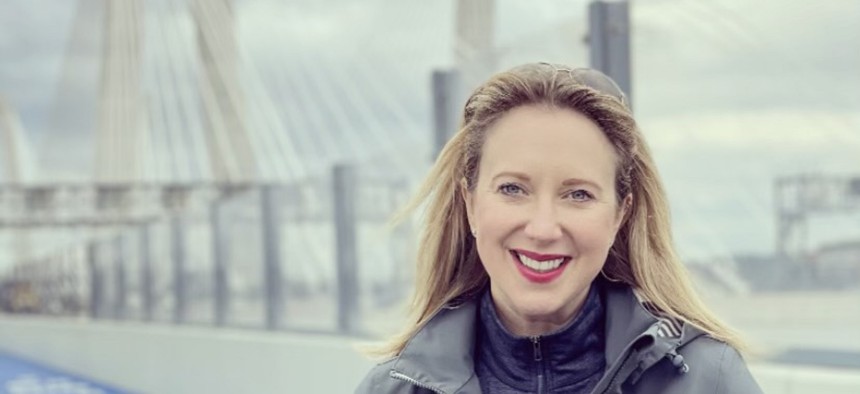 It was a little over a year ago that Lucy Lang was making a run for Manhattan District Attorney after spending the bulk of her career as an assistant DA. Yet, it was her missing out on the DA position that led to her appointment as state inspector general. Tomorrow will mark her first full year in office, and as a career criminal justice reformer she's brought her own distinct vision to leading the office of the state IG. The appointment of her predecessor by ex-Governor Andrew Cuomo was largely seen as placing a loyalist within the state office, which is supposed to function as a government watchdog. Letizia Tagliafierro's tenure ended in her resignation amidst criticism over an investigation into an alleged 2019 leak from the state Joint Commission on Public Ethics.
The Kathy Hochul-appointed Lang entered at a time when restoring the reputation of the inspector general's role was a top priority. That's why she's been taking steps to show the public what exactly her office does, including creating social media accounts to better get the word out. City and State sat down with the state IG, to gather her reflections on her tenure so far. 
This interview has been edited for length and clarity.
Could you explain the importance of the state Office of Inspector General and the role it plays in state government?
The state inspector general serves as the watchdog for all the state executive agencies, and it has never been more important than it is right now when public faith in government is at historic lows. So our job is to investigate all allegations of fraud, corruption and abuse in state government, and to see those investigations through to their conclusion. It's been an incredible honor to serve here over the course of the past year, and to explore the ways in which the mandate of the inspector general's office can help protect and support the most vulnerable New Yorkers. 
It doesn't seem like the office gets as much attention from the public as other state agencies. Why is it important that the public be aware of the office and what are some things you've been doing to raise that awareness?
My background is in working closely with vulnerable community members either as victims of violent crime or as incarcerated people. So I bring to this office a real desire to make government accessible to everyone, and amongst the initiatives that we've undertaken in the past year to enhance transparency, and by extension confidence in state government, are the creation of social media accounts, both to educate the public about the work we're doing and to provide an additional forum to solicit complaints and allegations. We have posted every report that we have written since I've taken office and we have gone back over the course of the past decade and are very close to publishing all of the historical letters that the office has traditionally sent to executive agencies that weren't made public.  Just this month, we've launched a public data portal that is updated monthly with all of the complaints our office receives, so that researchers, journalists, academics and citizens can look at it and see where complaints are coming from.  
How does your background in criminal justice reform influence your position as state inspector general? 
Reform has to happen both internally and externally in order to be sustainable. So I think about my time, for example, building a college-in-prison class when I served as an assistant district attorney in Manhattan. That was a class that brought assistant DAs and prosecutors inside New York state's prisons to study criminal justice issues alongside incarcerated New Yorkers, and work together to develop policy ideas for change. My work alongside incarcerated New Yorkers deeply informs the way I think about our jurisdiction over the State Department of Corrections, because it is not simply the case that any single investigation stands alone. Every investigation into a system like that begs a question related to the systemic issues implicated, including the concerns that are well documented around mass incarceration, around racial disparities in our criminal legal system, and so many others. So we really try to take a holistic look at all of our investigations and to situate them within the system that they are operating in. But of course, that kind of work on external reform can really only be done in tandem with internal reforms and so a huge amount of what we have spent the past year focusing on has been building a strong and sustainable inspector general's office. 
After the departure of the previous state inspector general, who was seen as a loyalist to the former governor, how are you restoring confidence in the office and restoring its reputation as a legitimate state watchdog? 
Integrity, it seems to me, is dependent in part on transparency. We've talked about all the ways that we are trying to advance increased transparency here, but it is also really critically dependent on the substantive work product that comes out. Our track record just over the past year has demonstrated how deeply committed we are as an office to cases that put New Yorkers at tremendous risk. I'll point you, for example, to an investigation we did into a domestic violence, murder-suicide, and tragically, the victim of domestic violence in that case was a state worker who had flagged to her superiors in state service that she was being victimized, and unfortunately, she did not receive the trauma informed care that all domestic violence survivors are entitled to and indeed, that which state law requires be provided to them. So our investigation, which included an extensive analysis of what had happened in that case, ultimately made public what went wrong. It also resulted in increased awareness of domestic violence across the state and even an executive order that actually expanded the requirements for all state agencies to take a victim center, trauma-informed approach to domestic violence. It's that kind of substantive commitment that, when coupled with the transparency initiatives, I believe will work towards earning the public's trust as inspector general.
As you approach a year in office, what are some accomplishments you can point to? 
There was a woman I met with when I first took office, who had been incarcerated and had tested positive for use of narcotics while she was in prison. As a result of that positive test, she missed her parole board hearing and was not released when she expected to be. That was just one of a number of cases that had been brought to our attention raising concerns about the drug testing system that was being used in the Department of Corrections. Those complaints were part of a long term investigation into this testing program that revealed these drug tests were actually yielding false positives from substances as ordinary as aspirin and that scores of people were being punished for having a positive urine test when they had not actually taken any illegal drugs. Thanks to our investigation, the Department of Corrections ended the contract with that vendor and put into place appropriate protocols to prevent against that kind of false positive happening in the future. The many people who suffered as a result of that poorly administered program, had their infractions dismissed and sealed. Although they can never get that time back, it's a step towards justice, and certainly a step towards creating a system that is more fair in administering sanctions against incarcerated New Yorkers, who are already so vulnerable and so much at risk.
You made a run for Manhattan District Attorney in 2021. Any plans to run again or seek another office in the future? 
Oh, goodness no. My now 8-year-old said to me, "I think I know more playgrounds in Manhattan than any other kids," because I would leaflet at a park and he would go to the playground. I told him he was probably right and he said, "Gosh, that was a really busy time for me. I mean, I was going to school and I was campaigning." So it was an incredible learning experience. I remain totally committed to serving my community in this incredibly privileged seat that I'm in now. And I encourage anyone who's considering a career in public service, especially young people, especially women, to find ways to serve and to do it to the best of their ability. But bear in mind, it comes at a cost to family and it's one that is I think worth it, but is also, not without its challenges.
Powered By
NEXT STORY: Sue Serino advises governing by listening