Interviews & Profiles
Manhattan DA Alvin Bragg has had a few good weeks
Bragg talked discovery reform, mental health and targeting gun crimes.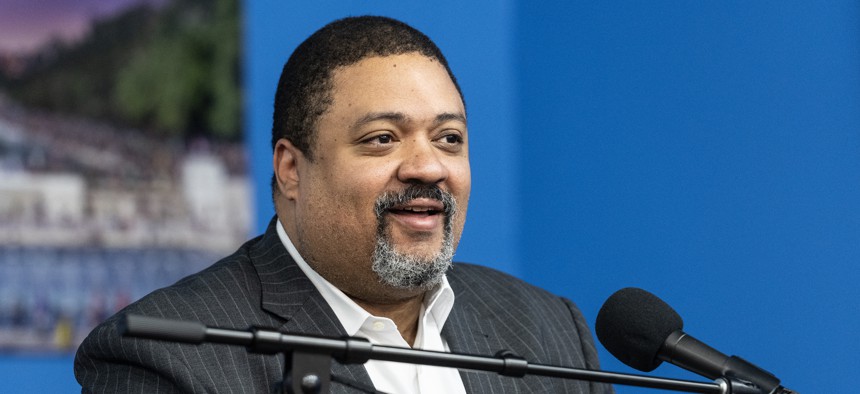 What is Manhattan District Attorney Alvin Bragg's first ask when it comes to new discovery laws? With recent updates to criminal procedure law, his office is required to turn over its evidence to the defense in every case and to do so within 20-60 days of arraignment, depending on the circumstances. The DA is not asking for a change in those laws this session in Albany, but he is pushing for better tech. Bragg said his office is hamstrung by outdated IT systems "lightyears" behind what's being used in the private sector. 
Bragg, a Harlemite who is the borough's first Black DA, just finished up his first year in office – which got off to a somewhat rocky start. But he's focusing on areas of progress. In June, the New York City Council provided his office with $1.7 million to target hate crimes, and hate crime prosecutions are up this year compared to last year. While overall index crime in the borough remains high compared to recent years, Manhattan – and the city as a whole – seems to have turned a corner on shootings and murders compared to last year. Bragg has created a Pathways to Public Safety Division to promote restorative justice and alternatives to incarceration, and he recently dedicated $9 million to mental health initiatives. Bragg talked with City & State about his first year, what he wants from the legislative session and whether his mental health effort was a response to Mayor Eric Adams' controversial directive. Responses have been edited for length and clarity.
We are talking because City & State recently named you a Winner of the week, saying the week you secured the first criminal convictions against Trump's companies was your "first good week" in office after a lot of negative attention from the national and local right. Your office let us know they disagreed with that take. So tell me about another good week you've had since you started in this post at the beginning of 2022.
You know, when we indicted Steve Bannon, that was a good week for justice. When we partnered with my old (U.S. Attorney's) office in the Southern District and brought an indictment against (the gang) Own Every Dollar – serious, serious robberies and violence. When we vacated the conviction of Steven Lopez, the sixth person on the Central Park jogger indictment. When we convicted former Dr. (Ricardo) Cruciani for using his prescription pad as a weapon in sexually assaulting patients. When we brought the case against the six developers who we alleged were bilking the 421-a program and not providing affordable housing. I can keep going (laughs), so you tell me when to stop.
I'm curious what your position is on bail reform. There are still a lot of calls to, maybe without evidence about outcomes, continue to roll it back or continue to change it. So do you have a position on any additional tweaks that need to be made?
You know, we're doing the work and operating under the regime we have. Obviously, it's changed a couple of times – one time since I've been in office. I've always said that we're going to follow the data. Our rate of return to court is up. The rate of rearrest, especially on violent felony offenses, is relatively low. Obviously I assume there's going to be a discussion with this legislative session starting in January and we'll be a part of that discussion, as we were last year. 
The part of the discussion that really the DAs were more a part of last year was discovery and the impact that discovery has had on our practice. Really trying to get some IT investments, funding commitments, so that we can operate under the law in a way that we meet our obligations. You know, before I was in office in 2021, more than 1,800 misdemeanor cases out of Manhattan were dismissed on speedy trial grounds, based on discovery issues, so it's a significant issue. 
And that continues to be a challenge? The discovery requirements?
Yes. All the stakeholders have been talking. We were at Gracie Mansion convened by the mayor several weeks ago, and discovery was a lead item on the agenda. And it's something that we've been in touch with the institutional defenders about. It's a significant priority, obviously. Our statutory and constitutional obligations to turn over evidence is something we take profoundly seriously. And we need the information technology infrastructure to be able to meet that obligation.
I haven't heard about that so much: That aspect of needing to update the technology itself.
Yeah, no it's something we've been talking about a lot. It is, I think, a frustration because when you see a solution, like another program that's out there, this is a fixable issue. It just is one that costs significant money. But the platforms are out there and being used, particularly in this city with all the commercial litigation and big firms, every single day. So I know there's been some discussion about trying to get some private sector support. And this affects not just the workload here of lawyers and paralegals and analysts. It also affects the cadence and pace of cases moving through which in turn, affects, ultimately, public safety. And so it's an issue that can be viewed as sort of wonky and inside baseball, but it's a safety issue. Make no doubt about it.
A ton of city agencies are having problems with their technology being really out of date, and they're also struggling with a shortage of employees. Are you struggling with a workforce shortage at all or difficulty recruiting people?
No, we are about net equal to last year. It's a big office, we've got 500 lawyers, and so there's always going to be a little bit of fluidity. But in terms of the staffing, over the last several years with COVID, we did have turnover. Most of the hiring is at the junior level. So we do have issues with our mid-tier, which is hard to fill in, right? We recruit people and people can stay, but if you lose, you know, seventh, eighth, ninth years, it takes a while to kind of fill that in. So that creates some strain, but in terms of absolute numbers, we're right on pace.
You have recently earmarked $9 million for mental health initiatives: both preventative work, and then having social workers who are able to provide wraparound services for people starting as they're getting arraigned. The timing of that came out shortly after the mayor announced his change encouraging the involuntary institutionalization of people with mental illness. So I was curious if there was a relationship there, if your initiative was in response to that or in collaboration with the mayor or if it was a coincidence?
No, no relation. We've been working on this for some time. To get (a request for proposals) or really in this instance, two RFPs, takes some time. We consulted with a lot of mental health experts. This specific work really was born from my own observations throughout the year confirming what I knew from my prior career of this need. And then, if you want to take a step further back, for me, this is an issue that I've really tracked and thought about since I was a kid. My dad ran homeless shelters, and I probably have more exposure to people who are in the shelter system. I mean, in some way if you'll indulge me a little bit as I praise my late father, he was a community advocate without that title. I'd seen him move around Harlem and the Upper West Side and the engagement and relationships he had with the people he'd refer to as his clients. 
Is this a pilot program, or if you want to continue it, will there be a way to keep funding this? How long will this $9 million last?
So it's slated to sort of have a three-and-a-half-year lifecycle with the first six months after the contracts were awarded being for assessment and kind of phase-in. Our expectation and hope is that if it's efficacious as we expect it will be, that it's something that the more traditional kind of appropriations at the city and state level will take up.
Department of Correction Commissioner Louis Molina recently told the City Council that the population at Rikers is rising, and it's projected to be around 7,000 by 2024. If that's true, the plan to close Rikers would be in peril. So I'm curious if you've talked with the other DAs in the city and if you all have any conversations around like, OK, how do we try and reduce the population there? 
I won't speak for other offices, but I can say it's certainly something that we were talking about here and with our judges. I assume everyone's focus is on their own docket, which is what we're doing in Manhattan. We have historically had – it's kind of disproportionate. (In terms of number of people at Rikers) we've been above other boroughs: 5% above. We've reduced that this year to about 2.5% above so about a 50% change. We've got more work to do on that front. A big piece for us is we have people who have been at Rikers for years awaiting trial, and so we're working with the courts and defense lawyers to try to advance those cases. And then through our Pathways program, diversion, thinking about it as early as arraignment as people are coming in. I mean, fundamentally, we need a third lane. I think wraparound services treatment is a key ingredient and that's something I hope becomes a more prominent part of the discussion.
How are your gun crimes unit and Assistant DA for Gun Violence Prevention Peter Pope doing? 
I think there are a lot of inputs that go into the fact that homicides and shootings are down in Manhattan below the citywide level, but I think a key ingredient has been just the coordination internally, the concerted focus. Peter, but also our violent crime enterprise unit, our crime strategies unit. Our participation in the gun violence strategic partnership, sitting down every day with our state and federal partners. I think all of that has allowed us to focus in on the most significant drivers of violence, those doing the most harm, which are a very small percentage of the population. It's also resulted in gun prosecutions being up about 18%. Obviously the goal is zero, and we're not there, but even before that goal of zero, the goal of getting back to pre-pandemic levels. But certainly encouraging is that year-to-date (number of shootings), where we're down, and that we're outpacing the rest of the city in these key categories.
Powered By
NEXT STORY: This week's biggest Winners & Losers