Personality
Elon Musk's controversial history in New York
The Twitter owner is facing a union campaign at Tesla's Buffalo factory. It won't be the first challenge he has faced in New York.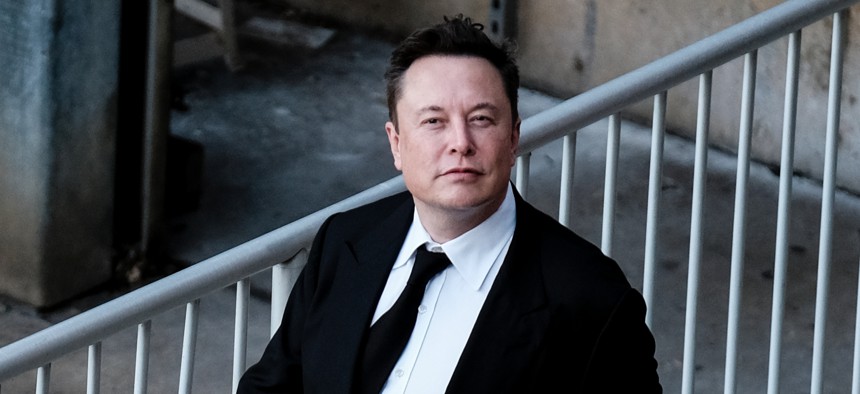 Of all the topics aging whiz kid Elon Musk and conservative media mogul Rupert Murdoch could have been discussing while huddled in the stands at Super Bowl LVII on Sunday, fighting back unions was not on our bingo card. But Musk, who is no fan of unions, very well may have been seeking Murdoch's expertise as organizing brewed at a Tesla factory in Buffalo.
On Tuesday, some Tesla workers at the Buffalo plant announced a union campaign with Workers United, an affiliate of Service Employees International Union that helped organize Starbucks baristas in Buffalo and beyond. If the Tesla workers succeed, it would be the company's first unionized location.
But the union drive won't be Musk's first challenge or venture in New York, or even in Buffalo. The Tesla founder and embattled Twitter owner has a long and (predictably) controversial history in New York. Here are a few of his most notable entanglements in the Empire State.
Gigafactory 2
Nothing uncontroversial starts with the words "Buffalo Billion." As part of former Gov. Andrew Cuomo's massive western New York economic development program, the state doled out $950 million in subsidies to SolarCity – the solar panel company of which Musk was chair of the board and which was then bought by Tesla – to build a solar energy factory that would produce 1,460 jobs in Buffalo. The SolarCity plant, known after Tesla's acquisition as Gigafactory 2 or Giga New York, began production of solar panels with Panasonic in 2017 but faced doubts about whether it would meet the state's hiring requirements. After several extensions, at the end of 2021, Tesla reported that it in fact exceeded those hiring requirements, with some caveats. The Buffalo plant is not solely focused on solar work, as it was envisioned, but makes parts for other areas of Tesla's business, like electric vehicle charging and has hired people to work on autonomous driving. The latter is the group launching the union campaign.
Pandemic promises
In March 2020, when COVID-19 began to overwhelm New York hospitals, Musk took a break from spreading misinformation about the virus to promise that Tesla would deliver ventilators to hospitals experiencing a shortage – an offer that then-New York City Mayor Bill de Blasio leapt at. But Musk primarily delivered BiPAP machines to New York and other hospitals across the country, which experts said wouldn't work for the worst COVID-19 cases.
Musk also promised later in March that Tesla's Buffalo factory would reopen "as soon as humanly possible" to begin production of its own ventilators. Several months later, the company was silent on whether that production had begun. Yahoo News reported in late 2021, however, that SpaceX, another of Musk's companies, had helped produce an important part for ventilator supplier Medtronic.
The hyperloop
A tunnel to take commuters between New York City and Washington, D.C., in 29 minutes? It's not exactly a surprise that the idea, which always seemed a little far-fetched, has yet to come to fruition. Despite Musk tweeting in 2017 that he had received verbal government approval to build the so-called Hyperloop – which local officials promptly denied – there's no sign of light at the end of this tunnel yet.
Sought-after transit expert
During Cuomo's 2019 takeover of L train tunnel repairs, the then-governor revealed that he had reached out to Musk for ideas about how to fix the subway and its aging signaling system. "I don't believe a time where they're talking about flying cars and you can get into a car and drive 100 miles on the LIE and never touch the steering wheel, that there's not a better technology that can regulate the trains!" Cuomo said at the time. It's unclear if Musk ever offered Cuomo advice, but nearly a year later, Musk did share an innovative solution to urban traffic: moving people via underground tunnels.
Lobbying for direct auto sales
State restrictions on direct sales of vehicles by manufacturers have kept Tesla from expanding its stores in New York beyond the five that Musk managed in 2014 to get grandfathered in. Tesla and other electric vehicle manufacturers have stepped up their lobbying efforts recently, as the state pushes further adoption of electric vehicles and phasing out gas-powered cars.
Powered By
NEXT STORY: 2023 New York political power couples