Interviews & Profiles
What it was like with Eric Adams overnight at the Brooklyn Cruise Terminal
A Q&A with homeless advocate Shams DaBaron on visiting the migrant facility and more.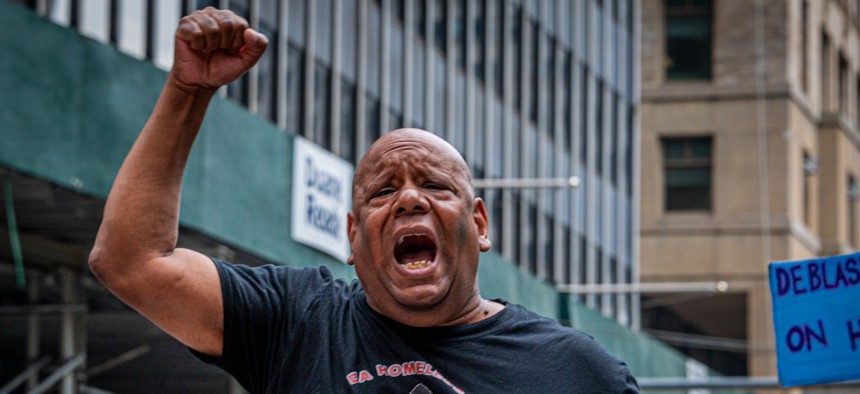 Homeless advocate Shams DaBaron was perhaps the best person to accompany New York City Mayor Eric Adams when the mayor made a spur of the moment decision to spend the night at the new temporary emergency center for migrants at the Brooklyn Cruise Terminal on Feb. 3. DaBaron, also known as the Da Homeless Hero, is no stranger to uncertainty. He knows what it's like to experience homelessness, having personally navigated the city's shelter system throughout his life.
DaBaron was born in the South Bronx in 1969. He rose as an activist during the COVID-19 pandemic when he and other homeless New Yorkers were temporarily moved into the Lucerne Hotel on the Upper West Side. When some of the neighborhood's residents fought to push the men out, DaBaron worked to ease tensions, advocated to improve conditions for other occupants and spoke at rallies to successfully prevent then-Mayor Bill de Blasio from moving the Lucerne's occupants elsewhere in 2021.
Since then, DaBaron has only become more influential. He has Adams' ear and said the mayor has consistently listened and taken his lived experience into account as he's advised Adams and his administration on their approach to homelessness. Even after moving into a studio apartment in 2021 under the city's voucher program, DaBaron hasn't strayed from the ties that bind him to other New Yorkers navigating homelessness. He willingly spends a night every month on the streets for this very purpose.
City & State spoke with DaBaron about his advocacy work, his experience spending the night with the mayor at the Brooklyn Cruise Terminal, his relationship with Adams and how the influx of asylum-seekers has highlighted the long-standing problems that have contributed to homelessness in New York City. This interview has been edited for length and clarity.
How have your experiences as someone who was homeless played into the activism and organizing work you are doing today?
I grew up in foster care. At 10 years old, I started experiencing homelessness at a group home. I was permanently discharged into the streets at the age of 12 without a safety net. 
I raised my son as a single parent in the family shelter system throughout the entire junior high school and high school years. I started experiencing homelessness as a single adult when he aged out. That's where I ended up basically experiencing the shelter system here in New York City as a single adult. And the experiences were so traumatic in that respect that I preferred to go into the street.
Once the pandemic hit, it was a whole different thing because now it was truly a life or death situation for those of us in the shelters. And it was then that I started to really challenge the conditions in order to produce a safer environment. I started challenging the food that we were being served. I started challenging the fact that we didn't have services on site for mental illnesses. There were a lot of overdoses. And that's one of the things, seeing people die from these overdoses, is what really kind of propelled me to not allow this to exist and I started to change it from the inside.
And eventually when we moved into the hotels, the story of us being transferred from the Washington Jefferson Hotel to the Lucerne Hotel. And I knew that there would be problems in the new community, not just because of the community but because of the way the shelter system is run. And then without services, you can expect there to be negative impacts in different environments. What happens inside the shelter is always going to manifest itself on the outside community – and that's exactly what happened. So I became more of an advocate for those of us in the shelter – in the Lucerne – but also those in the community to try and create an environment inside and outside that will be more conducive to all of us. And so I used the so-called complaints from the community members who were opposing them, I used them to push shelter providers to put services on site, and they did immediately.
In your experience, how does Eric Adams' approach to homelessness differ from Bill de Blasio?
De Blasio made a statement to the then-Councilwoman Helen Rosenthal that in reference to the people who he was placing in hotels, he said he did not have talks with the people directly impacted by the decision. And while we did negotiate, he himself never directly interacted with any of us. From the day I stood up, I was clear on saying that I wanted to work with the city and with the communities we were in to try and figure out the best way to resolve this issue, and he never responded to it. One thing with Adams is, I think, he's clear that 90% of those that are in the shelters are Black and brown people. He says that as a Black man, there's no way that he's comfortable with seeing his people suffer like that. He put me on the housing committee within his transition. This has been consistent in terms of his desire to really utilize me for help and address issues, and now it's a lot more intense than when we began. Sometimes with the politicians, they are doing it for photo ops and stuff like that, but in this case to be honest with you it's definitely not like that. We have real intense conversations. I'm very vocal about things I may disagree with but always try and provide a solution. He moves in real time and he'll pivot and change if something he does doesn't work.
What was it like spending the night at the Brooklyn Cruise Terminal with Mayor Eric Adams and Assembly Member Eddie Gibbs?
The mayor, he sent me a text saying he wanted to spend the night out there. It was cold, and I was getting ready for bed, I was not trying to go anywhere. I kind of threw it out there, like hey, if you want me to go, I'll come. And the mayor says, "Of course you can come." And he said, "Where you at?" And I told him and he said I'll come by and pick you up. And I'm like, the mayor's coming to pick me up? And so the mayor picks me up, just him and his driver. And we travel out there. Honestly, like the conversation on the ride to hear him speak of how concerned he was and his main motivation was, based on the conversation, that he really wanted to see for himself, he wanted to show solidarity. It was a spur of the moment decision. His staff, nobody, I spoke to them afterward, no one knew he was doing this. 
When we first walked in, there were no metal detectors; we were just greeted by people. People were just there, sitting down. When they realized this was the mayor, they started coming to him nonstop thanking him. (Adams) was asking them what do y'all want from me? What can help make it easier for them? We had a lot of time just sitting with them and talking to them and being shown around by them. There was no security and all that, it was just the mayor, myself and Assembly Member Gibbs just having a real conversation.
Later, I had slept during that day, so I had all my energy, so I stayed up a little while. For me, that was my time to absorb the environment, just to feel the solidarity, to be like I'm here, I'm not that far removed right now, I'm here with them. That was pretty neat. 
I saw absolutely no sign of drugs. I didn't see any tension. If you give people a good environment, they can adjust to it in a positive way. Having things like the TV, the Wi-Fi – everybody was able to charge their phone and leave their phone without it being stolen – having those types of environments, you aren't going to see a lot of those problems that we see in the traditional shelters. My thing is why don't they do a lot of this in the traditional shelters?
Do you feel like the asylum-seeking crisis could ultimately lead to better conditions for New Yorkers experiencing homelessness?
Well, we're in a serious, serious crisis. And we're in these crises on all fronts. We have, on one level, the migrant crisis, and we have another level, the homelessness crisis and then we have a lack of affordable housing. So the problem we have is so severe that if immediate action and emergency action is not taken, it can get much much worse before it gets better. So the positive things that I see is that a lot of what we had been saying (about the shelter system and the homeless crisis) has sort of been ignored or put under the table. It's now exposed, there's no way around it. To tell the mayor, hey, you need to do Safe Havens, you don't have another option because he saw that the population he was trying to get off the street didn't actually go into the shelter. So, and then to actually find out, and I can tell you this taking the mayor to one of the shelters, he walked out and said I don't see how anybody can (thrive) in this type of environment. To see that means that he's able to say, well, we need to fix this, we shouldn't allow this to exist. So in that respect with the migrant crisis, you have those brothers and sisters who are going through this experience are literally (there in the shelter) saying, "Oh no, I can't do this." Not because they think they're better than this, they just see it. And so those of us who were used to this, we had been saying it, but now with the spotlight on it, it is sparking the conversation that no one really wants to have. And also leading to a broader conversation, which is something that I don't want to ever be left out of the conversation, which is the lack of truly affordable housing.
Homelessness Case Studies
Powered By
NEXT STORY: This week's biggest Winners & Losers