Interviews & Profiles
Open New York pushes Hochul's Housing Compact
An incentive-only approach to encourage localities to meet housing creation targets is a "nonstarter," the pro-development group says.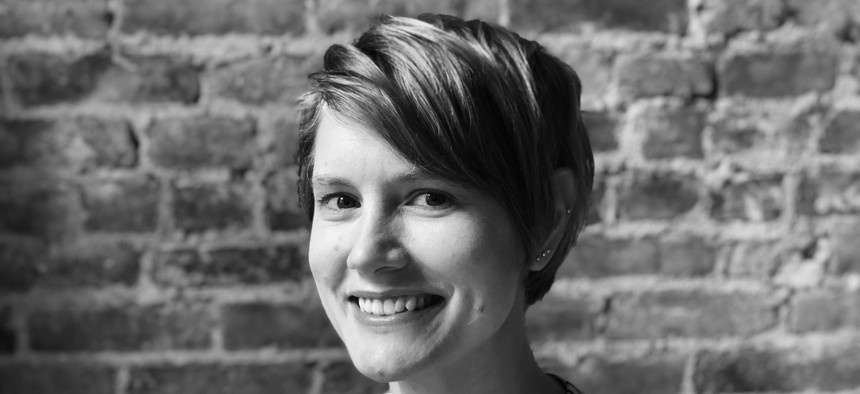 As the state budget deadline nears, pro-development housing group Open New York is laser-focused on backing a proposal from Gov. Kathy Hochul to enforce housing construction targets in localities across the state. 
The proposal, which includes allowing the state to override local zoning laws in some instances when housing targets aren't met, has been met with opposition from state lawmakers, particularly those in the suburbs. 
Annemarie Gray joined Open New York as executive director last fall after serving as a senior policy adviser at City Hall overseeing land use and fair housing policy. Gray said that the statewide framework proposed by Hochul is the most important step to ensuring new housing creation at both the state and city levels.
City & State caught up with Gray recently to discuss priorities in the state budget – and to look ahead to the group's plans in the upcoming New York City Council primaries.
This interview has been edited for length and clarity.
We have housing plans for New York at all levels of government – from the state, the city, even the borough president level. If you were to zero in on the handful of policies or actions that will be the most effective for creating new affordable housing, what would they be? Let's start at the state level.
We are extremely, extremely focused on the Housing Compact. Sometimes that is defined as a set of things. Just to be clear, we believe that setting in place a real, required, enforceable permanent statewide framework that makes sure every part of the state is adding housing opportunities, is by far the most important thing in the state legislative session right now. Any group, any elected leader at the state level, at the city level, that's actually serious about addressing the housing crisis should be focused on that.
Part of what Gov. Kathy Hochul has proposed in the Housing Compact is to allow the state to override local zoning laws in some instances if localities don't meet housing creation mandates. Is that how you would like to see it applied? 
Yes. The governor's proposal actually was a mandate-based statewide framework. We've seen this in other parts of the country, and this is actually pulling from the best practices of a lot of other parts of the country. It's giving localities a lot of flexibility on exactly how they meet the requirements, but making sure that they are meeting the need for housing opportunities everywhere. That, along with the transit-oriented development proposal that's really requiring new housing opportunities around regional transit stations – those two as a package are the most important things by far. We think there are a lot of ways to make it stronger, to make it better. We have been asking to make sure that there are additional enforcement provisions to make sure places can't delay projects for a really long time, for example. There's a lot of room to make it better for people that are really engaging in it in good faith.  But to date, frankly, we've seen the biggest opposition to that be this fundamental, kind of existential opposition to the idea that everywhere should be responsible for addressing exclusionary zoning practices and actually making sure that new people can move in and have housing opportunities. 
Hochul's proposal to enforce housing production targets has faced some pushback from state legislative leaders, who have proposed carrot-like incentives to encourage localities to hit development targets, rather than a stick-like enforcement mechanism. Could incentives work as an alternative here?
Experts agree that just incentives will not actually address decades of exclusion and housing shortage in the suburbs. It is a nonstarter to have an incentives-only proposal. It's not actually serious about addressing the housing crisis and addressing exclusionary patterns.
Are you feeling optimistic about these measures being included in the budget? 
It's very live right now. It's not over yet. We really need to make sure that the governor holds the line and stays very strong on her proposal. It has to be real, it has to be mandate-based, it has to be enforceable, it has to be permanent. If the legislature has ideas about a real counter proposal, there is still room to tweak it, there's still room to fix it. But what we're seeing is distressing. Segregation has existed in the suburbs for a very long time for a reason – its defenders are very powerful. And it's distressing to see that that's who a lot of the Legislature seems to be listening to right now. But it's not over yet.
At the city level, what are the one or two policies that you think are going to be most effective for creating new affordable housing?
My answer is the same. It is essential for the city that we have in place a real, enforceable, required framework. It's abundantly clear that the city can't dig its way out of the housing shortage project by project. Under the status quo system, we've seen many affluent neighborhoods in the city not do their part to create housing opportunities and affordable options for people. And you need the state to be involved, to keep the city accountable to doing that. 
Is a replacement of the 421-a tax break for developers needed to incentivize affordable housing production? 
Our platform is really focused on (the fact that) we have a deeply inequitable property tax system. I think there's a lot of room for a comprehensive package as part of the negotiations with the Housing Compact, but we're really focused, again, on this kind of statewide framework, because zoning barriers really are a huge barrier to housing growth.
So do you have a position one way or another on a 421-a replacement?
We are really primarily focused on the Housing Compact as by far the most important thing.
Some of the housing-related proposals we've heard from lawmakers this year are things that have been tried before, like "good cause" eviction or eliminating parking mandates attached to new developments. Is anything different this year that makes you think these or any other measures can succeed?
This is the first time in decades that we've seen the governor center housing, and explicitly (center) zoning and land use. We've also heard rhetoric from leaders across the city, across the state, about why this is important. We're also very much in favor of tenant protections as part of a bigger package. This is a sensible complement to statewide plans to increase housing supply. We've seen that work in other states. Gov. Hochul put out a bold proposal that everyone should be jumping on, and eager to actually make better. 
Open New York got involved in a rezoning fight in the Bronx last year, running ads encouraging Council Member Marjorie Velazquez to support the Bruckner rezoning, which she eventually did. Do you anticipate getting involved at all – endorsing candidates or spending any money – in the upcoming City Council primaries?
Our endorsement process is underway. We are extremely focused on what's happening at the state level right now. One of the core reasons why we put out a platform that for the first time was more comprehensive and focused on citywide, and especially statewide, initiatives is because we can't dig our way out of the housing shortage project by project.
State Sen. Liz Krueger recently suggested that the state could wait to address housing policy until after the budget, removing the time crunch that the budget presents and leaving it to be hashed out in the remainder of the session. What do you think of that?
We absolutely have to see this in the budget. We do not need summits, we do not need panels. We don't have time to wait with people sleeping on the street, getting displaced right now, and not having nearly enough housing opportunities. So I do not think that is a real suggestion.
Powered By
NEXT STORY: Gary Jenkins: 'I don't think it looks bad at all'