Personality
Three New York universities name first women presidents
Fordham University, Columbia University, and New York University have all hired women to lead them in the past year, marking historic milestones for the universities.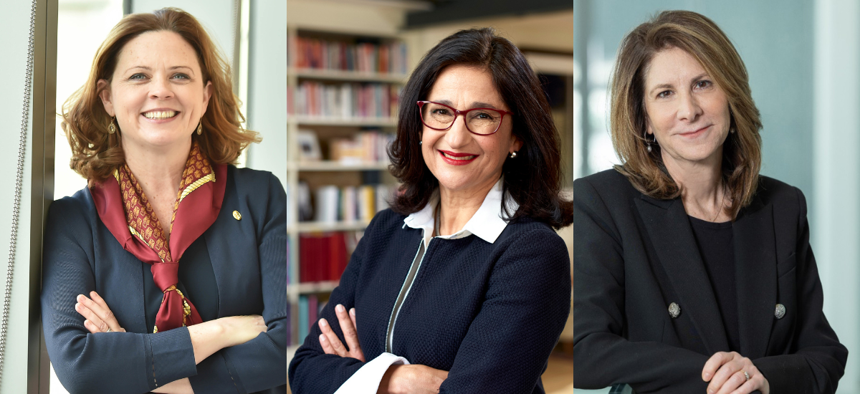 Only 24% of the top 200 universities were led by women, according to Times Higher Education's World University rankings. Not only is this modest statistic a record high, but women of color make up only a fraction of the percentage. Three New York schools – Fordham University, Columbia University and New York University – have all hired women as presidents in the past year. Serving as their respective universities first female presidents, they are each making history.
Nemat "Minouche" Shafik, Columbia University's incoming president who will take office on July 1, will become the school's first president of color. Shafik currently serves as president and vice chancellor of the London School of Economics and Political Science, and she has primarily worked in the U.K. for the past few years. Linda G. Mills – NYU's incoming president also starts on July 1 – has rich ties to the university. She has fulfilled a variety of roles, from associate professor of social work to vice chancellor for global programs during the past 24 years. Mills also serves as executive director of NYU's Center on Violence and Recovery, which focuses its research on abuse and trauma. Tania Tetlow, who became Fordham University's president on Feb. 10, has devoted similar efforts to victims of sexual abuse. Tetlow, a former law professor, not only led Tulane University's Domestic Violence Law Clinic, but she raised millions of dollars in federal grant money.
At Fordham, her efforts to support victims of domestic violence remain but have shifted focus since "a lot of that infrastructure already exists here and I'm thrilled at that," she told City & State. "For me, it's about checking in on all the ways that we respond to domestic violence, sexual assault, but even more crucial is how hard we work to prevent that violence," she said.
Tetlow now spends time researching current domestic violence prevention efforts and pushing for national funding toward research to determine the best ways to avert these kinds of crimes.
"In higher education, we all tend to do the same prevention courses and training and efforts, but we don't really know that they work, and we need better guidance on what will be effective," she said.
Having advocated for additional programming that addresses topics like gender bias, she strives to acknowledge the realities faced by women and other marginalized groups.
"Sometimes we think that we're doing young people a favor by telling them there are no obstacles and you can do anything you set your mind to, but that just leaves students forever wondering when they face those obstacles of race and gender, which are demonstrably and quantifiably real," Tetlow said. "They blame themselves, and they don't know what to think. And it matters to me to really name those issues, not to discourage students, but to give them the tools they need to find a way around the obstacles."
Having already served as a university's first female president at Loyola University New Orleans, Tetlow's current situation isn't exactly foreign. Still, she did not shy away from specifying the obstacles women, particularly those seeking higher-level positions, encounter.
"The stereotypes often applied to women make people worry that we're not as ambitious or punish us if we seem too ambitious," she said. "One of the frustrating things about these stereotypes is that they're the flip of each other. So either way, you get caught by one."
Women striving for leadership positions also face barriers inherent to particular institutions. "The highly selective research-oriented universities, especially the ones that I would call enterprises, have been hesitant about hiring women as leaders," Marybeth Gasman, who has research expertise in higher education leadership and is a professor at Rutgers University. "Part of that is because you have people who don't necessarily trust women to be leaders, to be financial managers, to be out in front at these really big research universities."
Gasman emphasized that the structure of universities disadvantages women.
"Colleges and universities were built originally, the majority of them, to educate white men," Gasman said. "They've been led by white men. The faculty is predominantly white men. And so it's very difficult for women to rise up."
Women of color face the brunt of this problem, whether it be through racism or microaggressions. Though there is now a greater representation of women of color leaders, they are still underrepresented in addition to facing more challenges. Diversity, equity and inclusion initiatives are often the first proposed solution, though some are hesitant to believe these will prove useful.
Melinda Lemke, a feminist scholar and professor at the University at Buffalo, said she finds these policies can come across as performative.
"Institutions that are interested in women entering and staying for the long-term must embark on policy and/or programmatic moves with authentic attention to the trajectories of (their) current women leaders," she told City & State. "And more importantly, do so from a feminist and gender-race perspective focused on bringing about true cultural change behind its walls."
Mills said in an online statement that she's approaching the challenges of the job the same as she does her "scholarly work – with curiosity, rigor and the ability to listen. I intend to step into this new role with fresh eyes," she said. "Excited to see NYU and all its possibilities through a kaleidoscope of unique perspectives brought together in constantly changing configurations."
Shafik, while still at the London School of Economics and Political Science, was honored by the University of London's Leading Women campaign in 2018, which celebrated the 150th anniversary of the first time women in Britain were admitted into higher education.
In comments she made online about the honor, she recognized the campaign in helping women achieve equity.
"I have always understood equality as not about demanding 'more,' but rather being entitled to the same," she said. "And I do believe that through this campaign, we have an unprecedented opportunity to promote equality throughout our society and beyond."