Interviews & Profiles
Will John King stop SUNY from spiraling?
He's no stranger to the New York education world. Now, he hopes to save the state's struggling public universities.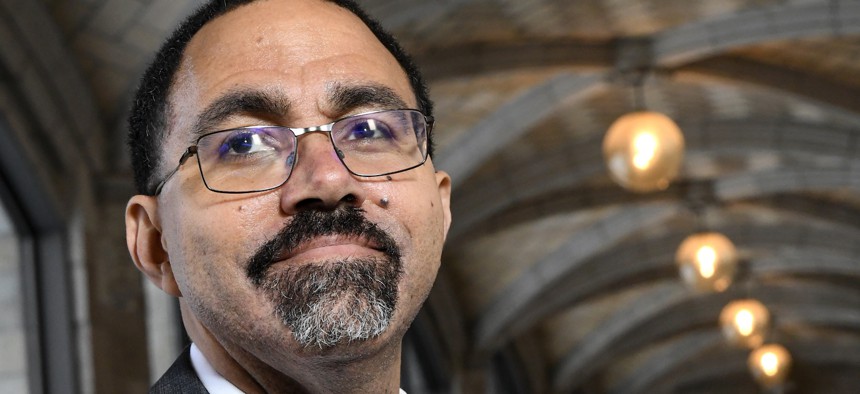 John B. King Jr., SUNY's new chancellor, walked quickly down the halls of Onondaga Community College's library as a stream of local politicians, college leaders and staff trailed behind him. It was a little after 9:30 a.m. on Feb. 17 and a packed morning lay ahead. He had students and faculty to meet, ideas to hear and another campus to get his head around.
It was a routine that King has become accustomed to over the past couple months. Since he became chancellor in January, he has visited 22 of the system's 64 campuses, as of March 9. He plans to visit the rest by the end of the spring semester.
Throughout the tour of the college on the outskirts of Syracuse, King asked students about their college experience and their post-higher education plans. To staff members, he asked how long they'd worked at the college. He was an attentive listener, tossing back questions about their experiences in the SUNY system. But one question in particular seemed to steer many of King's interactions that day – a question that several of his team members said has guided him throughout his tenure: "What can we do better?"
It's an important question to ask as King dives into the sprawling system's diverse campuses. With the state Legislature set to finalize next year's budget by the end of the month, King doesn't have much time to get up to speed. Years of disinvestment and cuts have battered the nation's largest university system for nearly a decade, and the COVID-19 pandemic exacerbated sinking enrollment.
King has called for increased investment in public higher education, emphasized faculty and student diversity, and he has said he wants to further hone SUNY's role as a driver of social mobility and economic development. At a legislative budget hearing last month, he defended Gov. Kathy Hochul's proposal to raise tuition for some students, arguing that doing so would improve SUNY's programs and services while only impacting a small percentage of students.
While King has more experience in K-12 than he does in higher education, he brings with him several decades' worth of relationships. He has been a social studies teacher, a principal, the president of a national nonprofit, helmed a network of charter schools, led the state Education Department during a tumultuous time and served as U.S. secretary of education under former President Barack Obama. He even ran for governor of Maryland last year.
Still, King has a lot to prove and others he'll need to win over after some controversial decisions he made as education commissioner. He's also the fifth person to oversee the system since 2016. The most recent noninterim appointee was Jim Malatras, an ally of former Gov. Andrew Cuomo. Malatras resigned in January 2022 after text messages from May 2019 revealed that he had disparaged Lindsey Boylan, who first accused Cuomo of sexual harassment in December 2020.
"Quite frankly it it imperative that he succeed as chancellor," said Frederick E. Kowal, president of United University Professions. "We have had a lot of turmoil in that office, and we need someone who's going to be in there who is going to advocate strongly for SUNY to get the funding it needs."
Strong roots 
The public education system has been the undercurrent guiding King throughout his life. In ways, his story parallels that of many SUNY students. King's parents died by the time he was 12. Like the man their son would become, they devoted their careers to public education. Adalinda King, his mother who was born in Puerto Rico, was a guidance counselor in the New York City public school system. His father, John B. King Sr., was the first Black principal in Brooklyn.
Losing his parents "could have been the end for me," King wrote in January. "Many young men in similar circumstances too often fall through the cracks."
School helped King when it was just him and his father fighting to stay afloat, as the latter struggled with Alzheimer's disease, and as an orphan.
"Home was incredibly difficult. I didn't know what my father would be like from one night to the next," King said. "The thing that saved me was school. School was the one place in my life that was safe, consistent, nurturing, engaging and supportive."
With the support of his teachers, King earned his undergraduate degree from Harvard University and a master's degree from Teachers College, Columbia University. Later, he earned a law degree from Yale Law School and a doctorate in education from Columbia University.
King credits his teachers for giving him the strength and opportunities he needed to throw himself into becoming an educator. They were the reason he decided to become one in the first place, he said.
As the SUNY board of trustees began hunting for the system's next chancellor in spring 2022, King was several hundred miles away in the midst of a competitive Democratic gubernatorial primary – his first electoral campaign after years of serving in various political appointments. Seeing an opportunity for Maryland to address long-standing systemic issues highlighted by the COVID-19 pandemic, King – who lived in Silver Spring with his wife and two daughters – decided to run, according to The Washington Post. His background in schools factored heavily in his education-centric platform, which called for universal affordable child care, ambitious climate environmental goals and health care programming for everyone regardless of immigration status. Combating inequality and systemic racism were also major threads in his campaign.
"I know the truth matters. We're strong enough to acknowledge injustice and see the power of progress. I know that Maryland's future depends on the strength of our public schools," King said in his first campaign ad. "It couldn't be a better time to have an educator as governor."
Ultimately, King struggled in the packed Democratic primary. He only got 3.7% of the vote.
The SUNY board of trustees meanwhile was searching for the next chancellor. In December, the board landed on King, someone already familiar to New York's education leaders. Merryl Tisch, the board's chair, had been allies with King when she served as the state Board of Regents chancellor and he was state education commissioner.
While King enjoyed his gubernatorial run and the opportunity to work on a broader range of issues, he said leading SUNY "was too good an opportunity to pass up." He accepted, explaining that the governor and the board's alignment on wanting to make SUNY the best public higher education system in the country was particularly attractive. King is currently splitting his time between Albany and Maryland as his daughter finishes high school, according to SUNY spokesperson Holly Liapis.
Difficulties ahead
King comes to SUNY at a particularly tumultuous time. The ongoing impacts of the COVID-19 pandemic have carved into the system's headcount. While a recent bump in applications indicates hope may lie ahead, overall enrollment fell 21% from 2011 to 2021. Like other two-year institutions across the country, SUNY's 30 community colleges have been hit especially hard, with enrollment dropping 34% from 2012 to 2022.
Meeting the goals laid out in Gov. Kathy Hochul's sweeping plan to revitalize the SUNY system won't be easy. The plan, unveiled in January 2022, called for increasing enrollment by a third to over 500,000 students, transforming several campuses into national leaders and global research institutions, and "lifting up students from a broad and diverse range of backgrounds."
To combat declining enrollment, King said SUNY leaders need to think more broadly about the needs of nontraditional students. He intends to build tools to help young adults who decided not to go to college find a place in the system. He also stressed the importance of building flexible support systems and reaching out to the nearly 2 million New Yorkers who have some college credit but left school before graduating.
"We have to be creative around how we design academic experiences for those students who are coming back," King said.
Hochul said she has every confidence in King's leadership.
"Since enthusiastically stepping into the role of SUNY Chancellor, John King has proven that he has the drive and vision that we need to build the best public higher education system in the country," Hochul said in an emailed statement. "His vast experience and deep roots in New York make him the ideal leader as we work hard to expand access to affordable and equitable higher education that can transform lives."
Others are more apprehensive. While King's $750,000 salary and lofty compensation package raised a few eyebrows, critics were most concerned about his past. As state education commissioner, he clashed with parents over Common Core educational standards that the state had attempted to implement.
New York State United Teachers, the biggest teachers union in the state, unanimously voted "no confidence" on King's policies and called for his removal in April 2014. Teachers also pushed back against the policy that intended to measure their performance based on student test scores.
Still, while there was an initial spike of concerns over King's appointment from critics, most have since committed to working with him to make SUNY better, even if some apprehensions remain.
State Sen. Toby Ann Stavisky, chair of the Higher Education Committee, said Common Core "is the past and we're dealing with the future." She felt like King wants to develop a good relationship with the Legislature and that he has started off on a good foot, even though she personally had hoped for a different response when King said he supported Hochul's proposed tuition hikes.
"I think we have to give him every opportunity to succeed. He obviously has the background and I look forward to working with him," Stavisky said.
Kowal, president of the United University Professions, felt like King was saying the right things about funding and said it seemed like he wanted to be a "very aggressive advocate for the entire system and the need for resources." New York State United Teachers President Andy Pallotta even said in a statement that the union would work with King to ensure SUNY "campuses and the educators serving on them receive the critical funding and support they deserve."
Lisa Rudley, executive director of New York State Allies for Public Education, said: "I think everybody is ready to roll up their sleeves and do what's best for kids, but I'm still really concerned about his ability to decipher between the politics of what's really going to be the best for our SUNY students and to bring in more students. … I think like anybody he is saying the right things and I think the proof will be what he actually does."
Engine of opportunity
King shared a video during Black History Month where he talked about visiting the Maryland plantation where his family, only three generations back, had been enslaved. The cabin where his great-grandfather and his family lived is still there today. Standing inside of that structure, King recalled being struck by the fact that in only three generations his family had gone from there to serving in then-President Barack Obama's Cabinet. King was the first Black and Puerto Rican New York education commissioner and now, SUNY chancellor. While serving as the president and CEO of The Education Trust, a national educational justice nonprofit, King worked to close the opportunity and achievement gaps for students.
"The story of African American history is woven throughout the story of our nation's history, but African American history and America's evolution of a democracy are inextricably linked together," King said. "We have to tell the story of both the progress and the struggles if we want our students to have a real appreciation."
King said he wants SUNY's campuses to reflect the diversity of the state. One of the system's challenges, he said, was its faculty weren't as diverse as the student body, so there needs to be more done to recruit and retain more diverse faculty and leadership teams.
As SUNY continues to implement the phases of its 25-point diversity, equity and inclusion plan, King said leaders were also thinking about "other strands of diversity," like how to better support veteran students and students with disabilities. He also wants to expand SUNY's programs at state prisons and expand access for incarcerated and formerly incarcerated students in wake of the federal government and state restoring Pell Grants and the Tuition Assistance Program.
There's a lot to come and much to prove. Whether he was running for governor, teaching, or leading state or federal agencies, King's belief in public education as "an engine of opportunity" has been a driving force throughout his career. Returning to New York to lead SUNY is part of this mission – another way of coming full circle. Hoping perhaps to build trust and inspire, he has often looked back on the child who found refuge in school as he has shared his story with SUNY students across the state.
As King grapples with SUNY's most staggering challenges, these personal, sometimes vulnerable interactions are the ones he has documented most frequently. His interest in student stories and eagerness to experience even minute aspects of campus life was illustrated through the several hundred photos he has shared from campus visits on his chancellor Twitter account.
The account has become a testament to SUNY's far-flung, sprawling nature. At SUNY Adirondack, King trumped sustainability while standing inside of a greenhouse flooded with sunlight. The Regiment of Cadets spread out behind King in perfect unison at SUNY Maritime College. King, angled sideways in a desk, revisited standard deviation and sample sizes during a Jefferson Community College statistics class. At SUNY Polytechnic Institute's Robotics Lab, King piloted a drone up and down as he attempted to navigate it to play soccer.
"I always make a point to ask not only what it is that they love about their campus, but how can @SUNY do better," King wrote about having lunch with students during that Feb. 17 visit to Onondaga Community College. "Because of their openness, we are making progress in improving the student experience for everyone who enrolls at a SUNY."
– with reporting by Kyle Chouinard
Clarification: The timeline of former Chancellor Jim Malatras' departure from SUNY has been updated with additional details and more accurate language on when he sent disparaging text messages about Lindsey Boylan.
NEXT STORY: Karines Reyes: Jenny Rivera was 'overlooked' for chief judge