Heard Around Town
Baruch College t-shirt plays off Rep. George Santos' lie
Alumni donors can say: 'I never had to lie about being a Baruch College graduate.'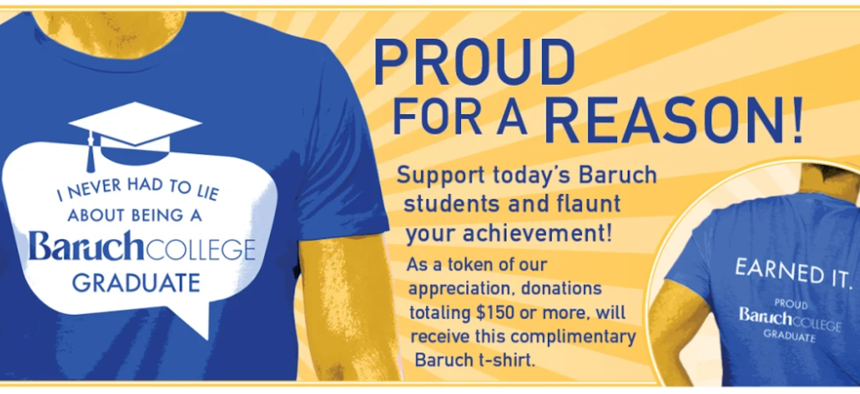 With the academic year wrapping up for college students, thousands will soon be able to say, legitimately, that they're a graduate of Baruch College. The college is celebrating the occasion by giving a t-shirt parodying Rep. George Santos' lies about going to Baruch to alumni who donate $150 or more to the school's fund.
"I never had to lie about being a Baruch College graduate," the front of the shirt reads.
On the back of the shirt, the college wrote "Earned it" followed below by "Proud Baruch College graduate."
Baruch College is making lemonade out of Rep. George Santos' story, giving a t-shirt to alumni donors: "I never had to lie about being a Baruch College graduate" (h/t @anthonycruzny) pic.twitter.com/6ISraEYW49

— Jeff Coltin (@JCColtin) April 23, 2023
In January, the New York Times published the resume Santos sent to the Nassau County Republican Committee. At the bottom, Santos wrote that he received a bachelor's degree from the college in "Economics/finance" with a 3.89 GPA. 
Baruch never directly mentions Santos, but it's clear what the school is talking about. "Some people claim to have graduated from Baruch … but you actually did!" reads the front of the mailer promoting the shirt.
To receive the shirt, donors must contribute the $150 between April through June. The shirts will be distributed in June, according to the mailer from the Baruch College Fund. The fund is also advertising the deal on its website.
Baruch is part of the City University of New York. Gov. Kathy Hochul proposed increasing tuition within both the CUNY and the State University of New York systems in her 2024 executive budget. The state Senate and Assembly rejected the plan in their one-house budgets, meaning hikes may be off the table this year.
On Jan. 11, Baruch sent a statement to City & State writing that it checked its records for a George Santos that matched the representative's birth date and could not find a match. In addition to lying about attending the school, Santos claimed to Republican officials that he was a star member of their volleyball team.
Among his many other fabrications, Santos has been lying about Baruch and its volleyball team for years. In 2020, Santos appeared on WABC's "Sid & Friends in the Morning" while running against Rep. Tom Suozzi and told the radio show that he attended Baruch on a volleyball scholarship.
In December, Santos admitted that he lied on his resume about attending Baruch as well as New York University's business school. In February, he argued that without the lie, Long Island Republicans never would have endorsed him.
Baruch did not immediately respond to a request for comment. But school officials have shown a sense of humor about the Santos saga before. At a City & State 50 Over 50 event in January, Baruch President David Wu quipped "You know you have succeeded if somebody went through so much trouble to fake their credential as a graduate. No less your star volleyball player."