Interviews & Profiles
Jabari Brisport on police robots: 'It's the depersonalization of what makes communities safe'
The Brooklyn state senator introduced a bill to ban the NYPD from using the 'Digidog' and other surveillance robots.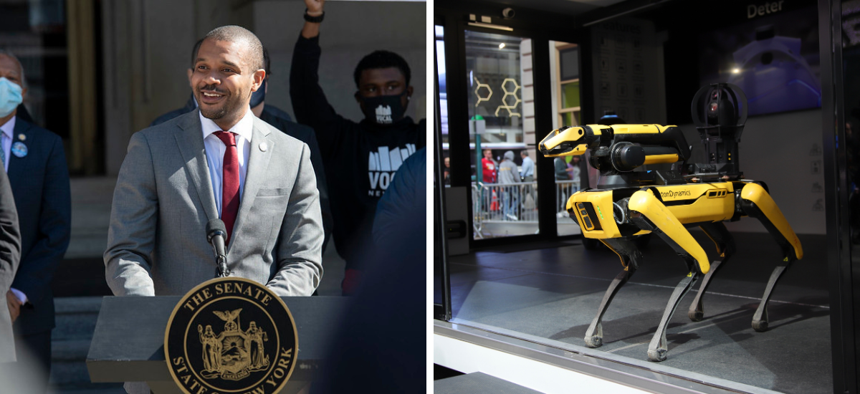 New York City Mayor Eric Adams reintroduced "Digidogs" and other new technologies for the NYPD at a grand unveiling event in Times Square last week, and not everyone is a fan of the four-legged robot. State Sen. Jabari Brisport has been vocal about his opposition to the use of robots by police agencies. The Brooklyn senator maintains the robots will contribute to his constituents feeling unsafe in their neighborhoods, and the focus should be on investing in community services. Earlier this year, the Brooklyn state senator reintroduced a bill that would prohibit police departments from using surveillance robots, armed robots and robots with the potential to harm people. Assembly Member Marcela Mitaynes is expected to introduce an Assembly version of the bill. 
City & State caught up with Brisport to discuss the importance of his bill and plans to garner support for it this legislative session. This interview has been edited for length and clarity.
At the beginning of the year, you introduced a bill outlawing the use of robots by police agencies.  From your perspective, what is the importance of this legislation, if passed?
We first introduced it when the NYPD first deployed the "Digidog" in the (New York City Housing Authority) development. We recognized the danger of the NYPD increasing its ability to harm or surveil New Yorkers using robotic technology. We are now pushing it again now that the NYPD has really reintroduced the "Digidogs" along with the other robot for subways.
I think depersonalized robots that can surveil my constituents or any community members make people inherently feel less safe. And when it comes to things like public safety, my constituents have been pretty clear: They are looking for more jobs for youth, better lighting on the streets, they want the homeless to find permanent housing as well as more mental health care and addiction services available in the community. None of that is met by having robotic dogs patrol.
Some people have argued there are benefits to using bomb-defusal robots. Would this bill prohibit the use of these types of bomb-defusal robots?
The bill specifically prohibits the NYPD from using robots that are weaponized, that can cause harm, or that can engage in surveillance. So a bomb-defusal robot is permissible.
The bill would prohibit the cops from using robots with weapons, robots that don't have weapons but could cause injury to people, and robots used for surveillance. How do you determine whether or not a robot "could" be harmful? What are the benchmarks that will be used?
There's a few things to consider. "Digidogs" are a product of Boston Dynamics, which predominantly designs these for military purposes. So there is that consideration. And then we're also looking at what's happening in other jurisdictions. Late last year, San Francisco decided to allow police to deploy robots that could kill people in extreme circumstances (though this was later reversed). It's things like that that we're considering.
Why are police robots worse than other police initiatives? We already have surveillance cameras tracking people's every move. What about the robots specifically makes this so much more dystopian and scary?
It's the further depersonalization of what makes communities safe. People feel safe when they know their neighbors and know there are strong community ties. Having a depersonalized robot engaging in surveillance or patrolling undoes that sense of community. It is also just a very blatant expansion of police surveillance abilities – akin to putting up more and more cameras.
What is your response to the argument that robots are a form of innovation that will be used to stop crime and that the benefit outweighs the risk?
That's playing fast and loose with language. Every expansion in surveillance has been an innovation in technology and technological innovations are not inherently good. So I reject that framing. It has not been made clear how exactly these robots will make New Yorkers safer. It seems like a shiny new toy that the administration wants to use, as opposed to actually addressing root conditions and root causes of crime.
You've been vocal about your opposition to "Digidogs," is this bill specifically impactful in New York City and meant to address the NYPD's use of "Digidogs"? How big of a problem do you see this being across the state (outside of New York City)? 
If the NYPD wants to use it today, there may be other police departments that want to use it tomorrow. An increase in police surveillance is not good for communities, no matter where you are in New York state.
What is your perspective on the use of robots patrolling subway platforms instead of the police? Some may argue that robots aren't able to shoot anyone and police resources would be better spent elsewhere.
The best use of money in our subways (is) the goal of making them free and also increasing their service to every six minutes. The biggest public safety thing for people that don't feel safe on platforms is knowing that the train is going to be coming in six minutes, whether it's the middle of the day or late at night. This seems like a misuse of funds that doesn't address the actual problem, which is that people are having long waits for the subway, or they are getting hit with potential fare hikes that the governor is proposing.
Where do you see the enthusiasm around this bill going this legislative session? How will you prevent it from being yet another bill stalled in Albany? 
We're gonna build up more public education around the dangers of increasing police surveillance, and the police stake in New York City. (And) build a critical mass of people that are shouting out in favor of this bill, reaching out to their legislators to co-sponsor and speak up for it. I'm looking forward to passing it this session.