Policy
Robot police dogs are back, under Eric Adams
The mayor is reintroducing 'Digidogs,' among other new technologies for the NYPD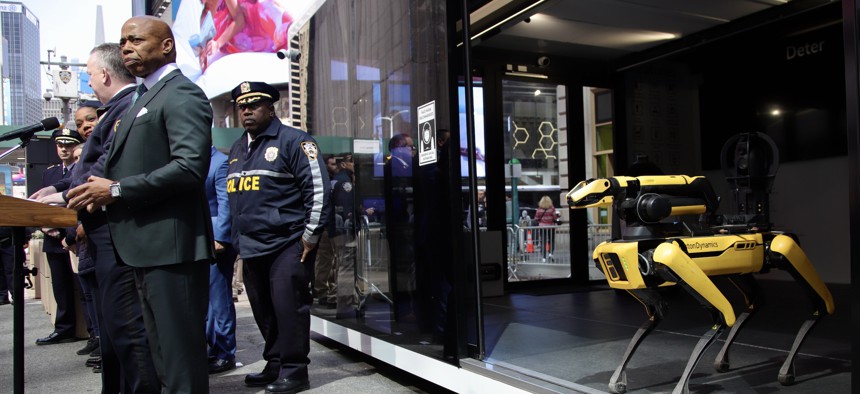 Technology is here and New Yorkers shouldn't be afraid of it, New York City Mayor Eric Adams said Tuesday morning as he and police leaders announced that the city would resurrect the controversial canine-like cyborgs to be used in high risk situations like a bomb threat or a barricaded shooter.
The use of the four-legged robot that the New York City Police Department calls Digidog was axed by the previous administration after it garnered fierce backlash from civil rights advocates. But it made its return in Times Square alongside two new technologies that the NYPD plans to pilot as part of its ongoing plan to utilize emerging, innovative, technologies to better keep officers and the public safe.  One, the StarChase system, would allow police to shoot a GPS tracking tag at fleeing vehicles via handheld or a vehicle-mounted launcher, ideally avoiding the need for a high speed chase. The other, the K5 Autonomous Security Robot, a droid-like robot would roam around the Times Square subway station, taking video footage and acting as a physical deterrence to crime. 
"I'm a computer geek. I believe that technology is here and we can't be afraid of it," Adams said, adding that today's announcement is only the "beginning of a series of rollouts."
The NYPD's use of technology – and particularly surveillance tools – has come under scrutiny in recent years as the department has added tools like four-legged robots and facial recognition to its arsenal. While new technologies promise to make police work more efficient or even safer, flaws in the design of these kinds of tools, concerns about invasions of privacy and questions about how they are implemented – and on which populations – can threaten their effectiveness or public trust in the department.
NYPD Commissioner Keechant Sewell said that while the three technologies are "significant steps forward" in keeping people safe, their use will continue to be evaluated. She also said that none of the tools will use facial recognition technology. 
"We want the public to know that the use of these technologies will be transparent, consistent and always done in collaboration with the people that we serve," Sewell said. "As with every NYPD initiative we will continuously evaluate their use and impact on our city."
The Adams administration's revival of Digidog comes after the NYPD piloted the robotic dog in 2021, under former Mayor Bill de Blasio's administration. The robot – officially branded as "Spot" and made by technology company Boston Dynamics – was used in a New York City Housing Authority building, which prompted fierce backlash from civil liberties groups and police reform advocates. The NYPD then confirmed that spring that the contract with Boston Dynamics had been canceled and that the  four-legged robot would be returned.
"A few loud people were opposed to it and we just took a step back," Adams said of the backlash on Tuesday. "That is not how I operate, or look at what's best for the city." 
Tuesday's announcement comes at an inconvenient time for NYPD spending. Adams has proposed another round of budget reductions to city agencies, just as he announced a new labor contract for the NYPD's main union. The NYPD spent about $738,000 of its forfeiture money to purchase two four-legged robot units, Adams Press Secretary Fabien Levy said Tuesday, which presumably means the cost is not included in the typical police expense budget. 
City Council Speaker Adrienne Adams took issue with the spending at an unrelated press conference later Tuesday. "It is concerning to see the NYPD spending money like this on technology that is seemingly unproven when the administration is making cuts to essential services that are so needed right now in the city," she said.
Mayor Adams pushed back on cost concerns. "There is never the wrong time for public safety… This is an investment in our public safety," he said. "I don't want to have a police officer go into a building where there is somebody who is dangerous and lose that police officer."
 As for the StarChase tech, leaders said it is still in its pilot phase and the logistics have yet to be worked out.
Critics of the department's use of surveillance technologies were quick to respond to Adams' announcement. "Mayor Adams continues to pour money into the NYPD's bloated budget, enabling police to impose new, dystopian surveillance technologies throughout the city without meaningfully engaging New Yorkers in a conversation about whether this is how we want to live," a statement from the Legal Aid Society read.
New York City Council Member Kamillah Hanks, who oversees the NYPD as chair of the public safety committee, kept it brief Tuesday. "We're looking forward to having a hearing," she said. 
In June 2020, along with a wave of police reform bills following Black Lives Matter protests, the New York City Council passed the Police Oversight of Surveillance Technology (POST) Act, which requires the department to disclose the surveillance tools it uses and the impact and use policies that go along with each. Critics of the department's use of surveillance technologies at the time described the law as an important, but incremental, step towards transparency. The law does not actually regulate how the department can use these tools. 
The POST Act requires the department to post an impact and use policy for newly acquired surveillance technologies on its website at least 90 days prior to the use of any new surveillance tools. Several impact and use policies on that website were updated on Tuesday to include mention of these new tools, including the policy for situational awareness cameras, GPS tracking devices and thermographic cameras.
Adams' announcement on Tuesday shouldn't come as a total surprise, however, as the mayor has previously expressed interest in the NYPD exploring new technologies. Adams' Blueprint to End Gun Violence, released in his first month in office, suggested "the responsible use of new technologies and software to identify dangerous individuals and those carrying weapons." And shortly after a mass shooting on the New York City subway in April 2022, Adams talked about exploring the potential for gun detection systems – like scanners that claim to use artificial intelligence to spot weapons – to be deployed in subway stations. 
"We are scanning the globe on finding technology that will assure this city is safe for New Yorkers, visitors and whomever is here in the city," Adams said. "This is the beginning of a series of roll outs we are going to do to show how public safety has transformed itself."