New York State
Jumaane Williams: Asylum-seeker crisis goes beyond the news cycle
The New York City public advocate talked with City & State about his trip to D.C. and what's needed to address the ongoing influx.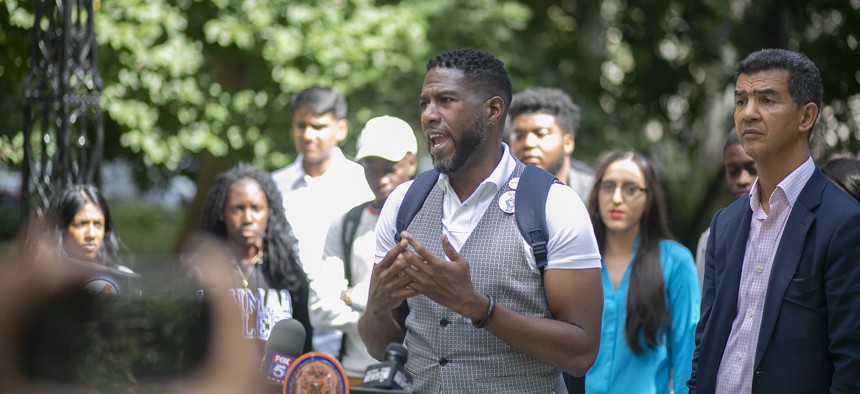 New York City Public Advocate Jumaane Williams went to Washington, D.C., this week, hoping to further underscore the resounding chorus of voices who've for months urged the federal government to help the city provide for the tens of thousands of asylum-seekers who've arrived since last year.
There, he met with various executive agencies and lawmakers Tuesday and Wednesday, stressing that aid is needed – not just through funding but also measures that would ease transition for migrants, establish robust support services and reform what he described as a long failing immigration system.
His visit coincided with New York City Mayor Eric Adams' harshest rebuke of the White House's handling of the influx of asylum-seekers – something the city has said will cost more than $4 billion in the next two years. During a press conference on April 19, the mayor said that President Joe Biden and his administration have "failed New York City" on the issue.
City & State caught up with Williams as he wrapped up his meetings in Washington, D.C., to ask about how his conversations with federal leaders have gone, how he feels the city's pivoted response to the influx of asylum-seekers is going and whether he's considering running for U.S. Senate. This interview has been edited for length and clarity.
Can you speak to the timing of your trip to Washington, D.C.? Why now?
We are very cognizant that this is Immigration Heritage Week, but we also very much want to reinfuse this into the news cycle. It seems like it's dropped off the past several weeks, several months and the situation is no less dire than when it was in the cycle. The city is still receiving between 100 to 200 people a day – that is going to get worse as Title 42 changes happen on May 11, so we are going to see another type of influx. I wanted to get ahead of this and really begin to sound the alarm again to get everyone activated about what exactly we need. We also wanted to make sure we were including the voices of Black migrants and Black immigration. That always seems to get left out of the conversation.
For months, we've been hearing from the mayor and other New York elected officials that they've been urging the federal government for help. What has that looked like for you during your visit? Are people sympathetic? Any breakthroughs?
I think everybody understands. We have people who are aligned, but things are still moving slow. Interestingly, we did have one or two lawmakers' offices that thanked us for coming because they hadn't thought that it wasn't as big of an issue because it had fallen off the news cycle.
We also want to help our New York delegation to move stuff forward as well. Depending on who we are speaking to we have a set of talking points that make sense for everybody, but then we have focal points for the Department of Justice that are different for the Department of Housing and Urban Development and then we have some legislative asks that we want to make sure that supporters have actually signed on to them.
Broadly, funding is absolutely needed. It is unsustainable what New York City is dealing with and at the same time we want to make sure that the city continues to do what it should be doing morally and legally to welcome aspiring New Yorkers and Americans while raising the alarm that it is unsustainable if we don't get the support that is needed.
We also want places across the country to open up some space in the municipalities, so they can provide the services that are needed as well. You also want to make sure intramurally – inside of New York state – that the governor can do a lot more in helping push municipalities to open up spaces as well. There's also issues like language access, that's been big for people who are traveling that speak Indigenous languages and people who are traveling from West Africa. They don't have the language that is needed at many of the stops including the first half of the border. One of the things we asked is to put some kind of tracker system in people's case files and other paperwork that states what language they speak. Work authorization was another huge one on the topic list.
You mentioned today that while there is broad agreement among federal leaders that help is needed, there's a lack of urgency? Why is this and how do we overcome it?
Too often Washington moves slower on very important issues. This is one, gun violence is another, but we have to make sure that people are realizing the urgency of this and that the failure to act is gonna cause a lot of harm.
Then we have our New York delegation partners who are pushing this, we want to help unify the talking points and the messaging and help them push even harder to get this done. We need to make sure agencies are hearing from officials in New York City. It's not often that we come to D.C. to push these issues to ask for their support. That's another thing – the amount of elected officials and agencies that were just thankful we took the time to come to D.C. was another theme. 
Last month, Mayor Adams released a blueprint plan on the next phase of addressing the influx of asylum-seekers. How do you feel like the pivot is going? 
I agree with what the mayor has been saying that we definitely want Washington to step up and get some of these policy changes and get these resources to us. New York City can't solve the nation's immigration failures or the nation's housing failures, so we have to get the resources that are needed and we have to get the governor to encourage municipalities to open the spaces. We just have to have those things done.
Are you considering running for the U.S. Senate at this point?
Right now we are running for reelection, which comes up in 2025 and we opened up a committee to do that. I mean in the game, you kind of I guess always never shut anything completely down, but also you know, you always keep options open as they say, but we are focused on doing the work now and reelection.
(Editor's note: An aide for U.S. Sen. Kirsten Gillibrand told City & State that they don't expect a challenge from Williams. "Gillibrand and Public Advocate Jumaane Williams have a great and warm relationship. They had a chance to catch up in D.C. on Tuesday and she really values their friendship and working relationship," they said.)
Powered By
NEXT STORY: City & State poll: Yo, you smoke?