Technology
Tech revolution
New York City enters a new age of robotic employment.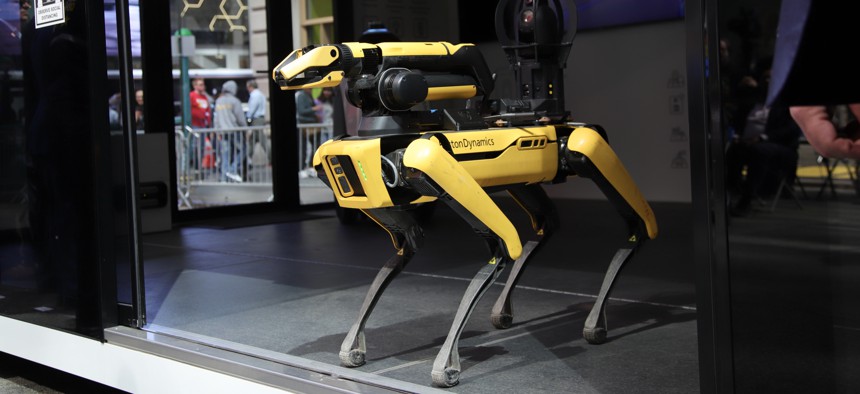 The New York City Police Department announced plans to deploy a four-legged robot known as "Digidog" in hazardous situations and an R2-D2-looking security robot that will patrol the Times Square subway station. At an April 11 press conference, New York City Mayor Eric Adams described himself as a "computer geek" and said New Yorkers shouldn't be "afraid" of this technology. Nearly every sci-fi movie might disagree with that statement, but still, if that's the case, we have a few people (and robots) in mind who might be interested in government jobs as part of this new technological age.
T-800
Rat Czar
Yes, New York City may have just selected its new director of rodent mitigation in Kathleen Corradi, but the city's rat population is equal parts cunning and resilient. The city could also use a relentless terminator hellbent on rodent elimination.
WALL-E
Chief Composter
WALL-E would take one look at the rats tunneling in and out of curbside garbage bags and befriend them. This optimistic robot would be eager to help the city get its long-awaited composting initiative off the ground in order to grow some plant life.
C-3PO
City Translator
There is perhaps no city more in need of someone like C-3PO. His arsenal of over 6 million languages would be more than enough to communicate with every single New Yorker.
Data
Chief Technology Officer
While not technically a robot, Data is an android powered by artificial intelligence. He's capable of recalling pretty much anything at great speed, which would be a useful skill as chief technology officer.
Robocop
Police Robot Overseer
After 36 years of catching criminals throughout numerous universes, it's time for Robocop to hang up his armor and show Eric Adams' rookie robots how to clean up the streets.
HAL 9000
311 Operator
HAL 9000's soothing voice and friendly formality might mask its capacity for malevolence, but make no mistake, it would fight to be the voice of 311. Capable of cold decision-making, HAL is well-equipped to handle some of the more bizarre calls to 311, like whether a dog can be claimed as a dependent on taxes or if there is a law limiting how many times a person can flush a toilet.
Max Headroom
Eric Adams Podcast Host
He was sassy, sharp-witted, a connoisseur of biting commentary, and mildly unsettling – perhaps this fictional computer-generated TV presenter could help Adams pump out more episodes of his podcast. Sure, he was glitchy and redundant, but he was efficient and, perhaps most important to the mayor, far from being a member of the mainstream media.
Powered By
NEXT STORY: This week's biggest Winners & Losers