Labor
From the Supreme Court to a constitutional convention, labor is on the defensive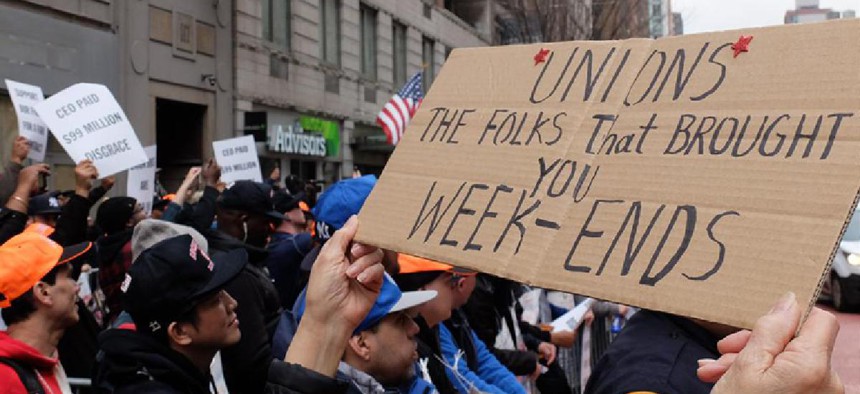 Heading into the fall of 2017, New York's union movement confronts an existential crisis on multiple levels. There's the threat from pending U.S. Supreme Court case Janus v. American Federation of State, County and Municipal Employees, which could strip labor unions of their ability to require members to pay dues. There's an openly hostile Republican-controlled Congress and executive branch looking to push back protections won by the federal workers when President John F. Kennedy granted them collective bargaining rights back in 1962.
And across the nation at the state level, there is a growing right-to-work movement that has gotten traction in unlikely states, such as Michigan and Wisconsin, once part of labor's most reliable base. At the same time, in more than 200 counties throughout labor's Rust Belt that voted for President Barack Obama twice, union households broke with their leadership and put Donald Trump in the White House. We could call it the great unraveling.
RELATED: Comparing public and private sector salaries in New York
There is also an internal challenge in terms of succession planning and engaging the millennial generation, who often take the worker protections won by unions for granted. In many union elections, just a fraction of the rank and file actually turn out to vote, and the level of volunteerism to sustain political action efforts is anemic, with middle-aged members and even retirees picking up the slack.
"One of the biggest challenges the labor movement faces right now is how to connect with the energy and values and, quite frankly, anxiety of millions of millennials across the country," said Henry Garrido, executive director of District Council 37, which represents roughly a third of New York City's municipal workforce across dozens of local unions. "Millennials view unions favorably and are worried about their economic security and are appalled by the monstrous economic inequality that threatens to reduce the future of the American dream to rubble. If we don't focus on engaging the next generation of American workers, then ours may be the last generation of unionized workers."
"If we don't focus on engaging the next generation of American workers, then ours may be the last generation of unionized workers." – Henry Garrido, executive director of District Council 37
Even here in New York, America's most unionized state, labor activists are concerned at just how long the International Brotherhood of Electrical Workers Local 3 has been on strike against Spectrum, formerly Time Warner Cable, the local cable and internet provider that also owns NY1. For five months, 1,800 union electricians have been out on strike. Union officials said they had a solid bargaining relationship with Spectrum's predecessors for decades. Yet, now they find themselves locked in a bitter dispute with a company they are convinced wants to break their union.
When the strike first started, a spokesman for the company told the Daily News that the cable provider wanted to offer higher compensation for the workers than what the union wanted, rather than shoring up the "failing" union-managed benefits program. "Spectrum's primary objective is to provide great service to our customers and we believe fairly compensated field technicians are critical to that objective," company spokesman John Bonomo said in March.
Derek Jordan, IBEW Local 3's business representative, said, "Members are holding up but morale is low and we are working a lot of channels to resolve this."
He added: "People are losing their houses. People are being taken to court over their co-op payments and people are finding temporary jobs, but we are getting support from all the unions. The (New York City) Central Labor Council, the firefighters and the police, are all stepping up."
Unions have also been helping Local 3 fill out their picket lines, as the workers who are on strike have had to find paying work to make ends meet.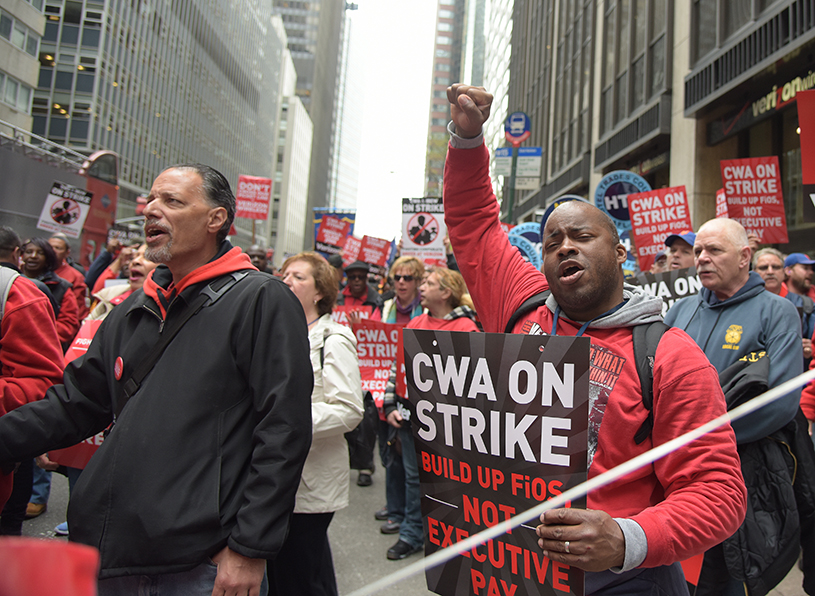 Striking Verizon workers. (a katz / Shutterstock)
This year, labor has been on the defensive. In New York, the union movement finds itself aligned against good government groups like Citizens Union that are calling for a "yes" vote on whether the state should convene a constitutional convention. The Central Labor Council and the state AFL-CIO are strongly advocating for a "no" vote.
"The CLC will have a heavy focus during this election season on defeating the question of a state constitutional convention," Vincent Alvarez, president of the Central Labor Council, wrote in an email. The CLC represents 1.3 million union members from 300 different unions. "We will be doing member-to-member outreach in our (get out the vote) operation, including coordinated labor walks in New York City specifically designed to defeat the constitutional convention."
For Citizens Union, a "yes" vote is an antidote to Albany's systemic corruption that even prosecutors appear to have trouble bringing to heel. "Citizens Union wants a state government that is not corrupt and lacks the regrettably all too common 'pay-to-play' culture in which campaign contributions unduly influence legislative outcomes and the awarding of contracts," the civic group wrote on its website.
RELATED: Seeking a buy-in for a 'Buy American' plan
The organization argues that a constitutional convention would pave the way for "fairer and more competitive elections, (which) would increase voter turnout, improve accountability and decrease corruption." According to Citizens Union, it would result in "better schools, better health care, a stronger economy, a cleaner environment and a safer and freer state."
But as Alvarez and other labor leaders see it, opening up the state constitution to alteration comes at a time when, across the country, their movement has been forced to fight for protections they had won as far back as New Deal era. In fact, many of those basic worker and union protections made it into the state constitution – thanks to the 1938 convention – with strong provisions that don't exist in most states to this day.
"Members are holding up but morale is low and we are working a lot of channels to resolve this. People are losing their houses. People are being taken to court over their co-op payments and people are finding temporary jobs." – Derek Jordan, IBEW Local 3's business representative, on the Spectrum strike
For New York's unions to put their chips on a "no" vote in 2017 is a bet that the ground has shifted dramatically since 1938, when the New Deal coalition, of which New York was at the core, was poised to run the table for the next half century. Of course, until President Ronald Reagan carried out his mass firing of unionized air traffic controllers, a pivotal act that dramatically weakened the labor movement.
Even since Reagan a lot has changed. There has been an electoral and economic shift of power to the south and west. While still playing a major role here in state and city politics, labor is still aligned with a national Democratic Party that is a shadow of what it was in the halcyon days of Franklin Delano Roosevelt – and it is still stumbling for its footing after Hillary Clinton's defeat last year.
In Washington, congressional Democrats in the minority are merely animated bystanders. At the state level, the party is more marginalized than at any point in nearly a century, now relegated to minority status in two-thirds of state legislatures. The GOP holds 34 governorships to the Democrats' 15. In 24 states, the GOP has both the governorship and the state legislature, something Democrats have only managed to achieve in five states, and New York is not one of them.
RELATED: How will New York unions fare in the age of Trump?
New York's labor leaders are aware that this has had major consequences for unions and working people. In Wisconsin, Republican Gov. Scott Walker pushed legislation ending collective bargaining for public unions, gutting AFSCME's rolls by two-thirds in that state overnight. For decades, it was the public sector that offered unions a ray of hope as the nation's manufacturing base eroded. By last year, with just 7.1 million public workers enrolled, unions represented 34.4 percent of the government workforce compared to just 6.4 percent of the private sector.
Both Walker and New Jersey Gov. Chris Christie successfully have used a playbook that pits private sector unions, as well as the massive number of unrepresented workers, against public sector workers whose benefits and raises come at the expense of all taxpayers. Even President Donald Trump exploited that divide during the campaign, courting the blue collar unions most likely to embrace his policies while potentially going after federal workers who have been granted collective bargaining rights since 1962.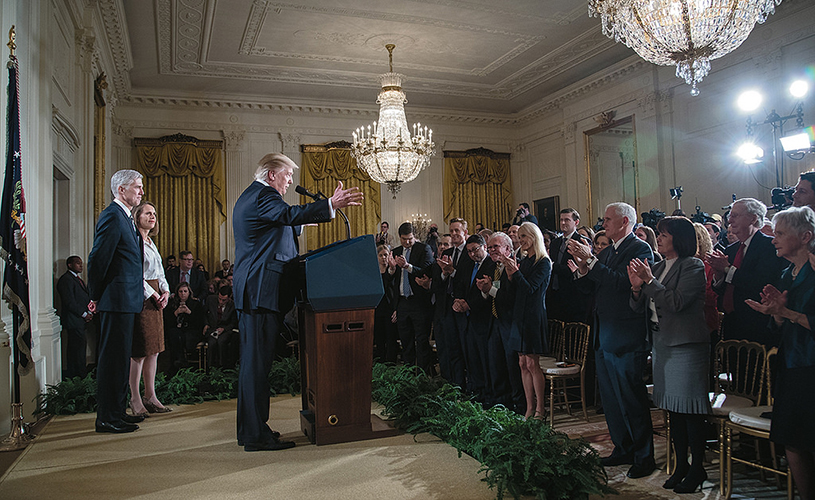 Historically, so-called right-to-work states, where it is illegal for employers and unions to sign a contract that requires employees to be union members, were restricted to the Deep South. Ryan Parsons, a senior counsel with Foley and Lardner, recently wrote that between 1963 and 2012, only two additional states – Idaho in 1985 and Oklahoma in 2001 – enacted right-to-work laws.
"The last five years, however, have seen an explosion in right-to-work laws that shows no sign of slowing down," Parsons wrote. "In the last five years, right-to-work supporters have found fertile ground throughout much of the country. Historically, right-to-work laws were mostly found in politically conservative states, but recently, both 'purple' states and states with strong historic union ties have enacted right-to-work." Since 2012, Indiana, Michigan, Wisconsin, West Virginia and Kentucky have passed right-to-work laws. Missouri's right-to-work legislation was set to take effect on Aug. 28, but earlier this month, unions won a reprieve after filing a petition with 300,000 signatures, which will prompt a referendum vote.
This marks a tipping point that New York labor can not ignore. Now 28 states, including Missouri, and 52 percent of the nation's population live in right-to-work jurisdictions – up from 22 states and 41 percent in 2011.
The turning of the national tide toward right to work, and against the labor movement, was thanks to the National Right to Work Committee, the National Right to Work Legal Defense Foundation and the American Legislative Exchange Council. According to the Center for Media and Democracy's PRWatch, the groups have taken millions of dollars from "corporate and ideological interests that want to keep wages low and silence the voice of organized labor in the political arena."
"The CLC will have a heavy focus during this election season on defeating the question of a state constitutional convention." – Vincent Alvarez, president of the New York City Central Labor Council
It is exactly those interests that New York's labor community fear could hijack a constitutional convention and undo decades of worker protections. "We understand the challenges in going up against the moneyed lobbyists and special interests groups supporting a constitutional convention, but we are determined to fight back against the entrenched political insiders and help working people protect the rights we have fought long and hard for," Alvarez wrote.
Mike Palladino, president of the Detectives' Endowment Association, is also pushing hard for a "no" vote. "I have been scutching my members about what's at stake here going back to 2015," Palladino said. "I made a video and sent it out to all our members telling them to register to vote. And we have that Janus case to worry about."
For now, the "no" vote forces appear to be spending a lot more. Politico New York recently reported the "no" forces, dominated by labor, have outspent the "yes" advocates $24.2 million to $389,000 when it comes to general lobbying, campaign cash to candidates, political parties and PACs.
This October, the U.S. Supreme Court will take up the Janus vs. AFSCME case, in which a state of Illinois employee alleges that having to pay union dues is a violation of his First Amendment rights. A loss here would be a body blow to labor's revenue flow and its ability to have an impact on electoral politics, already at a historic low.
Last year, unions dodged a bullet when the sudden death of Antonin Scalia left the court evenly divided on Janus' predecessor, Friedrichs v. California Teachers Association. That 4-4 vote let a lower court decision stand that was friendly to unions. Now, with the right wing of the Supreme Court fortified with Trump's nominee Neil Gorsuch, unions are bracing for the worst.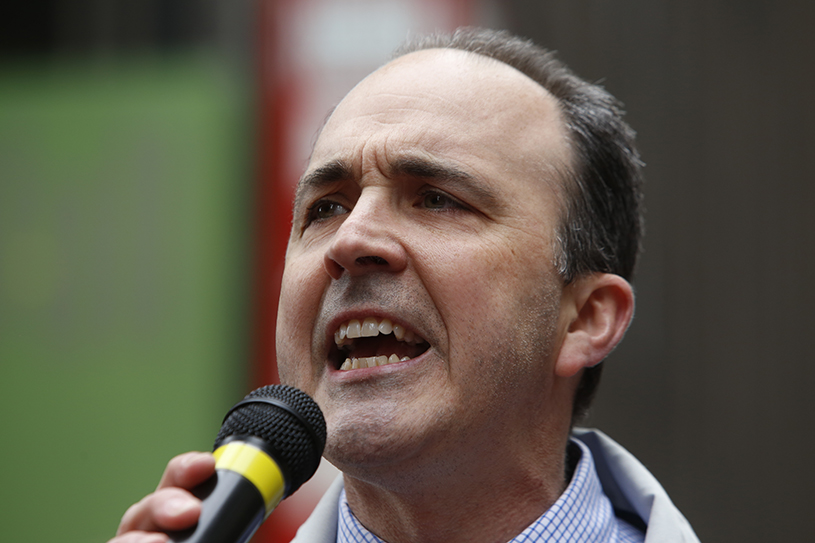 Vincent Alvarez, president of NYC central labor council, during a strike in front of Verizon's Wall St. headqurters in May, 2016. (a katz / Shutterstock)
On the surface, New York labor's stance against a state constitutional convention would appear to cast unions as backers of Albany's well-documented pay-to-play culture and a byzantine electoral system with some of the most restrictive voting laws in the nation. But to understand what's at stake for labor, a close reading of the current state constitution is required.
Under the state constitution's "Labor" section, as framed in 1938, "No laborer, worker or mechanic, in the employ of a contractor or sub-contractor engaged in the performance of any public work, shall be permitted to work more than eight hours in any day or more than five days in any week, except in cases of extraordinary emergency; nor shall he or she be paid less than the rate of wages prevailing in the same trade or occupation in the locality within the state where such public work is to be situated, erected or used."
Instead of being a right-to-work state, the state constitution grants an explicit right to organize: "Employees shall have the right to organize and to bargain collectively through representatives of their own choosing."
RELATED: Making Triangle Shirtwaste matter to millennials
Also, thanks to the watershed 1938 constitutional rewrite, New York became one of just seven states in which public pensions were guaranteed where "membership in any pension or retirement system of the state or of a civil division thereof shall be a contractual relationship, the benefits of which shall not be diminished or impaired."
In addition, the state constitution guarantees that public employment be governed by civil service rules that require appointments and promotions that "shall be made according to merit and fitness to be ascertained, as far as practicable, by examination which, as far as practicable, shall be competitive."
The bulk of these reforms that were hardwired into the state constitution in 1938 came after years of labor unrest, with violent and deadly confrontations between striking workers, private guards and local and state police usually in league with plant owners. The Great Depression only exacerbated these conflicts. But by 1932, with the election of former New York Gov. Franklin Delano Roosevelt to the presidency and passage of landmark Fair Labor Standards Act, the tide began to turn for unions. But it was a bloody tide from a level of confrontation between capital and labor that had been brewing for decades from the late 19th century onward.
"Employees shall have the right to organize and to bargain collectively through representatives of their own choosing." – New York State Constitution
New York today is one of the remaining strongholds of the American labor movement. Its standing has deep historical roots that include the role of U.S. Labor Secretary Frances Perkins and the pivotal role played by U.S. Sen. Robert F. Wagner, who along with FDR laid the legal framework for the modern U.S. labor movement. Union leaders lament that not enough of their own rank and file know of this history and its central role in the protections that New York union members enjoy to this day – all because it is memorialized in the state constitution.
Yet Arthur Cheliotes, president of Communications Workers of America Local 1180, said that to be successful, labor has to make a broader argument to the entire electorate. Among the state constitutional guarantees that the public must be reminded of are a public education, aid to the indigent and the land set aside in the Catskills and Adirondacks that will remain wild forever, he said.
"We are asking for additional money from the national unions to help get the word out on this vote to all of our families," Cheliotes said. "It is not just about collective bargaining."
New York State AFL-CIO President Mario Cilento said that New York would withstand the attacks from Republicans in Washington who are "out to destroy the American dream."
"Here in New York, we are ready, we are organized, and we are making sure our members, the general public, and all elected officials understand that the labor movement is the backbone of the middle class," Cilento said. "Without the middle class, our state and national economy collapses. We will not allow that to happen."