Betty Rosa
Regents Chancellor Betty Rosa on untangling the charter school teacher certification controversy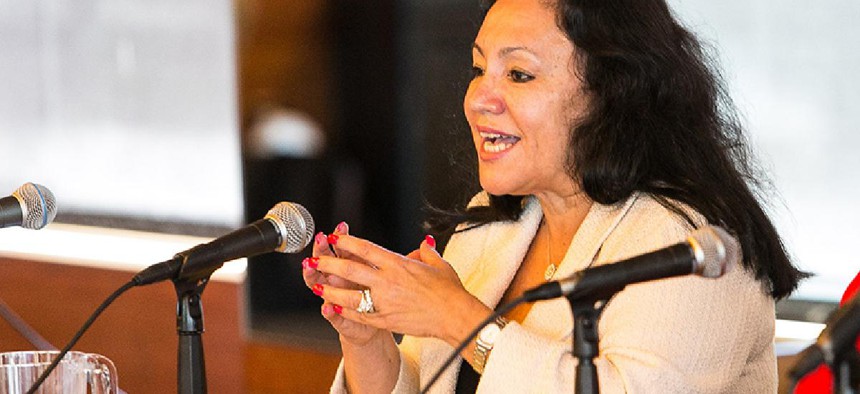 When Betty Rosa was elected chancellor of the state Board of Regents, she quickly waded into controversy by suggesting that if she were a parent of a child taking state tests, she would have the child opt out. While that controversy has subsided, Rosa is now in the middle of another dispute over efforts to ease training requirements for teachers in charter schools. In a Q&A with City & State's Jon Lentz, Rosa talked about how the standoff might be resolved as well as the impact on New York's schools of the repeal of Deferred Action for Childhood Arrivals program and the devastation in Puerto Rico after Hurricane Maria.
RELATED: The charter school standoff, explained
C&S: What is the latest take on SUNY's plan to ease teacher certification requirements for the charter schools that it authorizes?
BR: Well, I think you know my position hasn't shifted, especially since I think that we, the regents and the commissioner, we have been pretty clear on our high expectations in terms of the standards. We've invested a lot of time on revamping our exams, and the certification, and GPA, with a lot of collaboration from the deans and higher ed people. Particularly with SUNY, we've been partnered with SUNY to do TeachNY as part of the recruitment process, and that is a big investment the commissioner has made with former (SUNY) Chancellor Nancy Zimpher. So in light of the fact that SUNY has made this major investment – and I'm talking about SUNY, not the SUNY (Charter Schools) Institute – on recruitment and teaching and the focus on the importance of a highly qualified teacher. It just seems to me that within the same institution, you've got two competing messages.
So for us, since we have invested so much time around the recruitment and the whole idea of preparing teachers to really go through a rigorous process to become certified, we are standing on our position and the importance of teacher preparation, and that of course includes the number of hours, the real experience, the student teaching, all of those elements that we believe are critical to a teacher being effective.
C&S: Do you have any sense of what the next steps are? How can this be resolved?
BR: I think that they did make some changes. The new changes were kind of a trade-off, on the one hand they increased the number of hours that would be for training purposes, but they decreased the field experience. They went to 40 hours of field experience, while our teachers obviously do over 100 hours, so we are concerned about no student teaching being part of it. This new proposal made some shifts, but in my humble opinion did not create an opportunity for a highly qualified teacher. And we still stand on the fact it does create a two-tier system, and we are concerned about that as well. So we are standing on the fact that we are, at this point, having all kinds of discussions.
There is at least one out there challenge, and so we are exploring our possibilities and at this time we are reviewing all of our options. I don't think we have come to a definitive position – I mean, we have in terms of what we agree with and what we disagree with – but in terms of our next steps, we are exploring which is the best and most effective way to deal with the situation.
RELATED: Commissioner Elia on new education standards and budget cuts
C&S: Shifting gears, a lot of the attention has been paid to the situation in Puerto Rico after Hurricane Maria, including at the recent Somos el Futuro event in New York City, and obviously there are a lot of Puerto Rican folks in New York City and state –
BR: Well, I am one of those.
C&S: Exactly. In the wake of Hurricane Maria, there are a number of Puerto Ricans leaving the island, coming to the mainland either temporarily or more long term. What does that mean for schools in New York?
BR: We have some students already in Rochester and Buffalo. Buffalo has done an amazing job in attracting – before the storm, they were working with the University of Puerto Rico and the recruitment process to bring in additional teachers to support their English language learners. New York City was doing something similar. So what has been done is the commissioner engaged the staff early on, right after the storm hit, not only creating conditions for teachers being welcoming and receptive and districts dealing with the havoc of children being traumatized by that and coming to the mainland. So there were guidelines that we gave to the field in order to respond to potential increases in students.
We also looked at potential teachers that are certified in Puerto Rico that could be eligible also to support the students that are here, if they so choose to be here. We have been keeping tabs through various individuals that are on the ground. I've been having conversations with some of the people from those universities and others that are there. We are working constantly with the Somos network. We have been sharing a lot of information about what we foresee as the potential. Right now, the schools are in a horrific condition, children are really delayed, but there is a commitment for many families to remain on the island with the hope of rebuilding. So we're anticipating some students coming. But you have to remember that in Florida, for example, the Orlando area has a large Puerto Rican population that has a lot of families, that they would probably get more students than we would in New York. Right now it's wait and see.
C&S: What impact does the repeal of DACA have on the department?
BR: It's one of these one-two punches where we first had the DACA and then of course we got hit with the hurricanes. It's not just Puerto Rico, but I think it's because the responsiveness there has been so lacking in many ways. It's been very disconcerting and troubling to say the least. I'm very committed to DACA and the whole issue that these are young people that have come here and have some really amazing contributions in terms of the economy and society, and will continue to do that.
I'm hopeful and I'm hopeful that our congressional leaders will really take this and really work to advance some kind of solution that will support the Dreamers. It's really the right thing to do, obviously in the area of moral, ethical and compassion. It begs the question that how do we welcome and become a country that realizes that these young people have been here, and for some of them this is the only country that they have known. They certainly have been, in many situations, exemplary individuals. So I'm hopeful.
It's one of those issues that keeps me up at night worrying what will happen next, and we've been having conversations with some of the SUNY law professors who are trying to create ways to support our best thinking around this issue, and we have a lot of individual organizations that are really committed to giving voice to this issue that really needs to have a solution so that these young people can go on with their lives and plan accordingly and the kind of success we hope for many of our young.