Bill de Blasio
Carvalho's out. So who might de Blasio look to next?
While the de Blasio administration enters its fourth month of looking for someone to succeed New York City Schools Chancellor Carmen Fariña, here is a list of the people who have been floated publicly as potential candidates for the position.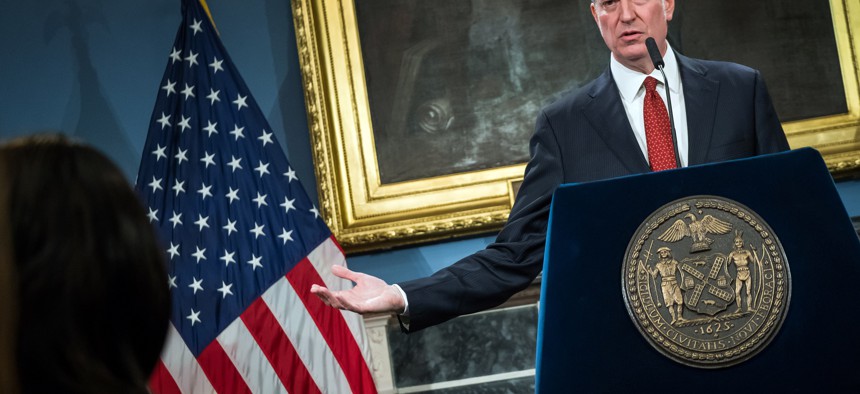 Last December, New York City Department of Education Chancellor Carmen Fariña announced her resignation after four years in the position. On Wednesday, New York City Mayor Bill de Blasio announced that Alberto Carvalho, the Miami-Dade County schools superintendent, as the city's new chancellor. Less than 24 hours later, Carvalho backed out and said he was "breaking an agreement between adults to honor an agreement and a pact I have with the children of Miami."
While the de Blasio administration enters its fourth month of looking for someone to succeed Fariña, here is a list of people who have been floated publicly as potential candidates for the position.
Barbara M. Jenkins
Also from Florida, the superintendent of Orange County Public Schools reportedly is another option, an anonymous source told The New York Times last month. Barbara Jenkins has previously worked on similar projects as Fariña. For example, Jenkins' district has been studying how to welcome students from Puerto Rico.
MaryEllen Elia
MaryEllen Elia serves as the state's education commissioner and has 45 years of experience in education. She too has a Florida connection, having served as the superintendent of schools in Hillsborough County, the eighth largest school district in the country. The Times reported that she is not a top choice, because of concerns with her current job performance, and a state education department spokeswoman said Elia had not had discussions about the position.  
Dr. Dorita Gibson
Dr. Dorita Gibson "seems to be a natural successor" to Fariña, writes education scholar David Bloomfield in the New York Post. She was the deputy chancellor for equity and access before being appointed to her current position by Fariña in 2014, but Bloomfield said she does not seem to have support from de Blasio to replace Fariña.
David Steiner
David Steiner is a professor of education and executive director of the Institute for Education Policy at Johns Hopkins University. Steiner, a former New York state education commissioner, was cited by Eva Moskowitz, CEO of Success Academy Charter Schools, as a potential candidate for the job. During his time as commissioner, he invested in better preparing teachers and led a Race to the Top initiative, an award program that aims at preparing students and turning around the lowest-achieving schools.
Kelvin R. Adams
Kelvin R. Adams has served as superintendent of the Saint Louis Public Schools for 10 years. Some of his initiatives include the creation of single-gender classroom schools, "an African-centered curriculum school, a new medical and bioscience high school, and the expansion of early childhood classrooms." According to the Times, the superintendent is an option, but when he was asked through a spokesperson, declined to comment on whether he had been interview for the job.
Robert​ ​Runcie
The superintendent of Broward County Public Schools in Florida is responsible for 270,000 students, the sixth largest school district in the country, and has also been mentioned by Moskowitz as a possible candidate. Under Robert Runcie's leadership, BCPS has won a series of awards, and became "the first fully-accredited K-12 and adult school district."
Kathleen Cashin
Kathleen Cashin is a member of the New York state Board of Regents. She was born in Brooklyn, where she was also the principal of P.S. 193 for 16 years. Later, she served as regional superintendent for 12 years, and her leadership brought considerable advances in literacy levels. The Times reported that Cashin, who has a 35-year career in New York school system, said she has not been interviewed.
Félix V. Matos Rodríguez
Another New Yorker, Queens College President Félix V. Matos Rodríguez was also mentioned as a potential contender by Bloomfield as well as City & State. According to one source, he is an able administrator and has the résumé and type of personality that would make him a contender.
Andrés Alonso
Andrés Alonso is a professor at the Harvard Graduate School of Education, and a former CEO of Baltimore Public Schools. Before that, Alonso was also a deputy chancellor for teaching and learning during the first phase of New York Children First reforms. The Daily News reported that he is a possible candidate.