New York City
A guide to the controversy around NYC's specialized high schools
An explainer on New York City Mayor Bill de Blasio's proposed change to admissions for New York City's specialized high schools and why it has triggered strong opposition.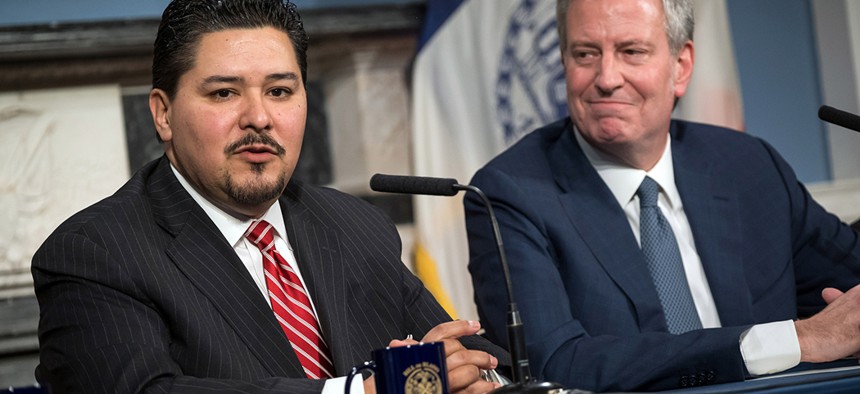 New York City Mayor Bill de Blasio proposed a plan to overhaul admissions to New York City's elite public high schools, inviting some praise and even more backlash from students, parents and lawmakers. Admission to New York City's specialized high schools is complicated under normal circumstances, so here is a guide to the schools, de Blasio's proposal and the political tensions.
How many specialized high schools are in New York City?
There are over 400 high schools in the city, including nine specialized high schools for high-achieving students: the Bronx High School of Science, the Brooklyn Latin School, Brooklyn Technical High School, High School of Mathematics, Science and Engineering at the City College of New York, High School of American Studies at Lehman College, Queens High School for the Sciences at York, Staten Island Technical High School, Stuyvesant High School, Fiorello H. LaGuardia High School of Music & Art and Performing Arts.
How do students get into these high schools?
For eight of these schools, students must take the Specialized High School Admissions Test and then rank schools in order of preference. Students are then designated to a school based on their score on the SHSAT, their ranking of preferences and the amount of space at a school. For the ninth specialized high school, LaGuardia High School, students must go through an audition process and a review of academic accomplishments.
What's wrong with that?
Like all standardized tests, the SHSAT favors students from stronger schools and families with the means to enroll them in test prep courses. Thus, a disproportionately low number of black and Latino students have been admitted to the eight schools for which admissions is based on the SHSAT. This year, only 10 percent of students admitted to these schools were black or Latino, even though the city's public school student body is 67 percent black and Latino. At Stuyvesant High School, the most selective of the eight schools, 10 students offered admission this fall were black and 27 were Latino out of 801 students total offered admission. Those admitted are disproportionately white and Asian-American: Over 50 percent of students admitted to the eight schools using the SHSAT this year were Asian-American and the percentage is even higher at the most prestigious schools such as Stuyvesant and Bronx Science.
What is de Blasio's proposal to change the admissions process?
In an op-ed for Chalkbeat on June 2, de Blasio proposed scrapping the SHSAT altogether, saying that it disadvantages students who do not have equal access to test prep, affecting disproportionately black and Latino children in middle schools in low-income areas. The new admission process he suggests would select students based on their rank in their middle schools and their scores on statewide standardized tests.
De Blasio also proposed offering 20 percent of seats in each specialized school to low-income students who barely missed the test cutoff after they attend the Discovery Program, a summer-school session.
The mayor argues that this will allow for a more equitable selection process, in which students of all incomes and races will have a better chance at getting into elite high schools.
Why are some people opposed to this plan?
Critics consider this proposed change "the definition of unfair." Many Asian-Americans in the city believe that it will disadvantage their children, as they make up the majority of students as specialized high schools. This impression was not alleviated after Schools Chancellor Richard Carranza said, "I just don't buy into the narrative that any one ethnic group owns admission to these schools."
Some argue that this plan is tantamount to pitting one minority group against another.
"He never had this problem when Stuyvesant (High School) was all white. He never had this problem when Stuyvesant was all Jewish," Kenneth Chiu of the New York City Asian-American Democratic Club said about de Blasio in an interview with NY1. "All of a sudden, they see one too many Chinese and they say, 'Hey, it isn't right.'" (Four decades ago, when Stuyvesant was last overwhelmingly white, de Blasio was a child in Massachusetts, not mayor of New York City.)
Soo Kim, president of the Stuyvesant Alumni Association, told CBS2 de Blasio's proposal was like "The Asian Exclusion Act of 2018." Asian-American activists rallied on June 5 in opposition to the mayor's plan.
Other critics, including Rep. Grace Meng, argue that this proposal deflects from improving the city's elementary and middle schools. If students in low-performing elementary and middle schools had a better education, Meng argues, then perhaps a more diverse array of students would be admitted to these schools.
The plan's defenders counter that African-American and Latino students are being excluded by the status quo and that a system based on grades and pulling from each middle school will be fairer than using an exam that favors certain demographic groups.
Can de Blasio make these changes on his own?
The city can make changes to the Discovery Program, but that will have a limited effect on making admissions more diverse, raising the percentage of black and Latino students admitted to around 16 percent. The proposal to scrap the SHSAT, which could increase the percent of black and Latino students to around 45 percent, requires approval by the state Legislature.
Is the state Legislature likely to pass this proposal?
Albany seems pretty skeptical about de Blasio's proposal. Gov. Andrew Cuomo all but dismissed the idea as a consideration for the current legislative session, saying "it will be part of the overall discussion next year of mayoral control, which will have many facets to it." The proposal also has opponents in both the Republican-controlled state Senate and in the Democratic-majority Assembly.
The bill to overhaul admissions, sponsored by Assemblyman Charles Barron, narrowly passed the Assembly Education Committee on Wednesday. One of the lawmakers who voted for it, Democratic Assemblywoman Amy Paulin, said that she would vote against the bill if it appeared without changes on the Assembly floor.
What are students saying about this proposal?
The reactions are mixed. One former Stuyvesant student noted in an op-ed for amNewYork that he was able to get into the school because of aid from teachers at his school and from his parents, who had the financial means to help with test prep. Another Stuyvesant alum, former Obama strategist David Axelrod, tweeted that an education at a specialized school should "be accessible to students with great potential from all communities, so I applaud @BilldeBlasio for advancing ideas to help make that happen."
However, other alumni and many current students are less supportive. A Chalkbeat article took the pulse of Stuyvesant students about the proposed plan. "I don't think that the SHSAT is necessarily the problem here, I think it's just exposing these minorities to the resources they need to be able to get into these schools – I think that's the root of the problem," sophomore Beverly Feng told Chalkbeat.
William Lohier, a black junior at Stuyvesant, told Chalkbeat that he was "conflicted" about the plan, but that the reaction of critics who never before cared about predominantly black and Latino schools exposed their hypocrisy. "As a black student, I don't think that people really care about how middle schools and black and Latinx communities do," Lohier said. "Now suddenly, when it's going to affect them, people are suddenly outraged?"
What effect could this have on middle schools?
As Politico New York's Eliza Shapiro noted on Twitter, charter middle schools could be happy about an overhaul of the admissions process. Many charter schools are high-performing and their black and Latino students often do better on statewide tests than their white and Asian counterparts, but not as many charter students attend elite high schools.
NY1's Lindsay Christ said that this move could also push further middle school integration. Under the law proposed in the Assembly by Barron, a number of seats in specialized high schools would be reserved for the highest-achieving students in each middle school. This might encourage parents to spread out high-performing students to different middle schools, if they want their kids to be in the top percent of their school.
Powered By
NEXT STORY: Despite scandals, ethics reforms are going nowhere fast