Bill de Blasio
Why returning NYC's freight transportation to the waterways won't work
New York City has initiated a $100 million plan to try to solve the city's age-old problems with freight transportation. But the city's attempt to go back to the future by returning shipping to the waterways won't solve many of the worst freight-traffic problems.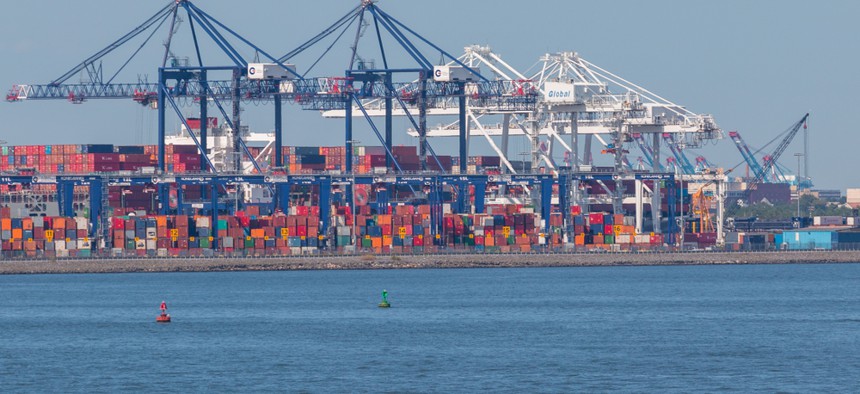 This summer, the New York City government initiated a $100 million plan – outlined in a report by the city's Economic Development Corp. titled "FreightNYC: Goods for the Good of the City" – that, with federal and state support, will try to solve the city's age-old problems with freight transportation.
Nearly 200 million tons of freight moved through the city in 2016 – over 90 percent of it by truck. That causes major headaches for the city and its residents: One study estimates that trucks' exhaust (along with buses) is responsible for particulate matter emissions that are associated with 170 deaths in New York City each year, concentrated in high-poverty communities. These limitations reduce the city's competitiveness and increase the cost of goods. According to the EDC's report, truck congestion and delays cost the city $862 million in lost economic activity last year.
Total freight being moved through New York City is expected to grow to 312 million tons by 2045. The city's transportation infrastructure, largely unchanged for half a century, simply can't cope with that type of growth. The Cross Bronx Expressway is already a truck parking lot for much of the day. The key chokepoints are the Hudson River crossings, which connect New York City and Long Island to the rest of the United States. Nearly all freight passes over and through the handful of bridges and tunnels in the city, while most rail freight takes an often-circuitous route crossing near Albany, running down the Hudson, and entering Queens on the Hell's Gate Bridge. The EDC's plan would seek to relieve these crossings by resuming significant barge operations to bring freight both onto the city's rail network and directly to waterfront industrial areas, such as Hunts Point in the Bronx and Sunset Park in Brooklyn.
The EDC wants to go back to the future by returning shipping to the waterways. But that won't solve many of New York's worst freight traffic problems. And the city can't address this alone: The state government must cooperate with the city on facilitating freight traffic on the Port Authority's crossings, and it must build infrastructure to shift Long Island-bound truck traffic that passes through the city onto rail.
The EDC's plan is imbued with nostalgia for the days when New York was one of the world's great ports and industrial centers, and it seeks to bring back the days when freight flowed leisurely on barges around the harbor to waterfront industrial districts.
Those days are gone. Modern commerce requires enormous single-level distribution centers, which are mostly impossible to build in New York City where vast acreage simply isn't available. Waterfront land, in particular, is prized for commercial and residential development, which is far more lucrative than warehouses.
The city needs to recognize that it is part of an integrated region, and northern New Jersey is its main logistics area. Expanded barge and rail transloading facilities will help, but they won't make a difference for most trips. Instead, the city needs to look at improving the Hudson River crossings by shifting car trips to transit in order to free up space for freight traffic that has fewer alternatives, and it needs to find places for viable rail-accessible distribution centers east of the Hudson in places that do not consume scarce city land, such as Long Island and Westchester County.
Long term, the best solution would be a freight rail tunnel across the harbor. For a century, there have been proposals to build a direct link between northern New Jersey and Brooklyn. The Port Authority's Cross Harbor Freight Program has been studying the possibility of such a tunnel for years, and it has long been a pet project of Rep. Jerrold Nadler. Rail currently handles only about 2 percent of the city's freight, so it would take many years for the local distribution and demand to grow to the point that it would justify the massive cost of the tunnel's construction. This is likely why it was only briefly mentioned in the EDC report, but combining it with a transit route between Staten Island and Brooklyn would make a tunnel much more viable in the short term as demand for freight rail builds over time.
New York became the commercial hub of the United States in large part because its geography is unusually well-suited for maritime trade. The miles of waterfront along the Hudson and East rivers were an incomparable asset when most freight was moved to and from the city by ship and barge. With the advent of rail and later road transportation, the necklace of rivers became more of an obstacle than an asset. Train cars had to be floated across the Hudson on a barge from various New Jersey terminals to the city's waterfront industrial areas. It was only through federal regulation that New York's port remained competitive: Railroads were required to charge the same rate to ship to New York City as to northern New Jersey. Effectively, shippers across the country paid to subsidize the Port of New York. With the advent of trucking, containerization, and eventually deregulation in the 1970s, the whole system collapsed. The fleets of barges shuttling freight around the harbor disappeared. Nearly all of the port operations shifted to New Jersey, where abundant land and direct access to the country's rail and road infrastructure were available.
New York has long recognized these limitations, and has had ambitious plans to resolve freight transportation for over a century. The Port Authority was established in 1921 to create an elaborate network of railways to distribute freight around the region that never came to fruition, a plan described in Jameson Doig's history of the Port Authority, "Empire on the Hudson." Today, freight transportation relies almost entirely on a small and extremely congested network of expressways.
The EDC's plan proposes developing "multimodal freight hubs" in the neighborhoods of Maspeth, Queens; Hunts Point, Bronx; and the Brooklyn Army Terminal in Sunset Park. They would be accessed by enhanced rail infrastructure and a renewed network of cross-harbor barges. The waterfront sites would be connected to New Jersey directly by barge, while Maspeth would be a rail hub linked to the mainland with an expanded Brooklyn-Jersey City railcar barge operation. The report said the plan will reduce annual truck miles by 70 million, limiting growth between now and 2045 to about 30 million, but the details on how this is to be achieved are vague.
The key problem is that a vast majority of goods do not simply come off the boat or out of the factory and head straight to the retail store or the consumer's home. Instead, they are stored and sorted in large distribution centers. In the New York City area, these are overwhelmingly located in New Jersey and eastern Pennsylvania, where they have direct access to the national rail and highway network, and where land is relatively cheap. Aside from Hunts Point, which serves the specialized role of food distribution, the five boroughs are not major players in the distribution sector. The EDC said that there are 2.2 million square feet of distribution space for e-commerce in the city, with 3.8 million square feet planned or under construction. For a city the size of New York, this is quite meager. Amazon's new distribution center in Carteret, New Jersey, (across the Arthur Kill from Staten Island) is 1 million square feet, and it is one of seven the company has in that state.
It's OK for New York to lag in distribution center space, as it's not the city's comparative advantage. A warehouse that spans 1 million square feet takes up the land area required for thousands of apartments in a dense city neighborhood, or the land area of the entire World Trade Center complex. It is not likely that this, in most cases, is the highest and best use of New York City land. In certain niche sectors, like same-day e-commerce distribution, locations in New York City may be viable, and we may see a return to multistory warehouses to make more efficient use of land. New York City, as the EDC proposes, should do its best to preserve at least some industrial land for such purposes. However, these are not likely to ever be the approach followed by most shippers.
Likewise, the expanded use of barges will require the use of scarce waterfront land. In certain places, like Hunts Point, where there is a high concentration of industrial uses, it should work. It certainly would make sense to shift as much traffic to the food market onto the water as possible, especially in a neighborhood that shoulders a disproportionate share of environmental burdens like truck traffic. Waste is already increasingly shipped by barge, and it may be possible to shift more fuel and construction materials to the water as well – the three combined for 42 percent of total freight tonnage shipped in the city.
More broadly, however, it will become increasingly difficult to shift freight to barges as waterfront industrial land is transformed into residential and commercial development – for example, in Sunset Park, which the EDC proposes as an important freight hub. It would be essential to preserve some waterfront industrial land for these purposes – if the FreightNYC vision is to be achieved – and that land is disappearing fast.
The plan calls for additional transloading facilities in Brooklyn and Queens to facilitate the unloading of goods to then be loaded onto trucks and taken to their destinations in the city. The problem, again, is that this only works for goods that do not need to be sorted and stored in a large warehouse before going to their final destination. Furthermore, shifting traffic onto rail may exacerbate the environmental burden in certain neighborhoods that already shoulder more than their fair share.
Solving the city's freight transportation problems will require a regional vision and state government action because much of the freight traffic clogging the city's expressways is just passing through on its way to Long Island. With nearly 3 million people, Long Island is an important market in its own right, and this pass-through traffic is expected to grow 85 percent by 2045. Right now, nearly all of it is on trucks, even though it is possible to get freight there by rail. It can travel either on car float barges into Brooklyn, or down from Albany and across the Hell's Gate Bridge. From there, it can use the New York & Atlantic Railway on the tracks of the Long Island Rail Road to reach points all around Long Island. The problem is that, like the city, Nassau and Suffolk counties have very little infrastructure to receive rail freight, so that route has only a minuscule market share today. Fortunately, Long Island has much more land area available for large warehouses, distribution centers and rail yards, making a shift to rail of Long Island-bound traffic much easier than for city traffic. A state policy to encourage the development of rail freight infrastructure on Long Island, starting with the construction of a facility for the loading and unloading of container trains, could divert a lot of traffic off the city's roads. Long Island could even become a distribution center for Brooklyn and Queens, eliminating the need for local trips to use congested river crossings.
Regardless of the obstacles, a plan is clearly necessary to shift freight transport away from trucks and onto the rails and the water. It is simply not possible to cram another 100 million tons onto a few road bridges and tunnels. An essential first step would be to establish a facility for the loading and unloading of container trains on Long Island.
The white whale of New York City freight transportation projects is the cross-harbor rail tunnel. One option would be to combine a freight tunnel with a passenger rail project connecting Brooklyn with Staten Island. Perhaps built as part of a network like Alon Levy's proposed regional rail plan or the Regional Plan Association's Trans-Regional Express report, such a tunnel could dramatically improve transit access. Direct freight access across the harbor could piggyback on such a project by having the tunnel built to freight standards and permitting freight traffic off-peak or overnight. The combined benefits to freight transportation and transit might make a very expensive project viable. (Nadler also argues that it is a national security imperative – without the freight rail tunnel, a terrorist attack on the George Washington Bridge can make New York City and Long Island unable to receive adequate food and medical supply shipments from the rest of the country.)
The federal money needed is unlikely to come, possibly until the Democrats retake Congress and/or the White House. The rail tunnel also does not solve the distribution center issue.
In the nearer term, the best approach may be to shift as many cars off the city's highways as possible through transit improvements to make room for trucks, which have fewer alternatives. This could be accomplished by disincentivizing passenger cars and encouraging commuters to take mass transit. Policies to that end could include dedicated truck lanes on key routes and crossings, tolling the East River crossings and increasing total average costs of driving, such as through the Move New York plan or other forms of congestion pricing. Shifting truck traffic to alternate routes through more equitable pricing could also reduce the environmental impact on certain neighborhoods. For example, hundreds of trucks drive through Brooklyn residential neighborhoods every day on the way to the Williamsburg Bridge, producing severe air quality and pedestrian safety problems. Many of them could far more easily take the Long Island Expressway and avoid city streets, but they prefer the free bridge to the tolled Queens Midtown Tunnel.
New York City's freight transportation has been a quandary for a century. Getting goods to the millions of people east of the Hudson River will require a combination of new infrastructure and better use of existing infrastructure. A return to the old days of shipping on barges around the harbor has a role to play, but a return to the past won't be the silver bullet.
Economic development Case Studies
Powered By
NEXT STORY: What you need to know about the NYC charter revision commissions