Transportation
Waiting for the Brooklyn-Queens Connector
Despite a 2017 deadline, there's still no release date for the feasibility study for Bill de Blasio's Brooklyn-Queens Connector.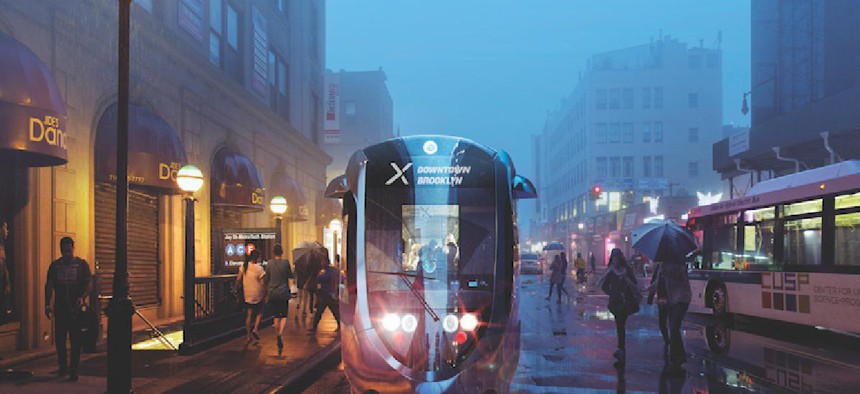 When it comes to New York City Mayor Bill de Blasio's white whale, the Brooklyn-Queens Connector, a plan for a 16-mile streetcar that would connect Astoria, Queens, to Sunset Park, Brooklyn, there's a lot for the skeptics to latch onto. Though the proposal has failed to keep up with its own timeline, there's one de Blasio line that has remained relatively consistent since the project's announcement in 2016: "It's coming soon."
The saga began when Friends of the Brooklyn Queens Connector, a nonprofit chaired by Jed Walentas, CEO of Two Trees Management, commissioned a study that concluded it would cost $1.7 billion to build the streetcar, and that it would also bring in $3.7 billion in tax revenue. When de Blasio proposed the plan in early 2016, the expected cost bumped up to $2.5 billion, but he maintained that the city could fund the system through tax revenue siphoned from an expected rise in property values.
Then the trouble started. A leaked memo from Deputy Mayor Alicia Glen in April 2017 undercut de Blasio's optimism. The memo laid out major construction and financial complications to the project, listing engineering challenges like water mains, sewer lines and power utilities buried along the route. It wasn't until April 2018 that the mayor admitted on "The Brian Lehrer Show" for the first time that the plan is "certainly going to require some federal support."
At the end of April, the release of the city's executive budget clarified that no money had been set aside for the project. Asked about it, de Blasio said, "I'm going to use my favorite phrase, soon, which always means something. It's coming soon."
The New York City Economic Development Corp. still has not set a date for the release of its feasibility study on the project after missing its initial deadline of the fall 2017. Meanwhile the New York Post reported in May that the study has cost $7 million. The clock is ticking on when the project will get on track – or get tossed to the scrapheap.