Bill de Blasio
New Staten Island Amazon facility could exacerbate truck traffic
NYC's freight plan aims to reduce congestion, but the state is subsidizing an Amazon fulfillment center that could exacerbate truck traffic.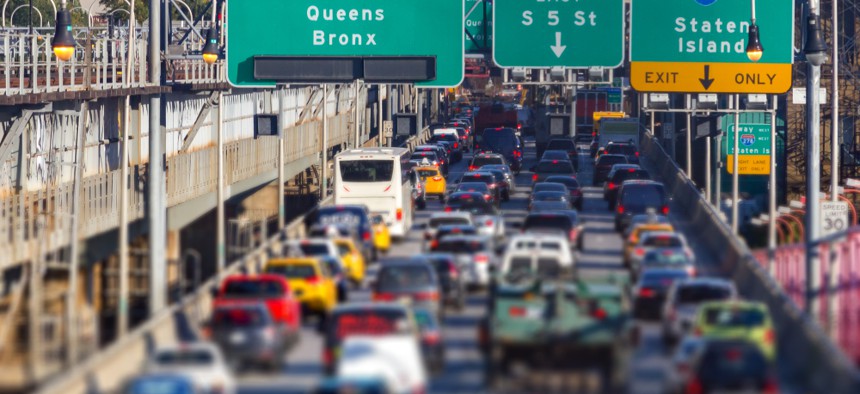 A white monolithic warehouse the size of 26 football fields has sprung up in Staten Island's Matrix Global Logistics Park over the last year. The 855,000-square-foot fulfillment center, Amazon's first in New York City, was scheduled to open this week with a soft launch on Sept. 27.
With the opening comes the whirring of the tech giant's patented high-tech technology, warehouse associates picking and packing up products, and a flow of trucks to and from the facility. A mix of FedEx, the U.S. Postal Service, UPS and Amazon trucks will start traveling regularly up the Staten Island Expressway on their way into the city. Though this influx of truck traffic coincides with new jobs, it creates a point of tension between the economic incentives at the city and state levels.
While Empire State Development, New York's economic development arm, has promised large tax incentives to attract Amazon to the site, its presence undercuts the vision of Freight NYC, an initiative that New York City's Economic Development Corporation released in July. The plan proposed investing up to $100 million in freight rail and waterway infrastructure in order to relieve some of New York's over-dependence on trucking. The city argues that truck congestion could cost the local economy $27 billion over the next 30 years, hurting local businesses and impeding commerce.
The new Amazon center, which is receiving tens of millions of dollars in state tax incentives, including an energy discount that could cover up to 25 percent of total energy costs and up to $18 million in tax credits through the state's Excelsior Jobs Program, may exacerbate the truck traffic problem.
"The state is often very interested in this type of economic development and it's not necessarily at all in tune with the actual desires of the local community. So in that respect there's an inherent tension," said Jonathan English, a Ph.D. candidate in urban planning at Columbia University.
The Freight NYC plan envisions the creation of over 5,000 jobs by developing maritime and rail freight infrastructure over the next 10 years, while simultaneously eliminating 40 million truck miles traveled per year. While its stated goal is to "overhaul our aging freight system," more of the plan is directed toward job creation than directly addressing truck freight reduction. A spokesperson for the EDC said that there was no coordination between the agency and the Empire State Development Corporation on the new Amazon fulfillment center.
Not all the traffic will be heading straight for the other four boroughs, though. The new Amazon center is a regional facility, meaning it can serve customers up to 1,000 miles away or more. The packages from the fulfillment center will then be grouped by zip code before they go to last mile delivery, which could be in the city, in New Jersey, or even as far as Pennsylvania, Maryland or Delaware.
A spokesperson for Amazon Operations in the Northeast Region did not have a figure for how many trucks are expected to roll through the facility. But Thom Campbell, a chief strategy officer  for Capacity LLC, a logistics company in North Brunswick, estimated that his company's facilities, which have a combined 700,000 square feet of warehouse space, can ship out 46 trailers per day during the peak seasons. "One larger facility would be more efficient (in some ways), so you could say that moving 50 trailers or parcels per day from 1 million square feet is a decent proxy," Campbell said.
The Staten Island facility is not an isolated instance of New York City's attempt to get a slice of Amazon's business. Amazon included New York City on its narrowed list of potential applicants to host HQ2 – its second headquarters – in January. But as the growth in e-commerce continues to inflate the number of at-home deliveries, job growth incentives aimed at distribution centers will begin to undermine local initiatives like the EDC's to reduce truck freight.
Economic development Case Studies
Powered By
NEXT STORY: Building a better Bronx