Rodneyse Bichotte
Brooklyn lawmaker to introduce bill in response to 'Cornerstore Caroline'
Assemblywoman Rodneyse Bichotte's bill in response to "Cornerstore Caroline" would protect minors from false accusations.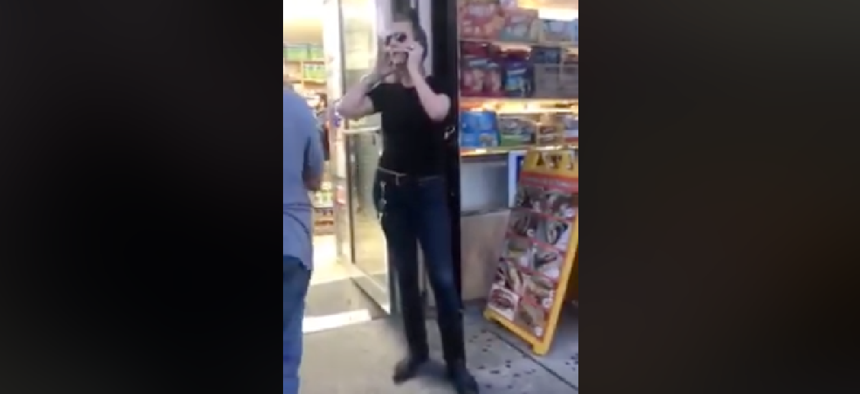 Earlier this month, a video depicting a white woman falsely accusing a young black boy of groping her went viral. The woman was quickly nicknamed online as "Cornerstore Caroline" and derided for her actions, which took place outside a bodega in Flatbush, Brooklyn. The woman, later identified as Teresa Klein, claimed that while inside the store the 9-year-old, Jeremiah Harvey, groped her bottom as he passed. Surveillance footage from inside the store appears to exonerate Jeremiah; the video shows that Jeremiah's backpack may have brushed up against Klein when he passed.
Now, Assemblywoman Rodneyse Bichotte is introducing a bill in reaction to the incident that would protect children of color from being falsely accused. "Jeremiah's law," which is on the docket to be introduced on the Assembly floor either Monday or Tuesday, would make filing a false report against a minor under 13 years old a class 'E' felony with the possibility of jail time.
"A situation like that with no camera, that boy, who could not even defend himself, would have probably been picked up and be detained in the juvenile system," Bichotte told City & State.
Although the bill would protect all children, Bichotte says the intention is to protect children of color. Bichotte says young boys of color are being racially profiled and that this type of incident "would never happen to a white boy."
A draft of the bill's memorandum shared with City & State argues that "Ms. Klein's behavior echoes an ugly past in our country's history going back to the brutal torture and murder of Emmett Till." Till was an African-American who was murdered in Mississippi at the age of 14, after being accused of whistling at a white woman in a grocery store.
Read the full text of the bill below:
Jeremiah's Law, introduced by Assemblywoman Rodneyse Bichotte by City & State NY on Scribd
Powered By
NEXT STORY: How state Senate control will alter health policy