Labor
Why Charter just agreed to a $174.2 million settlement
What you need to know about the payouts and other promises Charter made in the settlement.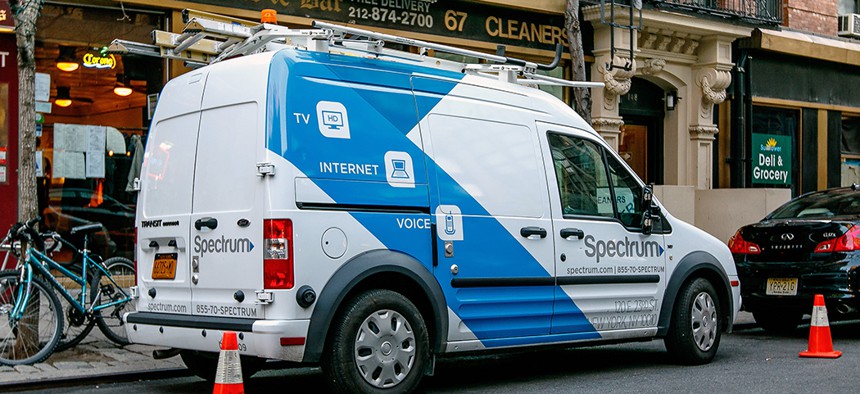 If you're one of 700,000 Charter Spectrum customers plagued by snail-like internet speeds, you may be due a payout, thanks to a $174.2 million settlement announced on Monday between the cable and internet service provider and the New York attorney general's office. The agreement closes a nearly year-long lawsuit alleging that Time Warner Cable, which is now part of Charter Spectrum, failed to supply the internet speed and reliability it promised to its subscribers. While those subscribers can look forward to payments up to $150 – the largest ever settlement with an internet provider, according to the attorney general's office – the deal could produce benefits that last far longer than a modest payout will last in the bank. Here's everything you need to know about the deal, and what it means for consumers, the company and its other challenges from New York state:
What's the lawsuit about?
Attorney General Barbara Underwood filed a suit against Charter in February 2017, arguing that its cable service Spectrum Cable – formerly Time Warner Cable – had failed on a whole slate of promises to its subscribers, and even did so knowingly. Time Warner Cable allegedly provided slower internet speeds than what subscribers paid for, leased deficient modems and wireless routers, and caused customers to suffer long buffering times with third parties like Netflix.
In short, Time Warner Cable advertised and charged subscribers for high-speed, reliable internet, and delivered a service of noticeably lesser quality than that. But a key aspect of the lawsuit dealt with Time Warner Cable executives' knowledge of their own failings. An email from one executive cited in the lawsuit reads, "we are going to experience a mismatch between what we sell the customer and what they actually measure on their laptop/tablet/etc."
In an emailed statement, Charter spokesperson John Bonomo wrote, "We are pleased to have reached a settlement with the Attorney General on the issue of certain Time Warner Cable advertising practices in New York prior to our merger, and to have put this litigation behind us."
Who stands to benefit?
The lawsuit represents a victory for consumers, and not just former Time Warner Cable subscribers who will be eligible for payments of $75 – or $150 if the customer leased a deficient modem for 24 months or more. Charter will notify subscribers of their eligibility for reimbursements and send payments within 120 days, according to the attorney general's office. More than 2 million active subscribers will also receive access to premium channels and streaming services – one free month of Charter's Spectrum TV Choice streaming service, plus the choice of either three free months of HBO or six free months of Showtime.
Those payouts and credits represent an immediate victory for current customers, but in the long-term, many more stand to benefit, according to consumer advocates. "It's more than money," says Allie Bohm, policy counsel at Public Knowledge, an internet and telecommunications public interest group. "They're also having to change the conditions under which they operate going forward in New York."
Under the terms of the settlement, Charter has agreed to change its marketing practices, ensuring that distinctions between "wired" and "wireless" are made accurately, and safeguarding against false promises. The company will also be required to test their internet speeds regularly, allowing Charter to actually substantiate the speeds it advertises. Bonomo also pointed to investments already made after the merger with Time Warner, which the attorney general's office referred to as "significant."
There are benefits that can extend beyond New York, too. The attorney general may have set a new standard with this $174.2 million settlement – one that has states, rather than federal officials, taking the lead on protecting consumers. "New York effectively stepped up to protect New Yorkers," said Bohm. "Other states could follow that lead."
What does this have to do with Charter's license to operate in New York being revoked?
This settlement is entirely separate from action taken by Gov. Andrew Cuomo and the state Public Service Commission to revoke Charter's license to operate in New York. In July, the PSC withdrew its approval of the Charter/Time Warner 2016 merger, accusing the company of failing to follow through on promises made during the merger to expand broadband service upstate.
Rural access to broadband is an ongoing issue and the PSC surprised some by actually taking action against a company that they saw as an obstruction to making progress on that front. In revoking their approval, the PSC essentially kicked Charter out of New York.
Little progress, however, has been made on this separate issue. Negotiations have been ongoing between PSC and Charter, and deadlines for the company to come up with an exit plan or file for a re-hearing of the PSC's decision have been repeatedly extended.
Can Charter be trusted to follow through on what it promised in the settlement?
The fact that Charter (or its predecessor) is facing multiple accusations of failing to follow through on its promises raises the question – what's to stop the company from reneging again?
The settlement agreement is a contract that Charter is legally bound by. If the company violates its terms, the lawsuit could be reinstated, Bohm said. But given New York's established commitment to holding companies like Charter accountable, she's confident that the company will uphold its end of the bargain, even if it's only due to the state's watchful eye. "I trust the New York attorney general's office to check in to what Charter's doing," Bohm said.
Trust but verify seems to be the name of the game with Charter.
Update: This article originally failed in some instances to make clear that it was Time Warner Cable, before it merged with Charter, not Charter itself at the time, that misled customers. 
Powered By
NEXT STORY: Labor looks to Albany to protect workers