congestion pricing
De Blasio endorsed congestion pricing. Now what?
Gov. Andrew Cuomo and Mayor Bill de Blasio are finally aligned on congestion pricing, but a few unanswered questions remain for congestion pricing's future.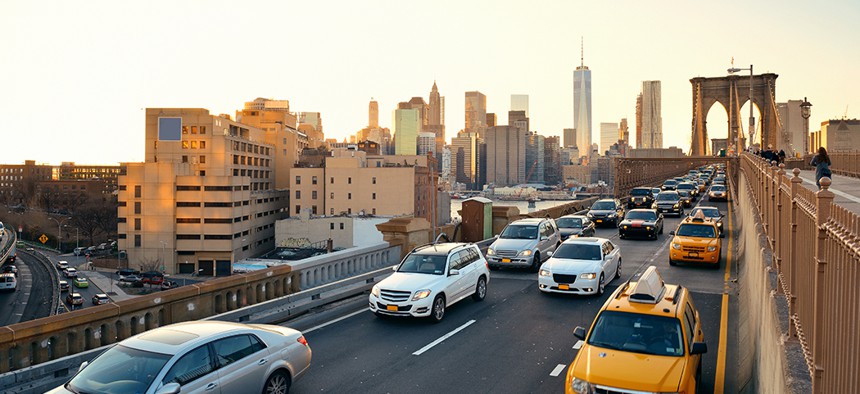 Gov. Andrew Cuomo's congestion pricing plan to fund the ailing Metropolitan Transportation Authority gained one notable proponent on Tuesday, as New York City Mayor Bill de Blasio announced his support of the revenue strategy that he's been wary of in the past. In a joint press release, Cuomo and de Blasio backed a 10-point plan to implement tolling systems for drivers entering Manhattan's central business district, as part of the governor's bid to pass congestion pricing by the April 1 budget deadline. Also included is an outline for restructuring the MTA – a long-discussed goal for the governor, who has used the authority as something of a punching bag in recent months. The 10-point plan clears up some questions about how congestion pricing and an MTA overhaul would actually work, but some information is still outstanding. These are the noteworthy answers that the new plan provides and just a few of the questions that still remain:
What exactly will congestion pricing look like in New York City?
If approved by the state Legislature, the plan proposed on Tuesday would install electronic tolling devices – much like ones that are used at the Triborough Bridge and the Queens-Midtown Tunnel – to collect fares from drivers entering Manhattan's central business district. In previous talks, that area has been defined to go as high as 96th street on the West Side, but the new proposal is limited to south of 61st street. The electronic system would account for tolls already paid on bridges and tunnels going into Manhattan and would not include FDR Drive. In other words, any drivers entering the central business district through bridges or tunnels from the East River would be subject to the toll, but if a driver went directly to the FDR, they would not have to pay. Where exactly the toll gantries would be placed would be decided in negotiations with the state Legislature. Implementation would include installing electronic tolling devices south of 61st street and revenue from the tolls would go into a "lockbox" devoted to MTA capital needs, with a priority going towards the subway system, new signaling, and track and car repairs. The tolls would be set once the MTA Capital Plan is approved and the electronic infrastructure is in place, which the plan specifies will happen no later than December, 2020.
Some exceptions are included for the congestion pricing proposal, including vehicles carrying passengers with disabilities as well as emergency vehicles, and tolls would be variable during off-peak hours.
Is congestion pricing supposed to fund all of the MTA's capital needs?
The MTA has a lot of expensive work cut out for it – estimates are as high as $40 billion over 10 years – and while congestion pricing is projected to provide a significant chunk of that cost – the governor estimates $15 billion over 10 years, most experts say more like $11 billion – it can't get the job done alone.
That's where a much-discussed "Weed For Rails" proposal comes in. Last December, public advocate candidate and former City Council Speaker Melissa Mark-Viverito introduced a plan to use revenue from legalizing and taxing marijuana to help pay for the crumbling New York City subway. Mark-Viverito would have no power as the next potential public advocate to implement such a program, and her opponent Rafael Espinal has criticized the idea, saying that revenue from marijuana legalization should be redirected to minority communities that have disproportionately suffered from marijuana arrests. Still, the new congestion pricing plan adopts Mark-Viverito's idea, including a proposal for some of the revenue from a "cannabis excise tax" and an internet sales tax to supplement the MTA capital improvements. Together, revenue from those taxes is estimated to contribute $7 billion to the MTA, according to the governor's office.
"Last year I launched Weed for Rails – a plan to legalize marijuana, place revenue in a lockbox for the crumbling MTA, and invest in communities most affected by marijuana arrests," Mark-Viverito said in an emailed statement on Tuesday. "I'm glad the mayor and governor are now getting on board. From closing Rikers to decriminalizing low-level offenses to funding lawyers for undocumented immigrants, I've always put forward bold proposals, faced down the naysayers, and delivered. Once again with Weed for Rails, I've successfully delivered on a bold, progressive vision to fix the broken subways."
Does congestion pricing mean that MTA fares won't increase?
Commuters should plan on MTA fares increasing with inflation, but this proposal for congestion pricing does limit the amount of those annual increases. The plan specifies that with the additional revenue from congestion pricing, the MTA should be able to function with transit fare increases limited to 2 percent per year.
Facing an undecided state Legislature – the body which has to approve this plan – Cuomo has threatened fare hikes as the only other way to provide the MTA with a needed revenue stream. "The alternative to congestion pricing is really a fare increase," Cuomo told Lehrer on Tuesday. "And it could be as high as 30 percent. I think that's wrong. I think it's wrong to further burden the riders, and congestion pricing, frankly, taxes people who drive in."
It's a position that MTA Chairman Fernando Ferrer brought up again in announcing his support of the new proposal. "If the Legislature adopts this plan, riders will be spared a fare increase of 30 percent to fund necessary capital costs," Ferrer said in an emailed statement. "I urge the Legislature to act and support Gov. Cuomo and Mayor de Blasio in their effort to improve the subways and entire MTA for the people of New York."
Where does the Legislature stand on congestion pricing?
The state Legislature – and its most important faction, Senate and Assembly Democrats – remain split on the issue of congestion pricing. Assemblywoman Amy Paulin, who chairs the Committee on Corporations, Authorities and Commissions, which oversees the MTA, has declared her support of congestion pricing in the past and has warned of what could happen if the MTA isn't adequately funded. "We risk a failed economy," Paulin told City & State earlier this year. "Because we rely on our subways, on our buses, and our commuter rail to get to Manhattan, which is the hub of where the financial industry and where all major industry is right now for us, and that fuels the entire state government."
But leaders in the Legislature – state Senate Majority Leader Andrea Stewart-Cousins and Assembly Speaker Carl Heastie – have yet to pledge their support. Some lawmakers still want more input from constituents on the plan. In the past, the idea of congestion pricing has faced resistance from lawmakers in the suburbs and outer boroughs, whose constituents would pay the toll if driving into Manhattan. Cuomo denied this notion to Brian Lehrer, however, saying that people driving into Manhattan are more likely to come from Connecticut or New Jersey than the outer boroughs or New York suburbs. On Monday, Senate Democrats announced a hearing on transit needs for Long Island, where some of those concerns could potentially be heard.
"We will discuss these proposals as a Conference and look forward to working with our partners in the Assembly, the governor and the mayor to finally move forward on solutions to the MTA catastrophe," Mike Murphy, Senate Democrats' communications director said in a written statement. "Clearly, there is a crucial need for a dedicated stream of revenue to fix the crumbling subway."
"The Legislature has to pass a law doing this, this is a proposal that the mayor and I agree on, but it has to go to the Legislature," Cuomo told Lehrer. "I'm sure there will be a lot of debate and discussion as it is the nature of the legislative process."
How does Cuomo intend to restructure the MTA?
The 10-point plan released Tuesday is not just about implementing congestion pricing, but about the longer term goal of reorganizing the MTA to be more effective and efficient. "It's management and money," Cuomo told Lehrer about the plan's priorities. "You need a better management structure at the MTA. It's a 1960-style holding company with a 1960-style mentality. We have to consolidate the functions at the MTA. Bring in a different culture. Make the board functional and operational so we know that we're getting efficiency from the riders' fare."
As the governor alludes to, the MTA functions like a holding company consisting of six separate entities including New York City Transit, the Long Island Railroad and MTA Capital Construction. One proposal included in the 10-point plan is to consolidate the common functions of those entities, including construction and management, to create a more streamlined operation. It would also modify appointments to the MTA's Board so that each member's tenure would be terminated when the elected official that nominated them leaves office.
The proposal would also create a new body called the Regional Transit Committee – a six-member panel of transportation, engineering and government experts who would be tasked with reviewing the MTA's Capital Plan and the toll and fare increases proposed to fund it. While the details of the committee would have to be hashed out with the Legislature, a spokesman for the governor said that the governor, mayor, Assembly, state Senate, and organizations representing subways riders and driving commuters would all have the power to appoint the committee's members, suggesting that the governor wouldn't have more authority than the mayor or state Legislature through this new body – something he has arguably maneuvered for in the past.
Since when do Cuomo and de Blasio release joint statements?
The governor and the mayor have been known to clash, not only broadly, but specifically on the issue of who is responsible for the subway. But, in the wake of their joint plan to bring a new Amazon headquarters to New York City dying, in part at the hands of state Senate Democrats, an alliance between Cuomo and de Blasio seems to be growing. The fact that the mayor is backing this proposal – after first advocating instead for a millionaire's tax to fund the subway – represents some progress in their relationship. On Tuesday, de Blasio reaffirmed his belief in a millionaire's tax, but pledged his support of the 10-point plan anyway. "I still believe a millionaires tax provides the best, most sustainable revenue source for the transit improvements our city needs," de Blasio said. "But the time to act is running out, and among all alternatives, congestion pricing has the greatest prospects for immediate success."
Cuomo told Brian Lehrer that the mayor's change of heart comes from updates to the congestion pricing model. "This is a different plan, I think, than previous congestion pricing plans," Cuomo said. "The mayor has a number of issues that he felt strongly about and so did I. This plan addresses them, it doesn't toll bridges, East River bridges, it focuses on the central business district and the cost of the central business district. It has variable tolling, so we can encourage people to drive in in non-peak hours."
Congestion pricing Case Studies
Powered By
NEXT STORY: Cuomo clashes with Stewart-Cousins over HQ2