New York State
Will Albany pass any legislation to regulate Airbnb?
Assemblyman Joseph Lentol is taking another shot with his Airbnb-backed bill.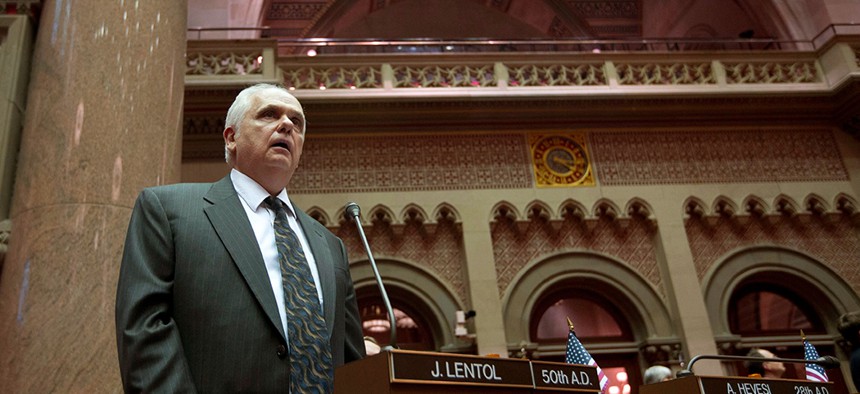 A Manhattan federal judge kicked off the new year by delivering Airbnb and other home-sharing companies a win – blocking a New York City Council law that would crack down on rental platforms on the grounds that requiring the company to disclose detailed information to the city was likely in violation of the Fourth Amendment to the U.S. Constitution.
But as pressure mounts to regulate tech giants both nationally and locally, at least two lawmakers are planning to introduce legislation regulating Airbnb's practices in New York in Albany this session. Airbnb is hoping the ruling against the New York City Council law will spell trouble for a similar proposal in the Assembly, giving the company an opening to advance more favorable regulations in the state Legislature.
Last session, two Assembly members faced off with competing bills to regulate companies like Airbnb and HomeAway. The first, sponsored by Assemblyman Joseph Lentol, was backed by Airbnb and would introduce regulations while also allowing hosts to rent out their homes for short periods of time, which is currently prohibited by state law. The second bill, introduced by Assemblywoman Linda Rosenthal, had the support of the hotel lobby and is very similar to the New York City Council law that was recently blocked. Like the City Council law, Rosenthal's bill would require Airbnb operators to disclose to city enforcement agencies their exact addresses in an effort to crack down on illegal operators and free up New York's scarce affordable housing. Neither Rosenthal's nor Lentol's bill passed in the Assembly last session.
Lentol has been working with Airbnb since 2017 to implement regulations that do not demand the kind of detailed personal information from hosts that the City Council law – or Rosenthal's bill – does. "Airbnb is something that we need, it's something that thrives underground, and why shouldn't the state be getting revenue from it, and why can't we do it the right way?" Lentol asked. "The City Council bill appeared to be a bill looking to go for the jugular, and as a result of course (the judge) must have seen through that and declared it unconstitutional."
Lentol's bill would, among other things, limit hosts in New York to listing one unit on the site, collect the same taxes that hotels typically do, require hosts to register with the state Division of Homes and Community Renewal and bar hosts with repeated city or state law violations. "It is the way of the future, and I'm looking to do it because I think it's workable. It works in other cities, San Francisco and around the world, London, Paris, and other cities in the United States of America," Lentol said. "And here we are in New York City and we don't have it."
The assemblyman, who says Airbnb asked him to sponsor the bill, was also looking for a solution to a problem his constituents in Brooklyn neighborhoods like Greenpoint, Williamsburg and Fort Greene faced – wanting to rent out their homes but being restricted by the amount of time for which they were able to do so. Under New York state's multiple dwelling law, it is illegal to rent out a home for fewer than 30 days. For a family looking to make some extra income by renting out their home while they're out of town for two weeks, the current law presents a problem, and in authorizing short term rentals, Lentol's bill would fix that, Airbnb says.
So far, however, Rosenthal has been more successful in building momentum behind her bill. Last session, Lentol's bill accumulated 18 co-sponsors in the Assembly, while Rosenthal racked up nearly 40. And while the Lentol bill had Republican state Sen. John Bonacic as its sponsor in the state Senate last session, Bonacic has since retired and Lentol said he does not yet know whether another senator will pick it up. Gov. Andrew Cuomo's office has not come down in favor of either bill. "We will review the legislation," Cuomo spokesman Tyrone Stevens wrote over email. The office of Assembly Speaker Carl Heastie did not immediately respond to a request for comment.
The fact that the City Council law was recently blocked suggests that Rosenthal's bill would have a harder time passing now, but Rosenthal shows no signs of slowing down. A spokesperson told City & State that Rosenthal plans to introduce the bill again this session, though she is still considering whether any changes should be made.
"Without address disclosure, New York stands to lose nearly 11,000 housing units and renters will pay more than $60 million in Airbnb-induced rent increases," Rosenthal said in an emailed statement. "All the while, Airbnb will continue to make record profits on the backs of hardworking renters and our affordable housing, while hiding its illegal methods from the light of day. I have zero intention of standing idly by and allowing Airbnb to do that, which is why I will be working with my colleagues on legislation that will require of Airbnb the transparency it refuses to provide. One company will not hold a city and its affordable housing hostage."
Rosenthal has already had a win against the home-sharing industry, writing the 2016 state law that imposed high fines for illegally listing a unit on platforms like Airbnb. And though Airbnb did score a preliminary injunction to the City Council law, supporters of the Council law – including New York City Mayor Bill de Blasio and City Council Speaker Corey Johnson – predicted that the fight would continue and the law would ultimately prevail.
The federal judge who granted the injunction on the City Council law did so on the grounds that requiring home sharing services to disclose the addresses of their listings and the identities of hosts to the city violated the Fourth Amendment guarantee against illegal search and seizures.
Some, however, argue that if hosts are using their homes for commercial purposes, that kind of information should not be off limits. "If you're treating a home as a business and essentially as a transient stay hotel room, there's no reason why that address should not be reported," said Nicole Gelinas, a senior fellow at the Manhattan Institute. "We know the location of all the hotel rooms in the city. So if you want your privacy, have your privacy, but then don't treat your house as a hotel room."
The preliminary injunction blocking the City Council law does buy time for the Lentol bill, even if it's the starting place for a compromise. "The Lentol bill does represent the compromise," said Julie Samuels, executive director of Tech:NYC, a nonprofit tech industry group. "It actually would regulate home sharing. And in many ways, it's the start of a conversation. It's not the end of a conversation. As that bill makes its way through the legislative process, I am cautiously optimistic that all the relevant stakeholders will come to the table and hammer out a version of legal and regulated home sharing that makes sense for New York and New Yorkers."
Lentol expects to reintroduce his bill in the Assembly by the end of February, according to both Meltzer and Lentol himself. Lentol is still consulting with his staff and others about the possibility of making minor changes to the bill, but he intends to keep its major provisions, including the one host, one home measure, and the registration system. Any changes to the bill at this point would likely involve strengthening tenant protections. "I just want to make sure that there are airtight protections for tenants," Lentol said, "so that they're not upset over the fact that there are going to be unscrupulous landlords who are going to use their apartments for hotels and keep needed, affordable housing off the market."
With the availability of affordable housing at crisis-level lows, one of the major complaints about Airbnb is that it takes housing – affordable or not – off the market. In January, New York City filed a $21 million lawsuit against a group of real estate brokers for allegedly using Airbnb to illegally rent out apartments, effectively turning residential buildings into hotels – one of the largest efforts at weeding out those who use the home-sharing service as a kind of commercial enterprise.
"If Airbnb is serious about working with New York City they must drop the legislation they are advocating in Albany and quit turning a blind eye to the army of wealthy commercial operators using their website to gut our affordable housing," said Mike McKee, treasurer of Tenants PAC, which is a member of the Share Better Coalition, an organization backing the Rosenthal bill.
Behind both of these bills are powerful lobbying groups – the Hotel Association of New York City and the Hotel and Motel Trades Council on one side, and Airbnb on the other – all of which have deep pockets to turn out in Albany. With the hotel industry fiercely supporting Rosenthal's bill in the past, Lentol's bill will face tough opposition when both are reintroduced this session, even with the ruling against the City Council law.
In introducing regulatory legislation that would theoretically limit its own freedom to operate, Airbnb joins a handful of other tech giants trying to preempt restrictive legislation aimed at cracking down on tech by advancing legislation of their own. After a string of high-profile hacks, privacy breaches and covert data collection scandals, there's a growing appetite for regulation of Big Tech both in Washington and here in New York. A representative of Airbnb said the company understood concerns about bad actors using the platform to take housing off the market, and accordingly presented a fair compromise.
"It never really makes sense to negotiate against yourself, but that's sort of what we had to do in this case, because there was nobody sitting at the other side of the table," said Josh Meltzer, Airbnb's head of public policy for the Northeast region.
While Lentol is proud of not caving to hotel interests, he also says that he's not completely beholden to Airbnb's interests either. "I refuse to be unnecessarily lobbied by Airbnb to do exactly what they want because I want a bill that I want," he said. "And I want to help Airbnb, but not necessarily just them. I want to help all of those kinds of platforms thrive in the communities."
Despite the challenges, Lentol says he is looking for feedback on the next version of the bill he introduces and is open to working with other lawmakers, tenants groups, the public and the hotel and trades unions to get a bill that works to protect everybody. Still, Lentol seems to recognize the considerable barriers to his bill passing – not the least of which is the hotel lobby. "I know there are strong interests out there that are looking to prevent that from happening, but I'm a big boy now," he said. "I've been in the Legislature a long time, I understand. I may not be able to get it done because of those powerful interests, but I'm still going to try to do the right thing."
Powered By
NEXT STORY: Rising graduation rates linked to alternative assessments