Health Care (Archived)
Is it finally Richard Gottfried's year for single-payer?
Despite large Democratic majorities in the state Senate and Assembly, lawmakers from Long Island and the Hudson Valley say they do not see single-payer happening anytime soon.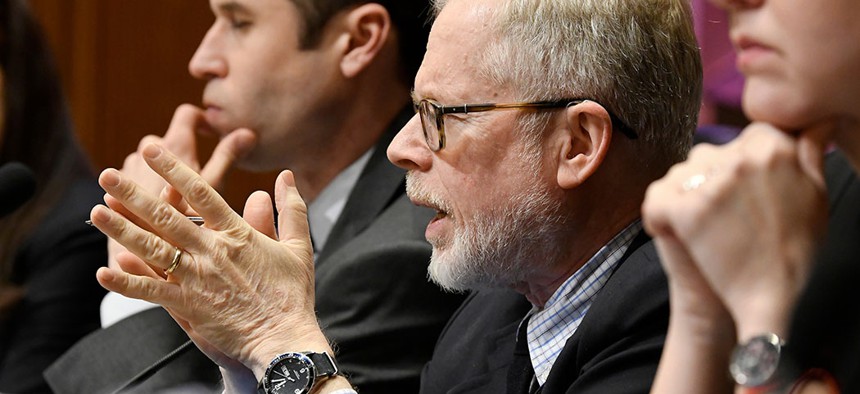 After pushing for single-payer health care for the past 27 years, Assemblyman Richard Gottfried has heard all the reasons why the state is not ready for it. New York is too big. There is not enough funding. Federal waivers are needed. More study is needed. What about protecting moderate Democrats in the next election, the critics ask.
Sitting in his Albany office one recent morning, Gottfried explained how the recurrence of such questions creates a sense of legislative déjà vu. "This is a bill that has been analyzed and questioned and picked over for a couple of decades now," he said. "A lot of very smart people have looked at it and asked a lot of questions about it. I think those questions have all been answered." Yet, people keep asking – including Gov. Andrew Cuomo, who could single-handedly block the measure.
Yet if the New York Health Act were to pass in the state Legislature this year, it would be a major landmark in the history of U.S. health care – a progressive dream come true. Right now, governments at all levels have pushed for universal health care by expanding the current health insurance system. But Gottfried wants to replace that system with one in which a single government-run insurer would provide all 20 million people statewide with medical, dental, vision, mental health and long-term care services.
"This is a bill that has been analyzed and questioned and picked over for a couple of decades now." – Assemblyman Richard Gottfried
A single-payer health care system has never been successfully implemented at such a scale in the U.S. If New York made it happen, other states – particularly California – would take notice. "There's no reason to wait," said Gottfried, the longtime chairman of the Assembly Health Committee. "Americans still hear the word 'taxes' as a dirty word. But an increasing number of people understand that what matters is whether the money we spend is reduced."
While single-payer health care has not been a major topic of debate this budget season, the political storm clouds are gathering around the issue. Gottfried has already gotten the New York Health Act through his committee, and his counterpart leading the state Senate Health Committee, state Sen. Gustavo Rivera, plans to hold hearings on the bill as soon as next month. "Hopefully, both houses will be able to take the bill up before we adjourn in June," Gottfried said. But the Realities of Single Payer – a coalition of business, labor, insurance and other groups – is growing and gearing up for a fight at the upcoming hearings. "We're just waiting to see when and where," coalition spokeswoman Leanne Politi said.
Democrats might agree on single-payer in principle, but interviews with more than a dozen Democratic legislators shows that some are skittish about passing single-payer – at least for now. An unfriendly federal government means that funding a single-payer system originally required an estimated $139 billion in additional taxes and voters might balk at seeing their taxes go up, even if society as a whole might save money in the long run. However, even if supporters of the New York Health Act cannot win the legislative battle now, they remain confident that they are winning the broader war in the realm of public opinion over what universal health care really offers.
The insurance market, Gottfried said, is like the treacherous waters of the North Atlantic. New Yorkers are flailing about and drowning among high premiums and high copays, and he wants to help them get something better than your standard American health care plan. "It's better to be in a lifeboat than treading water," he said. "But what is really better is to be onboard a ship heading back to New York Harbor." But there are fears that the New York Health Act – like the Titanic – would be a colossal disaster that risks the health care coverage, however imperfect, that the vast majority of New Yorkers already have.
The current system already provides 95 percent of people with health insurance. By expanding coverage to the remaining 5 percent and codifying provisions of Obamacare into state law, the governor has argued that state government will have done its job. "We must enshrine the protections of the Affordable Care Act into State law to continue our historic progress whatever happens in Washington," he said in a statement last month.
A spokesperson for the governor could not be reached for comment, but the governor's proposed budget did not include a single-payer proposal – no surprise given his position that he supports the idea, but only when implemented at the federal level. It would "double everybody's taxes," the governor told The Atlantic when asked recently how far to the political left he would go. "You want to do that? Let's go," he said. "They can never pass it. But I have no problem with the dare. Every union is against it. The hospitals are against it. The Civil Service Employees Association is against it. The 1199 health care union is against it. That is the only issue. Marijuana, I'm there. Voting rights, I'm there. Contraceptive Care Act? I'm there first. Anything else you can name, I'm there." However, whether in jest or not, the interview appears to have been the first time the governor said, "If they pass it, I'll sign it."
"This is, in my opinion, an impossibility in the next two years." – state Sen. James Skoufis
Another proposal in the governor's budget would set up a commission of "health policy and insurance experts" to figure out how best to deliver health care statewide. But leading lawmakers say the commission, which would be supported by the Department of Health and the Department of Financial Services, is a non-starter because it would give any nominal supporter of single-payer an excuse to wait on its findings, which would not be due until December.
"It's a way of just kicking the can down the road in a way that we don't feel is productive," said Rivera, who is sponsoring the New York Health Act in the state Senate. But given the governor's power over the budget process, the commission may well be created and could, at a minimum, delay the New York Health Act.
Single-payer was an issue that many progressive candidates embraced on the campaign trail, whether in New York City, on Long Island or in the Hudson Valley. Despite large Democratic majorities in the state Senate and Assembly, lawmakers from Long Island and the Hudson Valley say they do not see single-payer happening anytime soon. "This is, in my opinion, an impossibility in the next two years," said state Sen. James Skoufis, who voted for the bill when he was in the Assembly. "Until there is a new federal administration, I don't know how we can do it."
"Single-payer is a concept that tends to make independent, moderate suburbanites nervous." – Lawrence Levy, Hofstra University National Center for Suburban Studies executive dean
The inclusion of long-term care in the New York Health Act has also given lawmakers reason to qualify their support for the bill, especially considering how it would add to the costs of a program that, if enacted, would likely double the state's annual budget. "The bill now is not the bill that existed then," said state Sen. Todd Kaminsky, a Long Island Democrat who co-sponsored the legislation last year. "It's a behemoth."
So far this year, only 26 out of 39 members of the Senate Democratic conference have signed on to the bill, compared to the full conference last year when they were in the minority. While the Assembly has passed the bill the past four years, there is no guarantee that it will pass again this time around with Democrats in control of the Senate.
To some extent, a resistance to raising taxes for any reason is to be expected from suburban lawmakers, especially on Long Island, said Lawrence Levy, executive dean at the National Center for Suburban Studies at Hofstra University. "Single-payer is a concept that tends to make independent, moderate suburbanites who are very conservative about their taxes nervous," he said. "Even if they are supportive of the concept, they know the devils are in the details."
Among the biggest unknowns with the New York Health Act is how it could work without the help of the Trump administration. The Centers for Medicare and Medicaid Services has already signaled that it would not support federal waivers to allow the state to redirect billions of dollars in Medicare, Medicaid and other funding to a single-payer system. Gottfried said there would be ways to work around this by setting up shell health care plans that would receive federal money and then redirect it to New York Health, the state entity that would oversee single-payer in New York. "Doctors and hospitals and patients would never have to know the difference," he said.
"(Single payer) would disregard all those sacrifices that our members have given up to have their health insurance protected." – Shannon Hutton, Civil Service Employees Association communications director
Then there is the matter of raising taxes to fund New York Health. A 2018 study from the Rand Corp. found that under positive conditions, single-payer could save the average New Yorker money. However, explaining how it would do this in a way that is understandable to voters is a challenge. As of now, the legislation does not include specific tax rates, but the goal is to set up a progressive system in which high-income earners pay more – say 13.5 percent of income – while low-income people pay something close to 4.5 percent. Either way, this would cover about 20 percent of the costs associated with health care, with employers picking up the other 80 percent.
Then there are the divisions among labor unions. Gottfried likes to say that organized labor supports the New York Health Act. "A very large chunk of the labor movement is very fully committed," he said, including the the New York State Nurses Association and 32BJ SEIU. Representatives of these unions did not respond to requests for comment. But if private insurance were eliminated statewide, where would that leave unions who have negotiated for health benefits at the expense of higher pay? "Basically this would disregard all those sacrifices that our members have given up to have their health insurance protected," said Shannon Hutton, director of communications at the Civil Service Employees Association. While CSEA, New York State United Teachers – whose president, Andrew Pallotta, praised the New York Health Act last year – and other unions say they favor single-payer at the national level, lawmakers say they are feeling pressure from some unions to block single-payer at the state level. There has been "a lot of pushback," said Assemblywoman Karines Reyes, a Bronx Democrat who is a registered nurse, "even to the point where they question whether I'm a supporter of labor and I'm like a rank-and-file member."
State Senate Democrats signed on to the New York Health plan:
This combination of union pressure, taxpayer backlash and the opposition from the Trump administration makes it difficult to convince lawmakers to pass the New York Health Act this year. But if the upcoming hearings do not convince reluctant legislators to get behind the bill, they might want to also consider that this could be their best chance to pass the bill, Gottfried said. Democrats have commanding majorities in the Assembly and state Senate now, and there are no guarantees that progressive voters will support them again if they fail to make single-payer a reality in New York. "Nobody can accurately predict the political future," Gottfried said. "And as with any number of other issues that we have taken up this year, I think progressive Democratic legislators campaigned on this issue and ought to deliver."