New York City
Disabled riders face scarcity of accessible vehicles
The ride-hail company Lyft's lawsuit in Westchester arguing it should not have to serve disabled customers, has renewed concerns about the availability of accessible vehicles. Here's the status of taxi and ride-hail app accessibility throughout the state.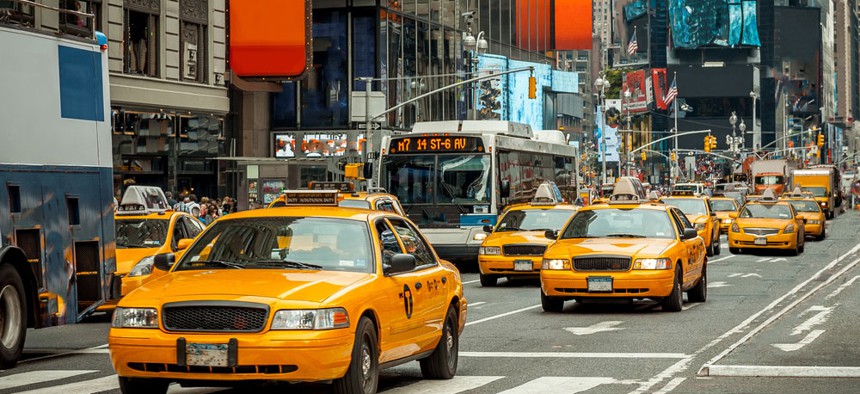 The ride-hail company Lyft – often referred to as the friendlier version of Uber – is arguing that it should not be obligated to comply with transportation accessibility requirements in the Americans with Disabilities Act because it is not a transportation company, but a technology company.
The question over whether or not ride-hail companies need to comply with the ADA arose after a resident of White Plains, New York, along with the advocacy group Westchester Disabled on the Move, filed a class-action suit against Lyft, arguing that the company discriminates against disabled people, especially those requiring wheelchair-accessible vehicles. The case, which is still pending in Westchester County, has renewed concerns about the availability of accessible vehicles, both in densely populated areas like New York City, and in the suburbs and upstate.
City & State took a look at exactly what options are out there, and what's standing in the way of increasing the stock of accessible rides.
Why is Lyft arguing it's not obligated to comply with the ADA?
The Americans with Disabilities Act requires private transportation companies to be accessible to individuals with disabilities, including providing certain door heights and wheelchair lifts and attachments. Lyft argues that it is not subject to those requirements because it is an app business that doesn't own any vehicles. "Lyft is an online ride-sharing platform that matches independent contractor drivers with passengers who need rides," the company's filing reads. "Plaintiffs do not – nor could they – allege that Lyft owns or leases any vehicles used for ride-sharing. Lyft is a technology company; it is not in the business of transportation."
This abstract distinction does not impress disabled riders or their advocates – who are stranded whether the enormous corporation providing rides technically owns the cars or not. "The only reason they exist is to provide transportation, so I think it's very difficult to say you're not a transportation company if your sole purpose for existing is to provide people with transportation," said Stephanie Woodward, director of advocacy at the Center for Disability Rights, an organization with locations across New York, including in Rochester, where Woodward is based. "We have developed partnerships with several third-party wheelchair-accessible vehicle providers to increase the availability of their vehicles in the majority of our markets," a Lyft spokesman wrote in an email.
What options are there for wheelchair-accessible rides in New York City?
Unlike Westchester County, where accessible app-based ride-hail vehicles are hard to find, New York City is moving towards ensuring that companies like Uber, Lyft and Via provide more of these vehicles. Last June, the city settled a lawsuit with those three companies in particular, agreeing to create a new requirement for providing service to people using wheelchairs. By mid-2021, ride-hail companies in New York City will have to fulfill at least 80 percent of requests for wheelchair-accessible vehicles in under 10 minutes and 90 percent in under 15 minutes. Ride-hail companies can also satisfy that requirement by working with other companies who can dispatch those services on its behalf.
While advocates have celebrated the advance, there's still skepticism about ride-hail companies' commitment to fulfill those requirements. "If you're going to spend the money on a more expensive form of transportation and it's spontaneous, you need to be assured that you're going to get a ride," said Jean Ryan, president of the New York City advocacy group Disabled In Action, which was part of the Taxi For All Campaign that sued the Taxi and Limousine Coalition and secured requirements for taxi accessibility, too. Under that settlement, the TLC committed to making 50% of taxis accessible by 2020.
From the end of 2013 – when the settlement was reached – and today, Ryan says she has seen improvement in the availability of accessible taxis. "It's been like night and day," she said, while noting that more are still needed in order to meet the 50% goal.
New York City's paratransit service, Access-A-Ride, has also introduced new programs in recent years, some of which are more popular than others. The Access-A-Ride program, run by the Metropolitan Transportation Authority, is a shared-ride, door-to-door program that allows eligible riders to reserve a ride a day or two in advance for the regular fare of a bus or subway ride. The paratransit program is a requirement of the ADA, which mandates that those whose disabilities restrict access to mass public transit must have access to alternative transportation to the same service areas that buses and subways reach. Access-A-Ride has been known to be plagued by problems evidenced in complaints about drivers with poor accessibility training, long wait times and arrival delays, and a lack of accountability for bad service.
The MTA has expanded Access-A-Ride with several pilots that attempt to address shortcomings of the program, like the necessity to plan trips in advance and the meandering routes that can come with shared rides. In 2017, the MTA launched an on-demand e-hail pilot that services 1,200 Access-A-Ride users for the regular cost of $2.75 per trip, but allows riders to make reservations on-the-go by hailing yellow or green taxis through an app. The pilot has been popular with riders and was recently extended through the end of 2019.
For Ryan, who lives in Bay Ridge, Brooklyn and participates in the pilot, however, the lack of available accessible vehicles nearby diminishes the usefulness of the program. "It's very good because it's reasonably priced – it's the same price as a subway, a bus or Access-a-Ride, and we can use that to get around the city," she said. "But often, I have to wait 15 or 30 minutes. Sometimes I have to wait an hour to get a cab to come and pick me up." Ryan said her most reliable option was to book a trip through Curb, an app used in the e-hail pilot program.
The MTA also recently announced that it would update a popular advanced e-hail pilot with something called "enhanced broker service" which aims to provide more Access-A-Ride trips in taxis and for-hire vehicles instead of multi-user vans. But some riders, Ryan included, are wary of embracing the new program, in part because of persisting delays. "It's a nightmare for the riders because you never know if you're going to get where you're going on time," she said.
"New York City Transit has never been more focused on improving services for Access-A-Ride customers and those with disabilities, including the investment of hundreds of millions of dollars in improving service, the dramatic expansion of the use of taxis, the on-demand e-hail pilot, GPS tracking of rides and expanded training for drivers," MTA spokesman Max Young wrote in an emailed statement. "To build upon these steps, we continue shifting AAR trips from multi-user vans to taxis, a development that our customers love, as evidenced by a major drop in complaints and significant trip growth. We know we have a long way to go to improve paratransit services while we simultaneously improve accessibility in the subway system – no customer will be more than two stations away from an accessible station by the end of 2024 – and improve our wheelchair-accessible bus network, but we're working hard to do so with significant public input and outreach."
What options are there for accessible rides in the rest of the state?
While riders requiring wheelchair-accessible vehicles have a hard time finding service in New York City, the picture is more dire in upstate and suburban counties. In Westchester, as the recent lawsuit demonstrates, advocates are still fighting for ride-hail apps to provide access. But upstate, accessible rides are especially difficult to find.
"You're out of luck," Woodward said, when asked what options a rider has in a city such as Rochester. "You either take the paratransit system or the bus system, which are both accessible. Or you may call a medical transportation system, which is going to cost you a ton of money, or it may be covered by your insurance if you're going to a specific medical appointment. However, when it comes to ride sharing, because ride sharing is refusing to be accessible, there are no accessible ride sharing options in Rochester, as well as the taxi companies who are also refusing to be accessible."
While campaigns like Taxi For All secured the 50% commitment from New York City's TLC, Woodward said advocates haven't pursued similar lawsuits upstate because they have trouble building support for their cases. "The ADA does not allow for many damages, which means that accessibility cases are often not attractive to attorneys," she said.
Advocates across the state have attempted to advance legislation that would hold transportation network companies accountable to accessibility goals, but apart from a state task force to analyze how companies can provide accessible service, those efforts have stalled. "We see movement and support from the Legislature, it's really Gov. Cuomo who has been the problem," Woodward said.
"The governor is committed to ensuring accessibility in all forms of transportation, including ride-share, which is why in 2017 an agreement was reached with the state legislature that it would be the responsibility of the (Transportation Network Company) task force to study, with significant public input, the issue and make a series of recommendations," Patrick Muncie, a spokesman for the governor wrote in an email. "The task force was comprised of representatives from the Senate, the Assembly, the governor, and included accessibility advocates. The final report was released early this year and included a set of recommendations that the (Transportation Network Company) must adopt to the extent practicable, and another set of recommendations to the state legislature." Recommendations in the report include incentivizing accessibility modifications, requiring accessibility training for drivers and establishing accessible vehicle percentage targets.
Woodward, however, still sees buses as the most reliable option in Rochester. "I think our biggest frustration is that transportation providers see disability rights and accessibility as an option, when in fact it's our right and our rights are not optional," she said.
Correction: Due to an editing error, this article originally incorrectly stated that Lyft's argument against ADA compliance was made in a lawsuit it filed, rather than one filed against it. 
Powered By
NEXT STORY: AOC supports breaking up Big Tech