New York City
Gauging the Uber driver strike's impact
New York City's ride-hail drivers' strike may not have made a noticeable travel impact on riders.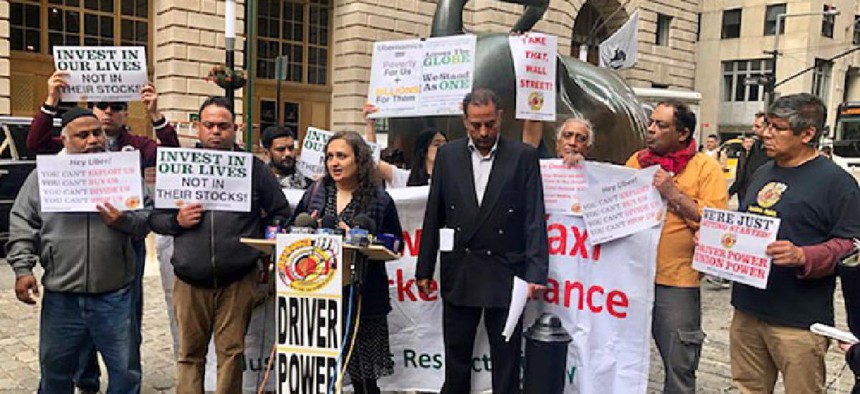 On Wednesday morning, Uber drivers across the world logged out of their apps from 7 a.m. to 9 a.m. From New York City to London to Melbourne, the ride-hail drivers went on a rush-hour strike in an attempt to demonstrate their importance to Uber's success as the company prepares to launch its monster initial public offering later this week.
That, at least, was the intention of the strike. The New York Taxi Workers Alliance, a professional drivers union in the city, hoped to get 10,000 drivers from various apps to participate. Shortly after the strike was set to end, the NYTWA and a small group of ride-hail drivers gathered in front of the Charging Bull in downtown Manhattan, where the NYTWA's executive director, Bhairavi Desai, called the strike a "huge success." At around 10 a.m., Desai couldn't report the number of ride-hail drivers who participated in the action but said she believed it was even higher than 10,000 and that ride fares had reached a 2.2x surge. But according to Uber, the strike saw only 500 of its drivers participating in the New York City strike.
Similarly, a driver at the press conference held up his phone, showing a screenshot of the Uber app with no available drivers, while reporters at The New York Times and The New York Post reported having little trouble hailing a car at LaGuardia Airport or in Astoria, Queens. Some drivers hadn't heard about the strike or didn't bother participating.
New York City's strike may not have made a noticeable travel impact on riders, but that doesn't mean it was completely ineffectual. By drawing attention to drivers' labor concerns – low wages, unfair dismissals and lack of sick leave among them – ahead of Uber's expected $80 to $90 billion IPO this week, the strike may have reminded some likely investors of the people who power the company.
For the rest of today's tech news, head over to First Read Tech.
Powered By
NEXT STORY: What could be next after the congestion fee